Article by WL Low
Folks, firstly, I wish to extend my heartfelt thanks to all who casted vote on our Readers Choice Award. Now that your votes are counted and winners for the said award announced, it's time to look in to the bigger scheme of things, and how your votes affected the outcome of the overall Best Sound and Best AV Experience Awards.
The judges role: A panel of 3 judges, all review contributors of this web page have been tasked to nominate their respective top 5 systems for Best Sound and Best AV Experience. The judging panel includes, Lam SF, Tan TE and yours truly, Low WL. Each system that has been nominated by a particular judge automatically get 1 vote. If the said system has been nominated by 2 judges, it gets 2 votes. and lastly if all three judges nominates that particular system, it gets 3 votes. Now here's where votes from Readers Choice Award come in to play. Should any system already nominated by one of the 3 judges received a single vote from a reader, it would automatically be counted as a 4th bonus vote for that said system.
Here is how we rate the Best Sound of KLIAV Show 2015.
A system with a total of 4 votes(the most number of votes allowed) = Platinum Award
A system with a total of 3 votes combined in total = Gold Award
A system with a total of 2 votes combined in total = Silver Award
A system with only 1 vote from any one of the judges = Bronze Award
As for the Best AV Experience of KLIAV Show 2015. We will be rating them with some technical considerations, namely display screen ratio & surround mode used, with preference for excellence on both accounts. Otherwise, a technical award for either display or surround sound quality will be considered as token.
The same voting system as Best Sound will be used to evaluate each Best AV Experience winning system.
For results, please refer to our chart as displayed below: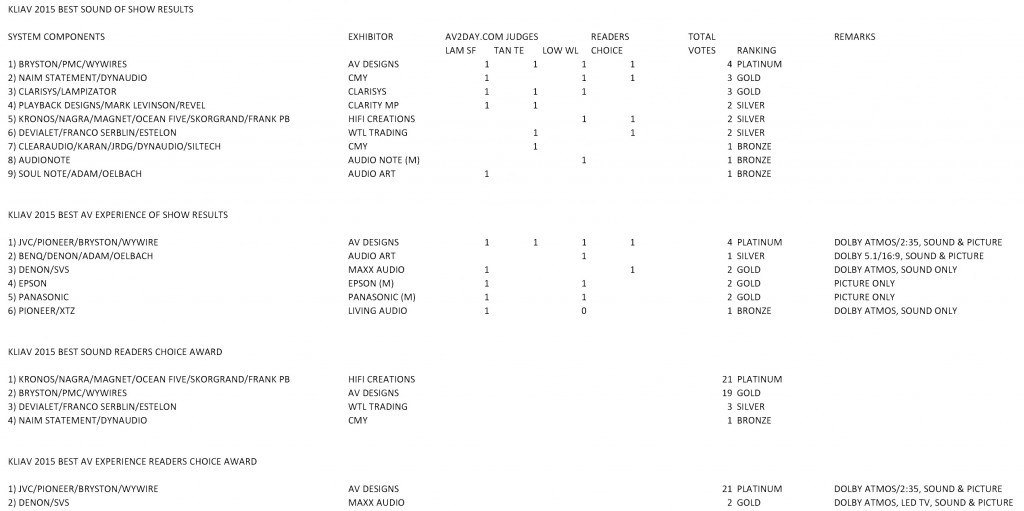 Finally, we wish to congratulate each and every award winner listed for we will announce at a later date, a prize giving ceremony to reward for excellence in demo set up during KLIAV Show 2015!
Stay tuned for the exciting event to come.
Article by WL Low