Article by WL Low
It's not easy going from DIY to high end boutique audio retail shelf. Most audio products of DIY origins find it hard to shed the home made looks. There have been a few success stories lately, one fine example is Mod Wright Audio(sold by Centre Circle Audio), whose DIY mod origins have been totally shed over the span of a few yews and several design changes, each lot with improved aesthetics and better reliability.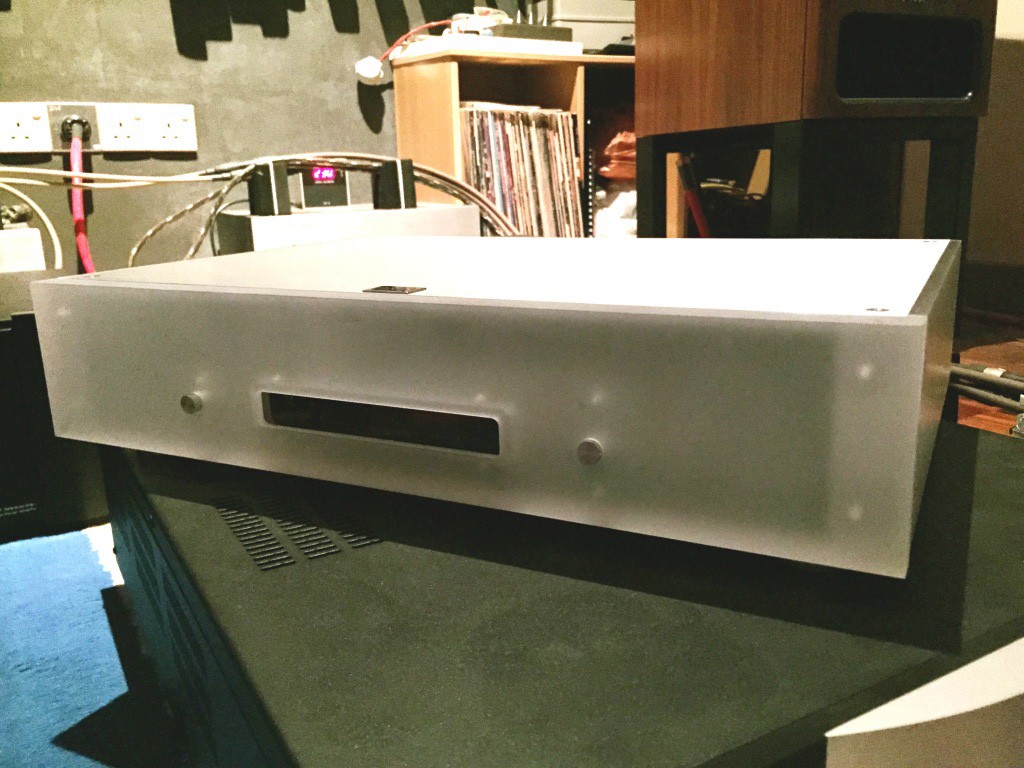 And now we have exD DSD, a Hong Kong based company founded by digital DIYer, Albert Leung, who has a penchant for tube analogue output section. At first glance, the exD DAC didn't look anything like a DIYer product, with it's translucent white acrylic face contrasting with amber LED display insert dead centre. The other five surface of the box is milled from polished aluminium with satin surface texture. Very classy looking indeed. Further inspection at the back panel reveals an IEC mains inlet, a co-axial & USB only digital input and a pair of RCA and XLR analogue outputs. Lastly the packaging which is worthy of mention which is a steel fight case, heavily padded on the inside for knock proof protection of a product befitting it's high end aspirations. There two specific areas for improvement here Albert, i you're reading please take note. First, I find it rather disturbing that a high end audio equipment does not come with a printed manual that contains a "Congratulatory Note" for your "Wise" purchase, Ha! Ha! Or as pioneered by that serpent inducing fruit named company mentioned somewhere in the Holy Bible, at the very least, a CD-ROM or down load codes for soft copy of the owner's manual is a must have, for any product aspiring to be high end. Second, I found some of the counter sunk, hexagonal screws on the flush surface on all four corners of the box to be only finger tight. Lo-behold, a quick call to Thomas Lim, of O'Lagenda HiFi Kafe explains it all. He said that Albert is a bit of a tweaker, and the exD DAC is screwed together using torque driver on all four sides for best sound quality. So I shall retract the second point, as it is actually non-valid!
Thankfully, even without a printed or soft copy manual of any sort, the exD DAC proved surprisingly straight forward to operate, with only 2 chrome finished buttons, one on each side of the LED display in the front face. The button on the left turns the unit ON/OFF and the button on the right is a selector of the 2 inputs available. Do note that as usual, only the USB input is DSD capable. At the moment, exD DAC is only capable of up to 24/192 PCM decoding, and will decode DSD64 & 128 via USB input only. Any further upgrades to algorithm capabilities will be dependent on firmware upgrades, of which I am assuming via the USB input, due to the lack of a LAN or RS232 com port style plugins.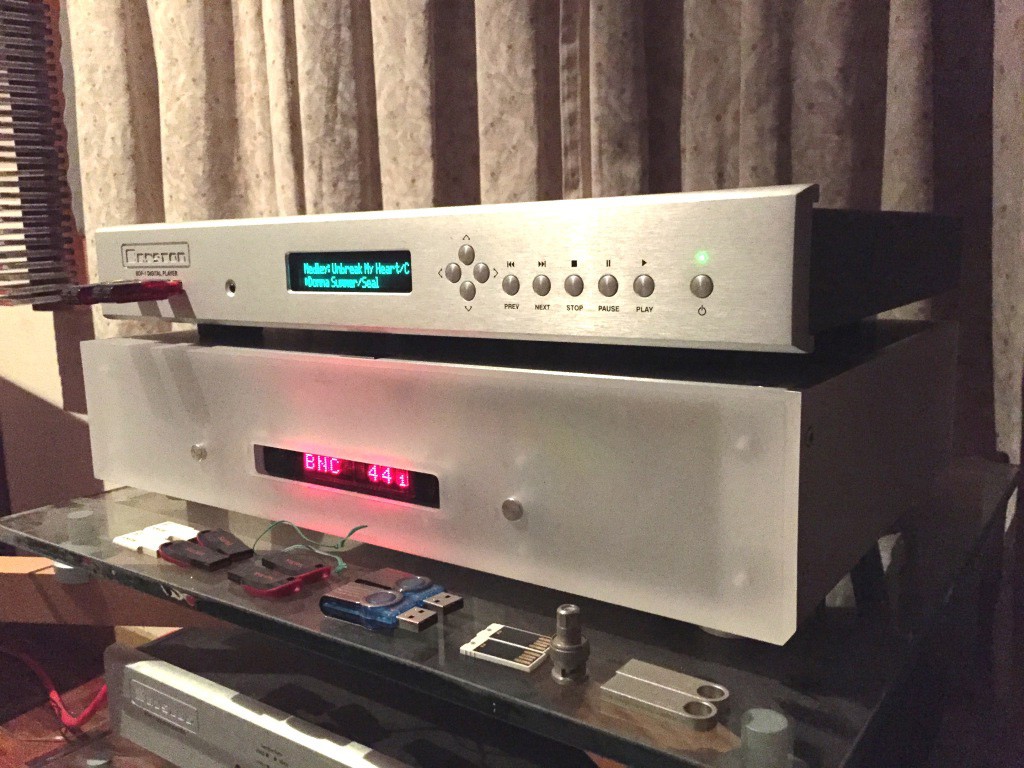 I used the exD DAC in place of my usual Bryston BDA-1 DAC, playing all kinds of PCM music files of various sampling rates up to 24/192. Most of all, I played many, many 16/44 CD rips on WAV and FLAC file formats. My resident Bryston BDP-1 is connected to the exD DAC via a DIY 0.5 meter co-axial cable from Furutech FC-63 stock and KLE Pure Harmony Silver connectors.
Now, you already know how much I cared for the sound quality of the exD. I raved about it's mellow gentleness when handling female vocals, causing them to be more sensuous and sultry then need be. I like the extra chest cavity rendered with male vocals. I absolutely fallen in love with the way the exD reveals all the tonal harmonics and textures of the recorded musical instruments. The way the recording venue's spatial cue and ambiance presented, only the way that ECC88 or 6922 tubes can do. I was very tempted to swap some NOS Siemens or my favourite blue/white box Mullards in to the exD, if only that would mean opening up the box to do so. Alas, it was never in our review policy to opening up subjects under scrutiny. I was really, really tempted but …………
As I tried to switch between RCA and XLR analog outputs to feed my pre-amp, I was kinda surprised to find that they sounded exactly the same! Normally XLR outputs tend to sound louder and more dynamic in band width range, which leads me to speculate that the exD's analog outputs are pseudo balance, meaning the XLR signals are tapped from the same point as the RCA output. Despite the slight perceived disadvantages of the XLR outputs, I still thoroughly enjoyed the smooth warm musical presentation offered by the exD. The exD does not lacked in any areas in terms of transparency, as proven when I slotted the Bryston BOT-1 disc transport in to my BDP-1 at the end of the review period. I played Jennifer Warnes And So It Goes, track on The Well CD, and heard all the piano foot pedal notes, clearly like never before. In most system, only the first three pedal notes can be heard, but with the Bryston BOT-1 and the exD DAC playing via BDP-1, I could hear distinctly, each and every piano pedal note, crystal clear, with spring creaks and sponge dampening the wires on the inner piano body. The whole experience is surreal, just like hearing the song for the first time all over again, with more depth and air in between the intimacy of the piano and Jennifer voice. The whole visceral presentation so cohesive and whole, rendering an experience nearest to "live". That's the mark of all good Hi-Fi equipment.
Staging & imaging is usually a strong performance point with tube based audio circuit. The exD does not lack in this area either. The vocal imaging are strong and well rounded on the edges, standing out infront just a bit in front, from the rest of the musicians. The earlier mentioned airy spatial cues of recording venue makes no convincing needed, that one is transported back in to time, at the venue of the recording as it was done.
As in all tube based circuitry, there's some residual noise, or tube hash audible, but rest assured that the exD noise floor is as good as only all the best tube gear that I've heard, like the ARC Reference 3 pre-amp and ARC Reference 7 CD player. Despite the glass bottles in it's circuitry, the exD can certainly handle transient and major dynamics well. It could deliver the "Kick" with rock music yet handle the highest orchestral peaks in classical music just as well. The exD presents jazz music with intimacy that's hardly matched. It's chameleon like characteristics allows each and every recording played back to shine with an attractive rose tinted mid range bloom, which at the same time provides to opportunity to romanticise the music.
For those in the market for a high end DAC with that something special in it's sound, the exD is right up there with my all time reference DCS Debussy DAC, though never officially review here, I have a couple of friends who have it in their system and I love listening to their system with the DCS. While that puts the exD in the same critical segment as the DCS, both have their relative differences in design philosophy. The DCS is solid state and up samples all input signals to DSD for algorithm conversion, which gives it a highly consistent flavour unique to the DCS family signature. The exD on the other hand is tube based and decodes all input signals in native sampling rates for best results. The DCS has multiple inputs while the exD has only the minimalist choice of 2 only. By the way Albert, that's my only other constructive suggestion for improvement, inputs, need more inputs! 2 AES/EBU, 2 co-axial, toslink, and 2 USB 2.0 would be ideal for a DAC merging multiple digital source, such as a PC, CD transport, digital media player and possibly a smart phone as front end of a respectable high end audio system.
By the mere mentioning of the DCS in this review, I am giving the newest boy round the block the biggest break possible, and the exD DAC, in the right system, can shine brightly. Priced at just over RM$20K and upwards, the exD DAC certainly warrants consideration, if one is looking for an analogue sounding digital based system, regardless of price. I am certainly all for it!
exD is sold by O'Lagenda Kafe, contact Ah Hee or Thomas Lim at 010-7668049.
Article by WL Low