Superb Multitasker
Article by Dick Tan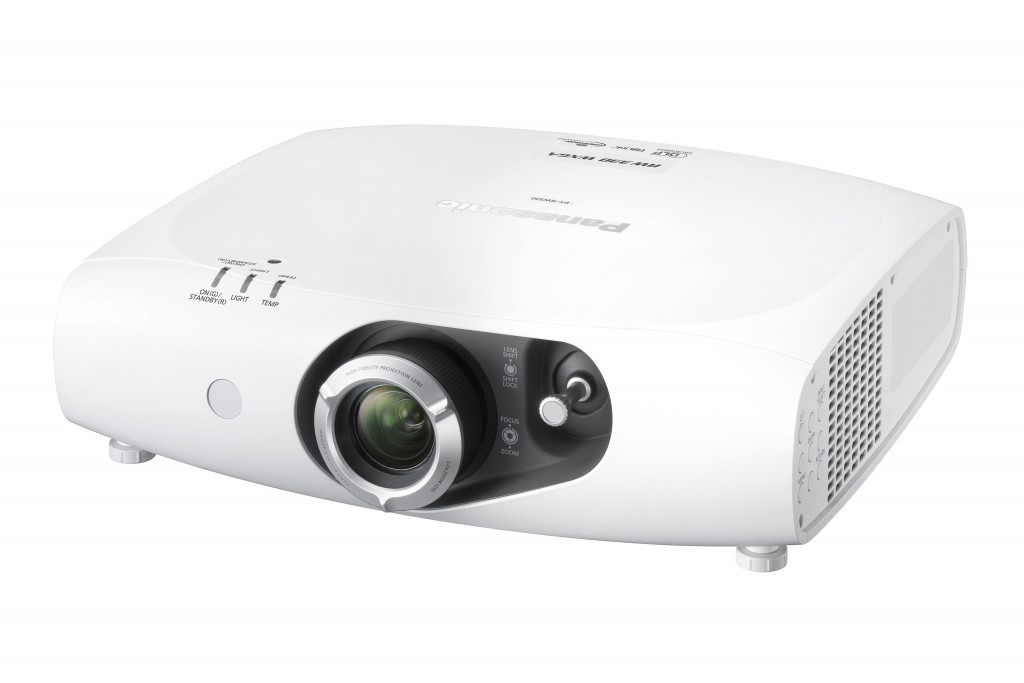 Could a projector designed for multimedia application be used successfully for serious home theatre application?  Bearing in mind that the term 'multimedia' when accorded a projector implies the particular projector's ability to perform multiple roles it would be prudent to keep an open mind.  The pertinent question would be, how well does the projector in question perform in its home theatre mode.
Why the fuss in the first place, you might ask.  Couldn't one just choose a specialised home theatre projector in the first instance?  Well, this question was prompted when a projector, yes, you guessed it, a multimedia model was picked by specialist online AV media, AV2Day as one of the top home theatre performer in this year's KL International AV Show.  AV2Day's choice of the projector, a Panasonic PT-RW330 was based strictly on the quality of the Blu-ray picture it projected.  Never mind the specifications they say, haven't we come across amplifiers and speakers that inspite of a lower published specifications outperform designs that had more impressive credentials?
There being some elements of truth in AV2Day's stand, what we would like to see is this…..will the videophile who is serious about the quality of his picture plunk down some RM11, 000 (that's the retail price for the PT-RW330) for a projector that, at least on paper, can only manage, at best, a close second place to a true blue home theatre projector?
Out of curiosity we checked up on the PT-RW330.
As we already know the 1280 x 800 (WXGA) resolution, which translates, to a little more than a 720p HDTV resolution and its narrower 16.10 (as compared to the wider 16.9) aspect ratio confirms its true multimedia pedigree.  But resolution and aspect ratio, a little limited as they were on the PT-RW330 can only tell you that much of the video production capability of a projector.  In the short time we spent evaluating the pictures quality on a 120″ 16.9 screen we were impressed with the depth of colour, amazing details and effortless brightness.  In this respect, the AV2Day's choice is difficult to fault.
What surprises us is this… the PT-RW330 is one of the rare handful of projectors that do not use a traditional lamp as a light source.  It uses instead, an LED powered laser light that is able to produce a whopping 3,500 lumens light output, more than enough to throw a big , bright picture even when used in an environment awashed with ambient light.
A desirable tract, certainly, for today's modern home theatre set-up where viewing in a completely darkened room used to be a key requisite for superlative home theatre performance.
Equally as important is the operating life span of the LED/Laser light system, which is rated at 20,000 hours.
Compared to the traditional projector lamp's limit of between 2,000 – 4,000 hours the LED/Laser light source of the PT-Rw330 will last at least 5 times as long.
In addition to the longevity of the LED/Laser light system the PT-RW330 requires no filter. Factor in the savings of both lamp and filter replacement you are looking at projector with a much reduced overall cost.  So far, it's beginning to look interesting but there's more.
In tandem with its LED/Laser light source Panasonic utilizes a proprietary Solid Shine algorithm that it claims is able to constantly detect light intensity of the light source to correct corresponding changes to maintain a perfectly linear white balance level.  This will in turn ensure a highly accurate picture over a longer period of time.
In lamp based projectors, performance consistency will largely depend on the age of the lamp.  The older the lamp the more the tendency for the performance to degrade.
Many other features such as a vertical/horizontal lens shift, a highly accurate and wide REC709 HD colour gamut, and a full array of input connectors makes the PT-RW330 just as effective at home as it is at the conference room.
Just who would consider a 'jack of all trade' option such as this when other specialised option can be had and for less?
Well, the person would likely be a corporate figure who wants a projector for use both at the office as well as at home.  For home use, the less than full HD resolution and narrow aspect ratio may initially annoy but could easily, in the long term, be overlooked.
More importantly, seriously useful features such as the long lasting and consistent LED/Laser light source and the very high light output will ultimately tilt the potential buyer's decision in favour of the PT-RW330.
For further details contact:
Panasonic Malaysia Sdn Bhd
Tel:  03 – 7957 6622
Article by Dick Tan