Article by WL Low
Father Christmas must have came early this year! Look at the list of toys lining up at my man cave door step!
1) Tobian DAC T9
2) Kronos Sparta TT c/w Helena tone arm & ZYX Premium Omega cartridge
3) Tobian Stereo Console SC12 pre-amp
4) Tobian Push Pull Mono Tube Amplifier MA70 power amp
I probably have to work a few life times, before I can hope to even afford to buy a system like that. However, I thank my lucky little stars that my (not so)secret double life as an audio reviewer, allows me to experience all these toys without having to pay for them!
I start with the Tobian DAC T9, from a small boutique audio manufacturer based somewhere along Lake Lucerne, in Switzerland. Tobian is headed by non other than a certain Mr Gunther, tweaker, custom DIYer and tube amp connoisseur par excellence. I met the gentleman once, during the grand opening event of O'Lagenda Café, he is rather reserved, however I've been told there after that Mr Gunther doesn't say much in English.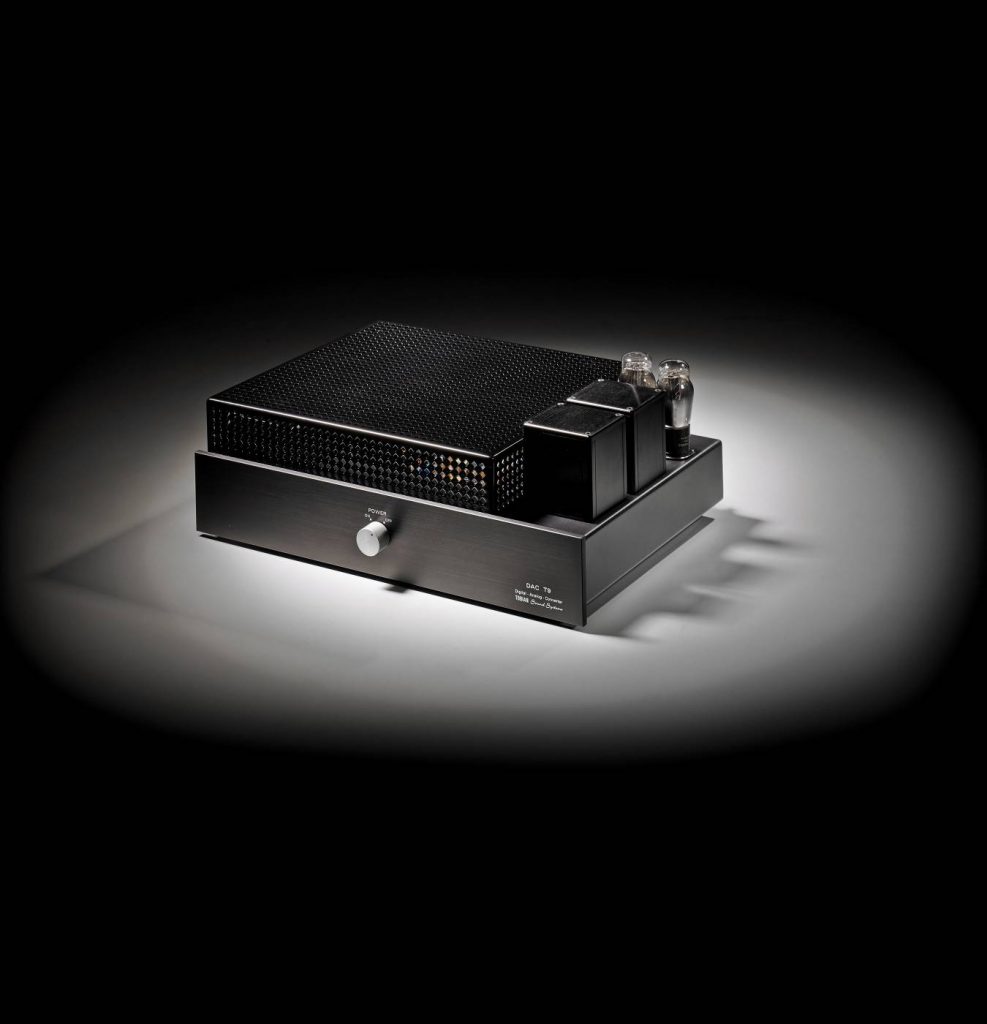 The DAC T9 is a really, really interesting DAC, because of the hardware & topology, which list the classic Philips TDA 1541 DAC chip, out putting via triode tube complement analogue stage. However, that doesn't mean this DAC will not do hi-res files either. Unlike the DCS machines, which up samples all file input to convert as DSD format. Also unlike the ExD DAC way of doing things, by inputting and converting every file input and outputting as native resolution only. The Tobian will accept all hi-res files up to 32/192 resolution, but will down sample all files to 16/44.1, so that the classic Philips TDA 1541 conversion architecture can be functional with hi-res files. Here in lies the magic of the DAC T9, the musicality and density of the TDA 1541 chip, married to the gently soft warm glow of the triode analogue circuitry! Just thinking about it, makes my heart melt(not in your hands but in your mouth, I heard some colourful chocolate speaking to me at the same time!)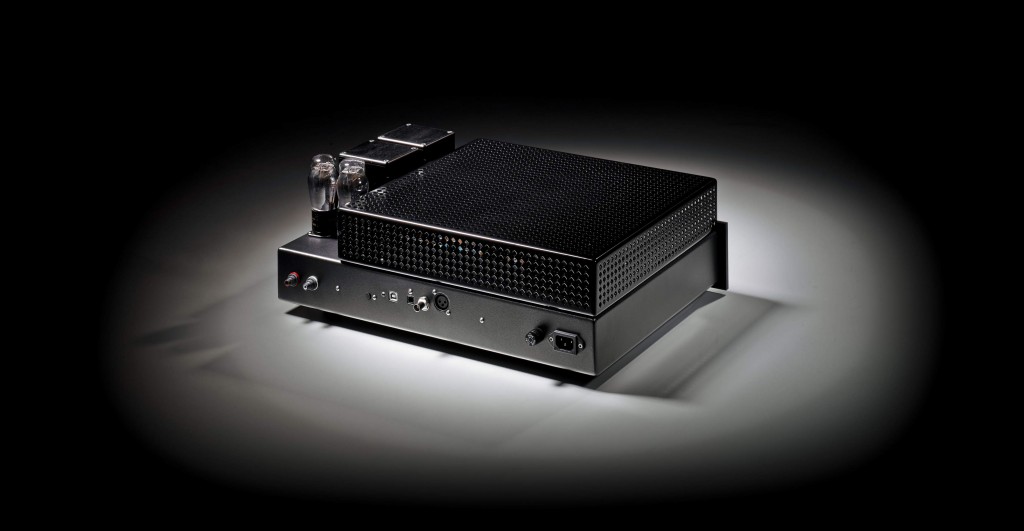 While talking about specs, here's the Tobian DAC T9's, as listed on their web site:
Technical specifications
16–24 bit 32 kHz to 192 kHz
1540 / 1541 Philips chip with switch-able non-oversampling
Optional Elma 24-step carbon comp potentiometer
Output with copper foil-in-oil capacitors and NOS 26 triode
Power transformer with galvanic splitter
Tobian PSU dual mono current t-network
Rhodium IEC
Power: 115V / 230V
Frequency Range: 5 Hz to 22.000 Hz
Dynamic Range: 138 db
Signal-to-noise-ratio S/N: > 128 db
Inputs: USB input / SPDIF coaxial / TOSLINK and BNC
Cabinet in V2A Steel – electronically polished or finely enamel lacquered
Dimensions: 44 x 11,5 x 35 cm (W x H x D)
Weight: 19,4 kg
Handmade in Hergiswil (Lake Lucerne) Switzerland
Guarantee: 5 years (less tubes) and lifelong on our work
The DAC T9 is heavily built at 19.4kgs, as expected with the output trannies on it's right side. The whole construction feels solid if a little drab, with a matt silver finished ON/OFF knob in the middle of a black anodized aluminium front face. The whole perforated top cover is covered with black enamelled lacquer, which allows ventilation and see through of the red LED indicators on the PCB boards inside. The back panel sports a rhodium IEC input, USB / SPDIF coaxial / TOSLINK and BNC for inputs. A pair of WBT single ended RCA plugs sports the output.
And now, we come to the part that matters most to all audiophiles and music lovers, the sound quality. I used the Tobian DAC T9 to replace my ageing Bryston BDA-1 DAC in the scheme of my digital front end, sourced via my resident BDP-1 media player and BOT-1 CD Transport that was at the tail end of it's review period. The BDP-1 was sending digital signal to the DAC via my home brew Furutech/KLE co-axial cable, and the DAC T9 analogue output was sending analogue signals to my resident Pass Labs X-0.2 pre amp, via Tobian supplied RCA interconnect. The Tobian interconnects look simple and functional too. Other than the high quality WBT Next Gen plugs used on both ends, the cable sported no thick shielding or jacket the diameter of water hoses! I used Vermouth Red Velvet power cord for the Tobian DAC. All front end equipment tapping power from the Shunyata Venom PS8 and Defender MPDA system.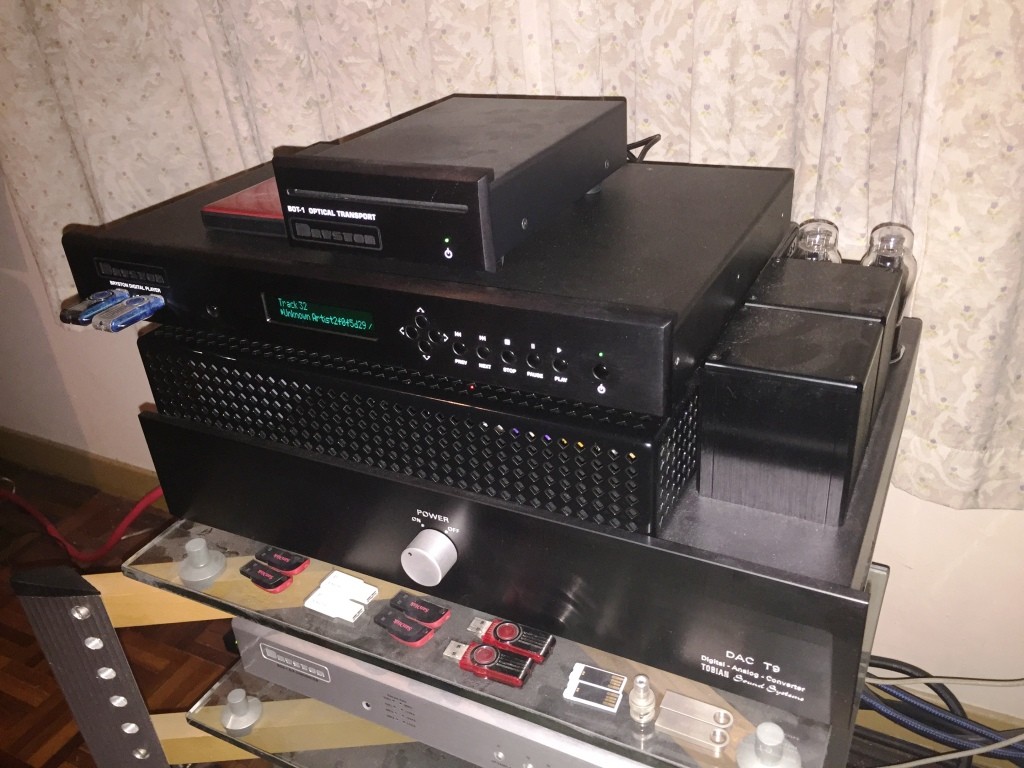 From very first note, it appealed to me that the Tobian was something really special indeed. As I was testing the Bryston BOT-1, streaming Jennifer Warnes, And So It Goes, for The Well CD, via the BDP-1. I heard all the extra foot pedal notes coming from her piano that I never, ever heard before. I also heard all the subtleties, of emotional fragility in her voice, and the most realistic accompanying violin string tone in that song, it just drove me crazy! I got multiple eargasm of goose bumps after goose bumps all in the time and space of just one song, the first song heard in the review process! In my eight years as an audio reviewer, I've not come across a piece of equipment that drove me crazy like this on that first song, never before!
The Tobian T9 had a way with tonal quality that can melt even the most jaded of audiophile hearts. It's warm for sure, but never over done, just enough to feel the emotional intent of any music playback. The highs will bite if required, slowly decaying to super soft in texture(just like a fluffy goose feather pillow!), until the nothingness of air only. Words can't easily describe that experience, but I believe that Hong Kong audiophiles have an appropriate word for it, "Kwai Hei" directly translated, "exquisite air". The mid range is presented with full texture, harmonics and tonal shading that no single piece of Hi-Fi equipment that I experience could do. Vocals are rendered with solid density of the flesh & blood kind, not the paper cut blob that most other Hi-Fi equipment gives. This lends the music a living, breathing quality I've yet to experience before in Hi-Fi. Bass is strong, tight roped and dives deep, deep in to subterranean territories. Giving music a strong, rhythmic foundation to work on. The thing about the Tobian's bass delivery is unlike much other digital mediums, which emphasizes the outlines of bass notes but poorly filled in on the density side, kinda malnourished if compared to analog bass quality, which has full density and bounce. The DAC T9's bass quality is as close to analog bass quality as digital comes.
Despite the triode tube output, the DAC T9 never ever dwells in to a rosy tint, honey sweet mode. Music is always present in the most honest and realistic fashion. I think the wide dynamic range, and fast transient response contributed to the fact. I mean just look at that spec sheet! Philips TDA 1541 giving 138db of dynamic range and signal to noise ratio of more than 128db, I mean is that even possible? I think it shows how smart Mr Gunther(Tobian founder & designer) has manipulated all the bits around the classic TDA 1541 chip to maximize it's performance way beyond ordinary! This is the most extreme application of the Philips TDA 1541 DAC chip in the way that it is THE most transparent sounding of it's kind. It's ability to present fine musical nuances and details is comparable to the latest crop of hi-rez capable DAC chips. The ultra quiet tube output tube circuitry helps to unearth all those fine details, transient and dynamic shading, along with the finest textures on the musical notes just as well. I've been told that those matched pair of NOS triode 26 tubes dates back to pre world war two stock!
Being tube based always helps in the staging & imaging section of audiophile performance parameters. The stage is a realistic, life size walk thru, with consistently life like scaled imaging of flesh and bone quality. There's enough elbow air(space) between each and every musician within the projected stage, to make things super realistic. Every single musical performance is super convincing and filled with conviction. The Tobian DAC T9 is after all, like all of the best audio gears, genre blind. It just goes on and projects the recording on play back as best it could, with enough empathy built in so not punishing the listener even with poor quality recordings.
Without a doubt that the Tobain DAC T9 is the best sounding DAC I heard ever. I would have liked to keep it for myself, but it's POA asking price is prohibitive at it's best(look at automobile price listings of Rolls Royce, Bentley, or Aston Martin and you'd get the idea what POA price tag means!). Which is a pity, because that means not many music loving souls would get to experienced this exceptional DAC like I did. I am indeed blessed to have being given the opportunity to work(enjoyed?) on this review. A special thanks to Thomas Lim for allowing me access to the Tobian stuff. Now, I am looking to working on the pre & power amp combo!
Tobian is sold by O'Lagenda Café, contact Thomas at 012-4024441 or Hee 010-7668049.
Article by WL Low