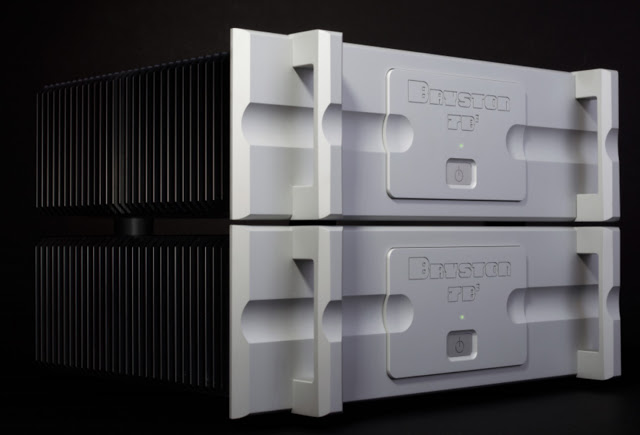 By Lam Seng Fatt
Listen up folks! Bryston has a new line-up of amplifiers to be launched this year.
This was confirmed by Bryston's James Tanner in a post dated 29 December 2015 on www.audiocircle.com.
He posted:
Hi Folks
Yes we finally received a 'patent' on new circuitry we have been working on for over a couple of years now.
This new circuitry will be utilized in the new Stereo and Mono Bryston 'Cubed Series' of amplifiers. It does not apply to the modular multi-channel 6B or 9B at this point but we are looking at that going forward. The newest version of the B135 Integrated amp also applies.
There are new cosmetics as well for all the power amplifiers including the 6B and 9B.
James
The Cubed Series will have new faceplates too which give it an IMHO more aggressive look. Not much is known about the new circuitry, but in later posts in audiocircle, James said the 3B SST3 will get a higher power output at 200 watts while prices will be about 10% more than the SST2 series.
The amplifiers will feature a new circuitry that, according to www.monoandstereo.com, was developed with Dr Alexandru Salomie from Hawaii. From what I can understand in the patent papers, the circuitry will be simpler than other high-end amplification circuits, will have more linearity and will have better signal-to-noise ratio.
According to monoandstereo, "All Cubed Series amplifiers feature a new patented input circuit that is precisely optimized and linear beyond any we've used before. Featuring twelve active devices in a groundbreaking array, this new circuit both matches the amplifier to virtually any preamplifier and provides the 6dB of gain. The new input stage is so transparent, its measurable distortion is less than 1/1000th of 1 percent!
"Newly designed circuitry in the Cubed Series amplifiers is virtually impervious to noise such as RFI and others induced by external and environmental causes.
"The Quad-Complementary topology improves linearity to a new standard of accuracy while virtually eliminating aggressive higher harmonic distortion byproducts. The overall harmonic distribution of Bryston's Quad-Complementary output mimics the characteristics of a class-A design but with dramatically lower distortion. Each amplifier channel includes its own fully independent power supply with separate transformer."
The Bryston Cubed amplifiers will likely be launched at the CES in Las Vegas which starts on Jan 6.
In Malaysia, Bryston products are distributed by AV Designs.