Article by WL Low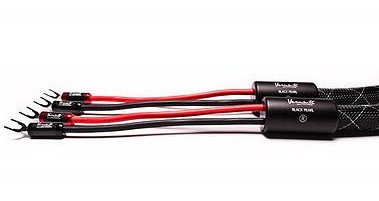 I must confess, that you my loyal readers would know by now that I am very much a fan of Vermouth Audio cables. Hendry Ramli(boss & designer) is based in the beautiful island of Bali, is a truly blessed soul. I admire his dedication to exceptional build quality & use of fine materials, all packaged to make cables of affordable to moderate prices. The speaker cable in question today, Black Pearl is Vermouth Audio's top of the line. Did I mentioned that Hendry builds lovely looking speakers for his home market?
I had previous found Vermouth's Red Velvet speaker cables a little wanting in terms of ultimate transparency, though it had an overall pleasing sound quality, with big, bold and fat bass. Perfect fit for budget solid state powered systems, where empathy and forgiveness to harshness is the order of the day. In short, used in the correct budget system, the Red Velvet's only weakness could well be it's strength too. I kept the review sample anyway, and it found a permanent place in my system as the bass driver speaker cable, used in my bi-amped set up. For some un-explicable reason, the Red Velvet seemed to have good sonic synergy my resident Siltech Classic Anniversary 330L speaker cables used to power my mid & hi frequency drivers.
Just to note, a piece of Red Velvet power cord also found a spot in my system, used to power my Bryston BDA-1 DAC. With the Red Velvet, providing my DAC a warm, mid range glow with fat bottom end to the sound, it seemed to make digital music source just that bit more enjoyable, compared to my supreme analogue source.
Then Hendry recently sent me 2.5 meter pair his latest speaker cable, the Black Pearl, which is actually been available for more than a year now. As the name suggest, the speaker cable wears black jacket for sleeves and comes capped with matt black finished, classy looking end caps at both ends. Vermouth Audio uses cold forge termination of spades and bananas for all their speaker cables. I asked for mine to come with spades at the amplifier side, and bananas on the speaker side to things. Like all Vermouth products, the look & feel reminds one of quality beyond the price paid.
I plonk in the Black Pearl to replace the Siltech Classic Anniversary 330L, powering the mid & high frequency drivers of my PMC IB2i speakers. Hendry had previously sent me a set of Vermouth jumper cables that can be put to good use now.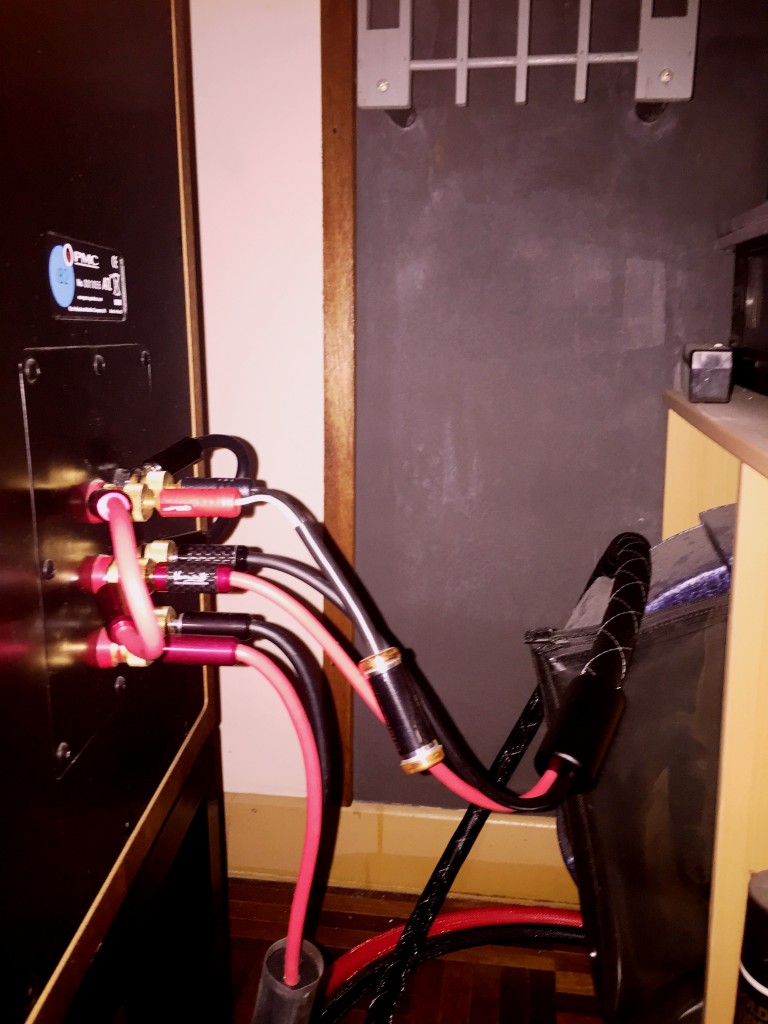 I heard a calmer and more soothing sound immediately, with better top to bottom coherence with the full Vermouth speaker cable set, compared to the mix & match set. Now we have always been told not to use cables as tone controls, but here is a perfectly validated example of tone control by cable swapping. With the Red Velvet and Siltech combo, I got more of a V-shaped EQ graph like sound. Extended, refined, and smooth highs, full on fat bottom bass, but a bit lean on the mid range. With the full Vermouth set of Red Velvet & Black Pearl combo, I got a more straight lined EQ graph like sound. The bass is just as fat & rounded at the bottom, the mid range now seemingly more prominent as it should naturally be British like sound, and the highs, less extended & less fluffy smooth, but nearly as refined. The initial impression I got was the Red Velvet & Siltech combo was faster in attack and decay, while the full Vermouth solution was just more relaxed and natural in it's presentation, allowing time for each note to be fully nurtured then followed slow decaying.
The fuller mid range of the Vermouth combo brought about improved imaging density & presence to my set up, should I say more liquid and tube like in fact, to the point I am considering that just maybe, I do not need tubes after all?(Having lived with a full Tobian tube system just days ago and missing their departure now, that's an audio reviewer's lot, not the whole lot, but that's what we get, with grace and thanks to the almighty!) The highs are now less spot lighted, less extended and less airy, replaced by a quieter, darker overall tone. Since the bass quality is determined by the Red Velvet, I detected little or no change at all in the overall scheme of things.
The staging and imaging quality of the full Vermouth speaker cable loom is comparatively laid back, but still maintains the same vibrant energy of attack, even tough the presentation of the kick drums are placed further back in to the sound stage by now. I would say the full Vermouth combo gave a better impression of a "live band" feel, compared to a more audiophile centric quality of the Vermouth & Siltech combo.
On initial playback, I did sort of suspect that the full Vermouth combo sounding less than fully transparent, but when I played my favourite Jenifer Warnes track, And So It Goes, track no.6 on The Well CD, I noted all the distinctive pedal notes buried within the piano sounds, still there to be heard, without the need to carefully listen for it. I listened to this track recently in a friend's super high end system and found those very same pedal notes masked, indistinctively beneath the piano sounds. And so the Vermouth Black Pearl passed another test, isn't that a surprise?
Well, not actually, as I know the Black Pearl is capable of more. The speaker cable's tube like mid range also came with an important plus point, other than dishing out great vocal presentation. I played some classical musical music and the rich woody tone, harmonics of the violin, viola or double bass instrument body and string texture was well featured, compared to the Siltech/Vermouth combo, where the detail emphasis is more on the strings.
The staging and imaging factor took on a more laid back presentation, with vocal plane by the wall behind the speakers and the rest of the instrumentation deep beyond the wall. The Siltech/Vermouth combo was more forward by comparison, where the vocal plane starts just behind the speakers and the rest of the band starts from the same backing wall. Both have their strengths here, a matter preference and music genre played with dictate your choice. If you play a lot of classical or jazz music, your choice would be ultimately the more laid back presentation. If pop/rock/blues is your musical diet, then a more immediate and up close feeling of music is your goal. For me, I'd like to have my cake and eat it too, however having to choose means no cake for me today!
At the end of the day, while the Siltech/Vermouth combo served me well for last year or two, I have chosen the top to bottom coherence in presentation of the full Vermouth Black Pearl & Red Velvet combo as my new speaker cable reference. Now bearing in mind that the Vermouth Black Pearl cost only USD$1136.00 per 2.5meter pair(excluding shipping) or about 60% the price of the Siltech Classic Anniversary 330L of the same length, is it any wonder that it is not a bargain in the high end audio cable industry? Prices for the Vermouth Audio Black Pearl speaker cable starts from USD$915.00 per 1.8 meter pair. By the way, Vermouth Audio is currently having a free shipping promo for Malaysian and Singaporean orders only, please quote that you've heard about it from AV2Day.com


I understand that there are no absolute when it comes to cables and Siltech's refined, heavenly high frequencies are still unmatched by any other in the cable company in the industry(Nordost Odin 2 does comes close however). Cables like Skorgrand have that magical mid range centric bump for that kopi "O" kau-kau flavor. The Vermouth Black Pearl does somehow reminds me of the Skorgrand Markarian 421 which I reviewed a few years back and loved it "so grandly". Sadly for me, the price tag of the Skorgrand cables also means that they will only remain an aspiration of grandeur. The Vermouth Black Pearl is certainly affordable and realistic(no dreams or nightmares required!), even if only it offers a diluted flavour of the Skorgrand Markarian 421. In the context of my last sentence, in view of Vermouth Audio's product pricing, there's really no shame having a taste of "so grandness". I am keeping my Black Pearls for sure, in the interest of keeping things real.
To enquire or purchase, please visit vermouthaudio.com or e-mail to [email protected]
Article by WL Low