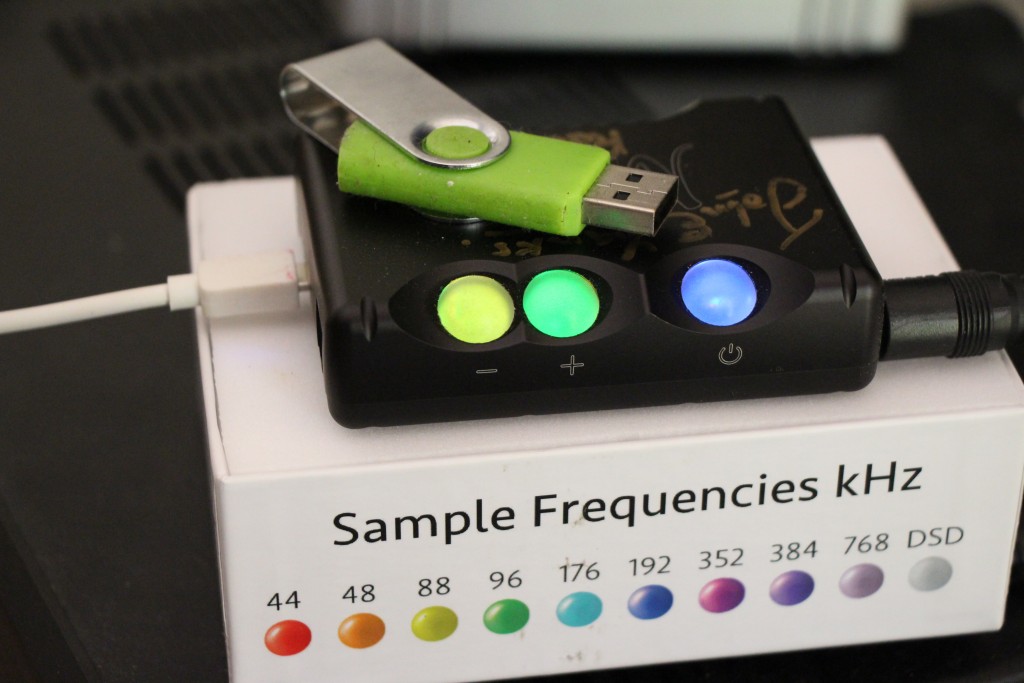 By Lam Seng Fatt
Chord's latest gadget Mojo – or Mobile Joy – is both a joy and a pain. In typical Chord style, it is an eccentric little gizmo both in terms of design and function.
After I reviewed its larger predecessor, the Hugo DAC-headphone amp- preamp, I bought it despite its eccentricities such as forcing me to use my pinkie to turn the power on and off.
Will I be buying the Mojo? Well…probably not and I shall explain why.
The Mojo is a battery-powered (just like Hugo) headphone amp/DAC which can accept hi-res PCM files of up to 24/768 and DSD files up to 11.2 (Quad DSD). Unlike the Hugo, the DSD files are decoded without decimation to PCM.
The Mojo is designed to be for young adults who are always on the move listening to MP3 music, but desire to move up the sonic ladder  to CD quality (16/44.1) or even higher resolution music.
Thus it is designed to be charged with a USB charger – like any smartphone – and even a powerbank. It is also designed to be connected to a CD player, music streamer, laptop and…any smartphone. All this sounds fantastic, but … more will be revealed later.
It takes four hours to be charged fully and it can then be used for up to 10 hours. Unlike the Hugo, the Mojo gets quite hot when charging and playing. And unlike the Hugo, Mojo remembers its last used settings.
It has two micro USB inputs – one for charging and the other for playing 44.1KHz to 768KHz PCM and up to DSD256 in DoP format. It has two digital inputs – a co-ax that can play 44.1KHz to 384Khz PCM (768KHz special option) and DSD64, DSD128 in DoP format, and a Toslink capable of playing 44.1KHz to 192KHz PCM and DSD64 in DoP format. On the other end are two 3.5mm headphone outputs which can drive 4 Ohm to 800 Ohm headphones.
Mojo has three roller-ball controls which change colour with different settings. One is the on/off control which also shows the sampling rate according to colour, and the other two are to increase or decrease the volume.
The Mojo comes in a little cardboard box which doubles as the instruction manual as the instructions are printed on the box. Chord has included a USB to micro USB cable for charging, but it is a bit too short… and that is not the only problem.
Problems, problems, problems
I shall get the problems out of the way before talking about the sound quality. Just like the Hugo, the Mojo comes with problems. I find it strange that many reviews of the Mojo did not mention the problems I encountered.
First the inputs:
1) The co-ax input is a 3.5mm jack. A normal co-ax cable with a normal connector cannot fit into it. You need an adaptor … which is not supplied by Chord. I did not use the co-ax input since the adaptor is not exactly the easiest thing to find.
2) The Toslink input – just like Hugo's – is an odd size and a normal Toslink cable cannot fit in tightly. I had to use the Toslink cable that came with the Hugo that I bought. The Mojo does not come with a Toslink cable :(.
3) The issues faced when using the micro USB input to connect to a smartphone depends on whether you are using an Apple (and also depending on which iPhone or iPad model) or an Android smartphone. From Chord Mojo's Q&A section: "First its important to identify what connection your iPhone or iPad uses. Older devices which use the 30 Pin connector will not work. If you have a newer Lightning connector on your device then you will need to purchase a genuine Apple Camera Connection Kit. Once purchased, you simply need to connect the USB to Micro USB cable to Mojo.
"Due to Apples file format limitations, the standard Music app on the iPad and iPhone installed is unable to play certain file formats, i.e.. FLAC, natively. There is a paid App available on Apples App Store that will help with this – Onkyo Music Player."
And for Android smartphones: "In order to connect your Mojo to your Android device you will need three items; a USB OTG compatible Android device, a USB OTG (Micro B to Micro B) cable – not supplied, and a high resolution music player.
"You can check whether your Android device is USB OTG compatible by referring to your manufacturers instruction manual. Once you have done this please download an high-resolution music player, such as USB Audio Player Pro or Onkyo Music Player, to work with Mojo.
"It's worth noting that sometimes you are required to unlock the USB audio output function, so if you are not getting audio please refer to the settings page and make sure that the USB audio out function is enabled."
This is when the fun starts…I went to the IT Mall in Section 14, Petaling Jaya and could not find any micro USB to micro USB OTG  (On-The-Go) cable.
So I contacted Centre Circle Audio, the Malaysian distributor of Chord products, and found out that they too had problems getting hold of a micro USB to micro USB OTG cable. Centre Circle's Sky Wong resorted to ordering through the Internet and bought several from overseas sellers.
Surprise, surprise… many of the cables did not work with the Mojo. Finally, he found one which worked – only in one direction. When the cable was reversed, the USB device was not detected. He handed that cable to me for my review.
Of all the music sources, getting my HTC (Android) smartphone to work with Mojo was the most problematic.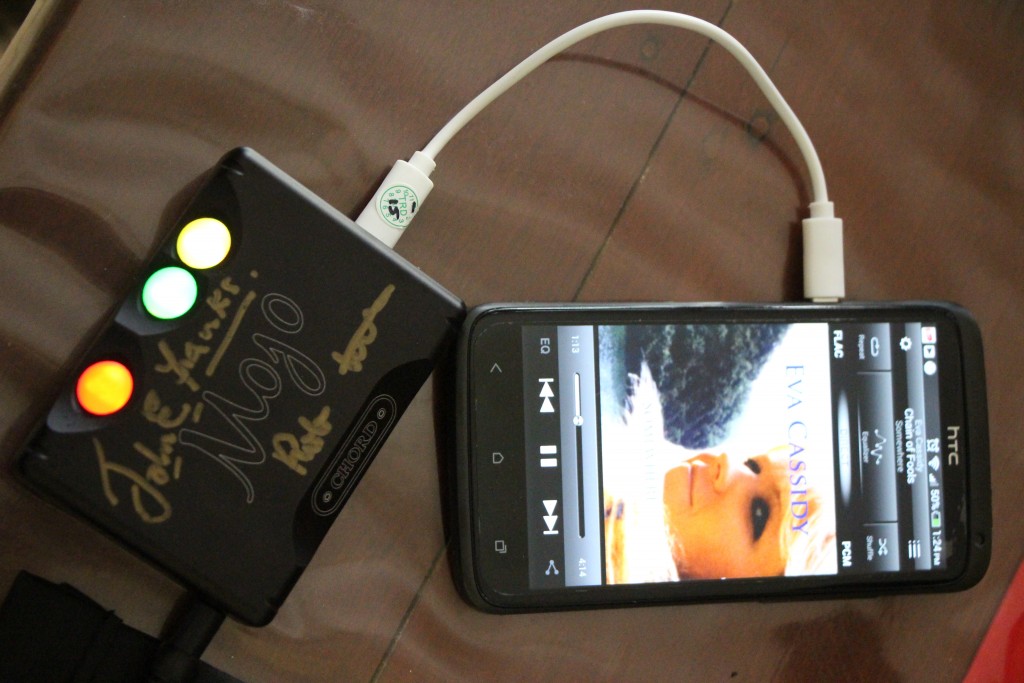 Problems with music players
Since I had to download a high-resolution music player to get my smartphone to stream music to the Mojo, I went to the Play Store and found two versions of the Onkyo Music Player.
I found out that the free version could not play music files with resolutions higher than 16/44.1. So I had to buy the other version – the Onkyo HF Player Unlock Kit. It performed well for a while and then it suddenly could not stream high resolution music to the Mojo properly – the songs played but there was a stuttering crackle in the background. This occurred when I streamed a 24/192 file and also when I upsampled a 16/44.1 file to 24/176.4.
So I downloaded the USB Audio Player Pro and found out that it too played 24/192 msuic with the stuttering crackle in the background. But I managed to get the 24/192 music to play properly by activating the 'USB Tweak 1' feature which states: "Try this when you experience glitching even at higher buffer size settings. This disables clock information from the device, so it can actually introduce glitches as well."
To make matters more frustrating, when I returned the Mojo to Centre Circle today, I tried to explain to Sky Wong the stuttering issue. When I connected the Mojo to my HTC smartphone, the phone suddenly decided to jam up and I had to reboot it. After rebooting, both the Onkyo HF Player Unlock Kit and  USB Audio Player Pro (even with USB Tweak 1 deactivated) played a 24/192 file smoothly without any noise or stuttering crackle. It was as if the gods of digital audio had conspired to infuriate me….or maybe the Android phone just needed a reboot. Meanwhile, Sky Wong was giggling away…
With both the Onkyo Music Player and USB Audio Player Pro, playing MP3 and CD rips (16/44.1) was not problematic and the sound was actually quite good.
Connecting to the laptop
If you use a Mac laptop, you do not need a driver, but if you have a Windows-based laptop, you need to download a player from the Chord website. Getting this to work on my HP laptop was not an issue.
Since a USB to micro USB cable was not supplied, I used the one that came with my Hugo. There were no issues encountered.
I spent some time listening to it with my pair of Sennheiser HD600 and found the sound had many of the attributes of the Hugo. PCM files were rendered in a smooth manner without the hardness and strident negative qualities of many other DACs.
DSD files were clearly different from PCM files in terms of sound quality with an extra layer of smoothness and image definition, especially when the CD rips were converted on the fly by J River to DSD5.6. What about DSD 11.2? Well….more on that later.
Playing hi-res PCM and DSD files
I played hi-res files from HD Tracks up to 24/192 without any issues. I also played 24/384 files from Kent Poon without any issues.
As for DSD files, I could send a native DSD file from Opus to the Mojo using "2XDSD in native format" output. This was only possible after I activated the "DSD bitstream in DoP format" function in the "Device settings – Output" menu. With this setting, when I played a native DSD5.6 file, the output was DSD5.6 and if I played a native DSD2.8 file, the output was also DSD2.8.
However, when I played a CD rip (16/44.1) converted on the fly to DSD5.6, this setting did not function and I had to use the "2XDSD in DoP format" setting.
Now, what about DSD11.2? Initially, there was no way I could send a DSD11.2 (quad DSD) file to Mojo. Then I found out that there was a J River V21 available for download and it offered a "4XDSD in DoP format" and so I managed to play CD rips in 4XDSD format.
However, I encountered glitches in the form of the music suddenly fading out and fading in. It was not a stuttering issue, but a fade out/fade in issue. Despite setting various buffer sizes, I could not solve this issue and after a while, I just got tired and switched back to 2XDSD format over DoP and had smooth listening sessions after that.
What about the sound quality?
Finally, I shall talk about the sound quality. I also used the Mojo as a standalone DAC for the big rig simply by buying a 3.5mm to RCA adaptor cable. By plugging the 3.5mm jack to the headphone output and the RCA plugs to the Lamm preamp, it functioned as an outboard DAC with either the Roksan CD player hooked to it with the Hugo Toslink cable or the laptop connected to it also with Hugo's USB to micro USB cable.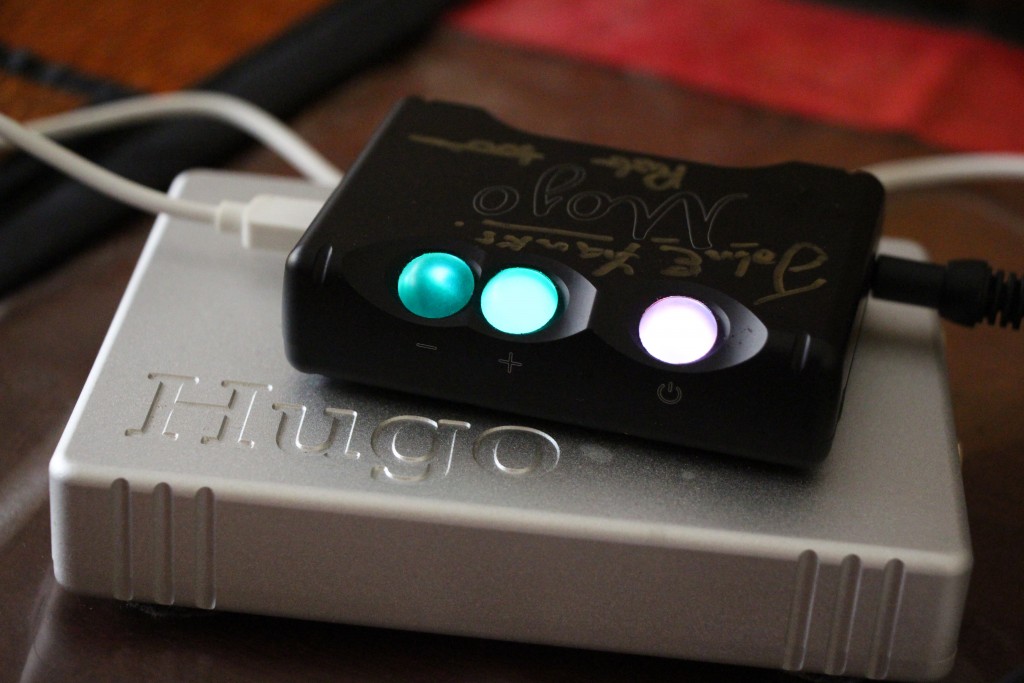 As I said before, it has many of the qualities of the Hugo – a  smooth sound when playing PCM and an even smoother sound when playing DSD (mostly DSD5.6 and some moments of DSD11.2 till I encountered the issues mentioned above).
It offers an open and transparent sound quality and the images are spread out instead of being congested in the centre. Imaging mainly in the centre is something many DACs in its price range tend to do, I have noticed.
Compared with the Hugo, it loses out in terms of size of soundstage, depth and definition. But then Hugo is more than twice its price.
My wish list
Chord should appease the hordes of followers by giving a set of cables to them. I was told Chord is coming out with a cable kit, but it is likely to be for sale. I strongly suggest Chord should offer this cable kit for FREE 🙂 to all Mojo buyers. (For Mojo owners in Malaysia, Sky Wong told me that a dealer for Centre Circle called Stars Picker in Kota Damansara has brought in a shipment of micro USB to micro USB OTG cables which work well with the Mojo. For more details, call Willy at 012-3395413).
Also, Chord should come up with its own USB music player for Apple and Android smartphones for FREE 🙂 download.
My conclusion
Based purely on sound quality using a CD player as transport and the laptop with J River to play 16/44.1 PCM up to 32/384 PCM and DSD files up to DSD5.6 (or DSD11.2 if you can solve the fade out/fade in issue I experienced), the Mojo is one of the best buys at its price level. If you have more spare cash and don't mind the larger size and the fact that it decimates DSD to PCM, get the Hugo. And if you have lots and lots of spare cash and want top-flight sound quality, get the Dave which should be out this year.
Mojo is available at Centre Circle Audio in Taman Tun Dr Ismail, Kuala Lumpur. It is priced at RM2,700 nett.