Article by Venoth Nair
The True Sound of The Future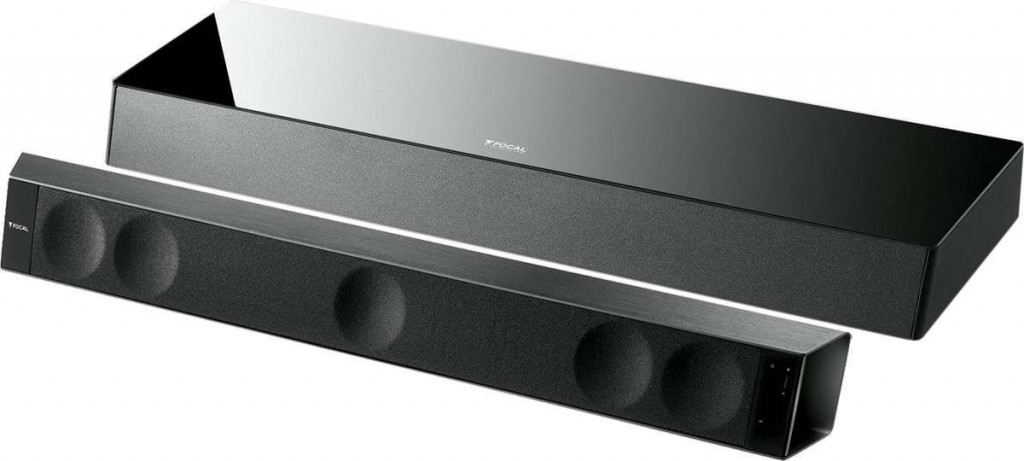 If you're a proud owner of a brand new slim panel big screen TV, then you have also most definitely inherited one of the worst features that come with its waif like thinness, its equally thin and lifeless sound.  This deficiency has led to the rise in popularity of soundbars and soundbases which helps to alleviate the pain of poor quality sound by providing some serious augmentation to the audio output.
The world of soundbars and soundbases has so far been dominated by the usual big box brands but the coming of age of these sound systems has seen many high end audio companies also produce some units of their own. This is where French audio connoisseurs Focal, submit their entry with the Dimensions sound system.
The Dimensions system is actually made up of two separate components. The first component is a powered soundbar which is the heart of the system. The second part is a passive subwoofer that doubles as a base for a big screen television.  The dimension of the Dimensions (pardon the pun) is large enough that it will happily hold up a TV of massive proportions.
Speaking of dimensions, the Dimension system is large, really large. But its size is beautifully offset by its immaculate finish and stunning design. This system is eye catching with its tempered glass top, capacitive touch controls that light up when your hands get near it, black aluminum uni-body soundbar and silky grills with indentations on it to highlight the 5 independent drivers.
The drivers on the Dimensions Soundbar are fueled by a 6 channel amplifier, producing a powerful 75 watts per channel. The 6th channel is actually there to power the passive subwoofer via a simple speaker output that connects to the sub. The Soundbar also houses all the connectivity of the system which happens to be dual HDMI inputs (one with ARC feature), a digital optical input and of course a stereo mini jack analogue input. There is also a USB input which is meant for service and update purposes.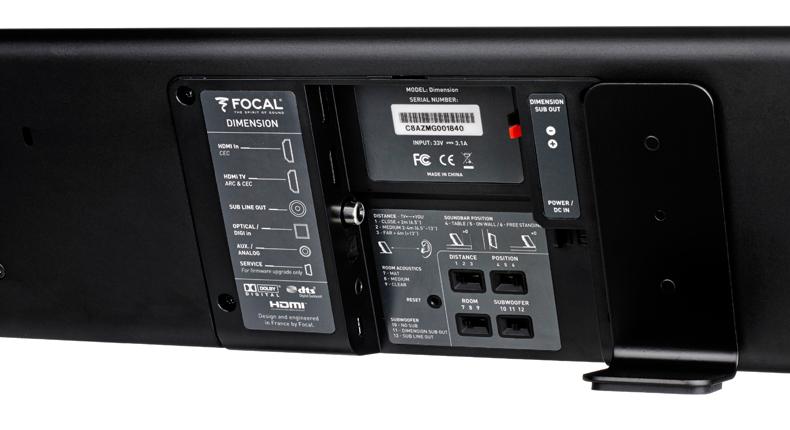 Another great feature about the Dimensions is its ability to fit into any environment thanks to its built in preset settings that allow you to set it up to fit the room and position in which its placed in. Parameters such as listening height, room size and positioning are all selectable using simple toggle switches found at the back of the soundbar where the connections are located. Additionally the Dimensions can also be paired with a regular powered sub should you opt not to use the matching Dimensions Sub. The absolute flexibility of this system makes it one of the most versatile soundbar/soundbase systems in the market.
Strangely however the wireless capability of the soundbar is achieved using an external Bluetooth adapter that connects to the auxiliary input to playback music. Now this could be a decision based on sound quality and is perhaps a future upgrade path. In my opinion it should have been built into the soundbar. Nonetheless, having an external Bluetooth adapter would also mean that if it ever gets faulty, you could just swap out the Bluetooth adapter and not the entire soundbar, a plus I would say.
Finally let's get down to the real business of this system and that's sound. Let me tell you that after a good listen to the Dimensions in various positions, with different sources and lastly with or without the Dimensions Sub has left me with just one word to describe it, AWESOME! This system is capable of some serious levels of audiophile quality sound and it does so without breaking a sweat. Bass is confidently deep and punchy even without the Dimensions Sub in the picture. Switch it to work with the sub and a whole new level of depth and detail is achieved with a sound that will fill even the largest of living rooms with sound. This is definitely a system worthy of the best big screens.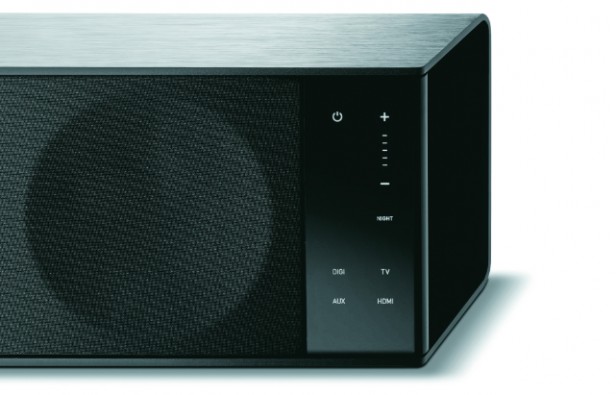 So if you've got yourself a big screen TV with superb picture quality and want to give it the sound it deserves, look no further than the Focal Dimensions Soundbar and Subwoofer system. The Dimensions Soundbar retails for RM 4,899 and the Dimensions Sub at RM 1,299.
For further details contact:
WKH Distribution Sdn Bhd.
Tel: 019 3395186
Article by Venoth Nair