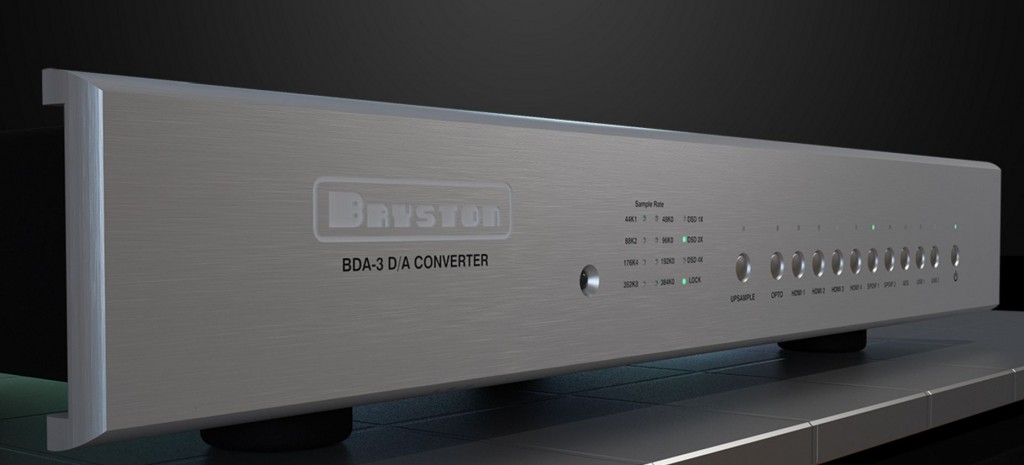 By Lam Seng Fatt
Looks like this is one of those years when Canadian hi-fi manufacturer Bryston is hogging the news at the start of a new year.
James Tan of AV Designs, the Malaysian Bryston distributor, told me that the BDA-3 – which can accept PCM files up to 32bit/384kHz and DSD files up to DSD11.2 (quad DSD) –  will be reaching Malaysia this month. Given Bryston's track record with the trail-blazing BDA-1, this should be a DAC worth auditioning.
According to Bryston's website:
"The Bryston BDA-3 delivers superb sonic performance through re-sampling and re-clocking of the digital input signal. With the exception of user-selectable up-sampling, the BDA-3 doesn't convert anything to another format or re-sample at a non-native rate. The most notable difference between the BDA-2 and BDA-3, in addition to PCM playback capable of 384kHz/32 bit resolution, is that the BDA-3 is fully DSD enabled. The BDA-3 can decode up to DSD-256, through asynchronous USB inputs, and accepts SACD input via HDMI. The BDA-3 incorporates 10 separate inputs which include four 2-channel HDMI, asynchronous USB, AES/EBU, TOSLINK, and digital coax. Additionally, the network module which facilitates control via TCP/IP and RS-232 makes the BDA-3 a must for modern home automation."
Inputs: 4x HDMI, 2x USB 2.0 Type B, 2x S/PDIF (1x BNC, 1x RCA), 1x Optical (TOSLINK), 1x AES/EBUOutputs: HDMI, RCA, XLR
Control: TCP/IP, IR, DC, RS-232
Features:
Dual 32Bit AKM DACs
Discrete Class A analog output stage
Independent analog and digital signal paths
Independent power supplies
Massive support for different PCM and DSD resolutions
HDMI video pass-through with audio out (4K video pass-through)
Options:
Available with silver or black faceplate
17"or 19" faceplate available
Rack mountable option available (2U)
BR2 remote control available
The Bryston BDA-3 uses AKM's VERITA AK4490EQ DAC chip which is a new generation flagship 32-bit stereo premium DAC. Actually, the AKM AK4490EQ chip's digital input supports PCM inputs up to 768kHz (but Bryston limits it to 384kHz) while the DSD input accepts 2.8MHz, 5.6MHz  and 11.2MHz.
Wait for more announcements in AV2day regarding the launch of the Bryston BDA-3 in Kuala Lumpur.