Article by WL Low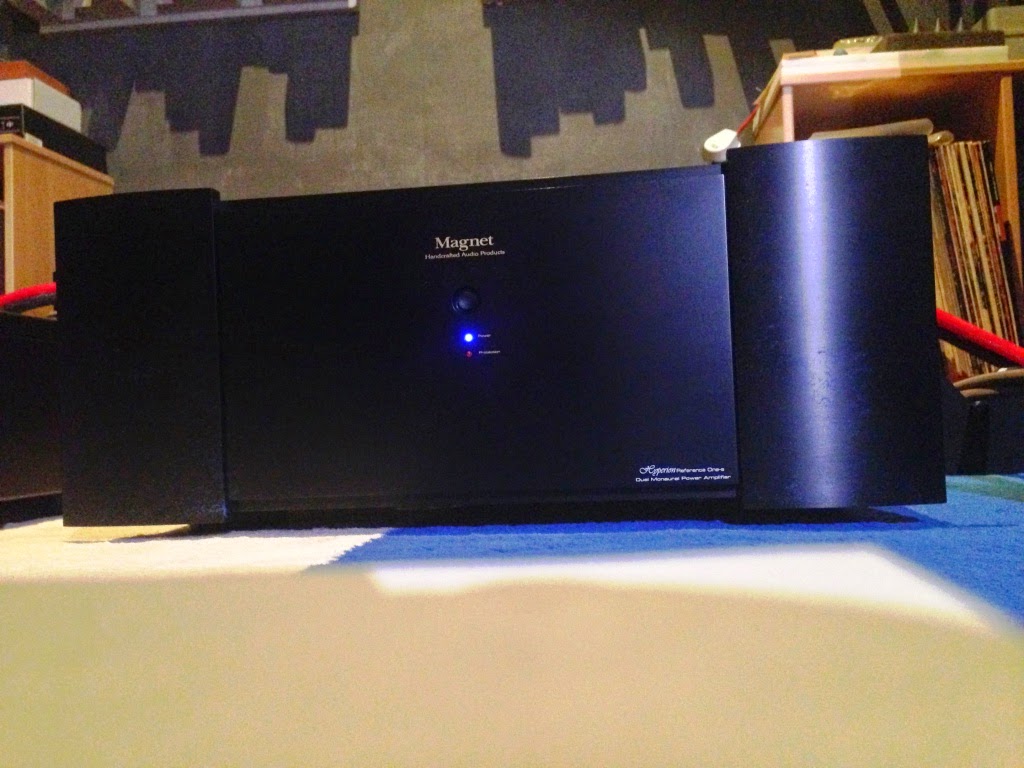 Since my previous article on the Magnet Hyperion Reference One power amp, posted on 13th April 2014, which resulted in my purchase of the review pair to be used as my reference for bi-amping a pair of PMC IB2i speakers, I was enjoying the music with carefree abandonment, until recently that is.
I often get asked why I settled for the Magnet power amps, which was like coming down from the likes of established marques such as Plinius SA250 MKIV and a pair of Pass Labs Aleph 0 before that. My answer is simple – it's called cost to performance ratio. How else can one get a brutishly serious looking power amp, rated at 250W, with good enough sound to boot, for just RM18,000 per unit? Did I mention that I bought a pair for bi-amping? Just in case you have forgotten…
At that time, I found the Hyperion Reference One to be less than refined on the high frequency side of the spectrum, and slightly noisy (white hash) in terms of noise floor, however its performance in all other audiophile and musical parameters, such as high transparency factor, high dynamic contrast and speedy transients, and not to mention a heart warming mid range tonality outweighed the negatives. Throw in the relatively low pricing (compared with the other bigger brands) and Victor's (i.e. HiFi Creations) friendly service, it's a winner in my books.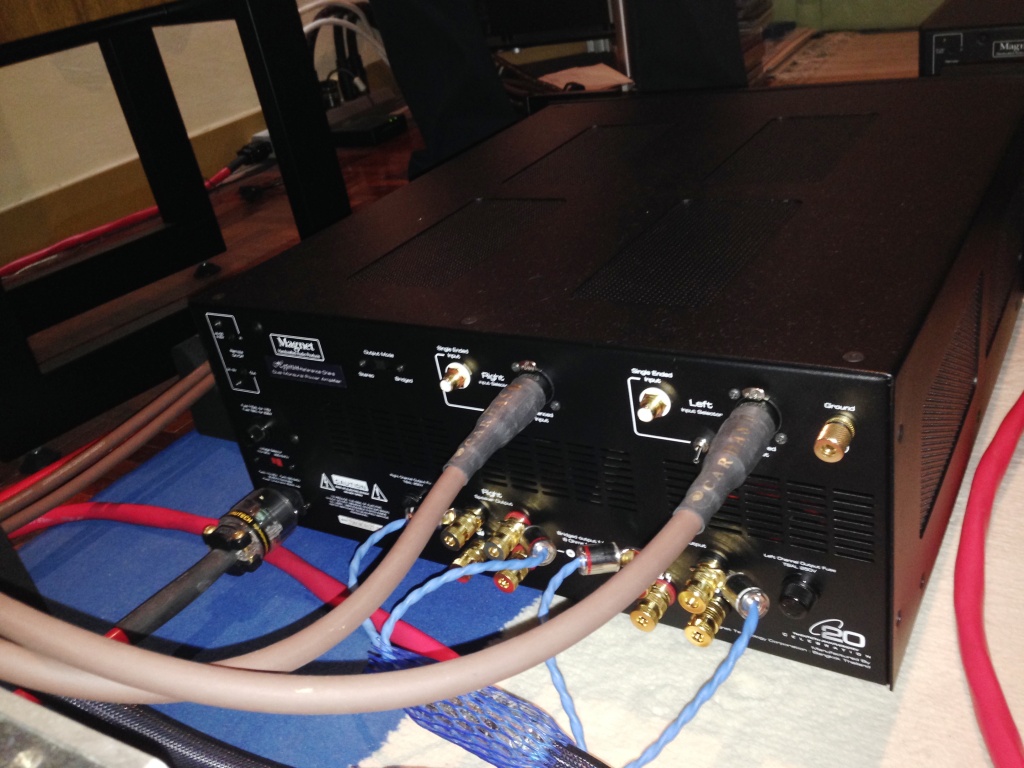 Now back to Victor and his friendly service…this guy always tries to get me on to the wrong side of a financial argument (I am sure he has done the same to many of you dear readers too!). Sometime between last Christmas and the 2016 New Year, he swung by my place with a pair of Magnet Hyperion Reference One power amps. It looked exactly the same as the older model and felt just as solid and heavy to boot. It is only at the back end that we could tell the minor difference between the new and the old model. The new amp has slightly different silk screened graphics and lacks a small fuse cover on the right side of the amp compared with the older unit. Look at the pictures above and below for comparison. Victor said that these babies are the latest Rev C (second revision since I bought my pair, assuming my original pair was Rev A). He thought the latest Rev C model sounded better, but he did not have an older unit in his place to compare. He wanted to insert the REV C into my system, for a straight A/B comparison. For me, it was game on!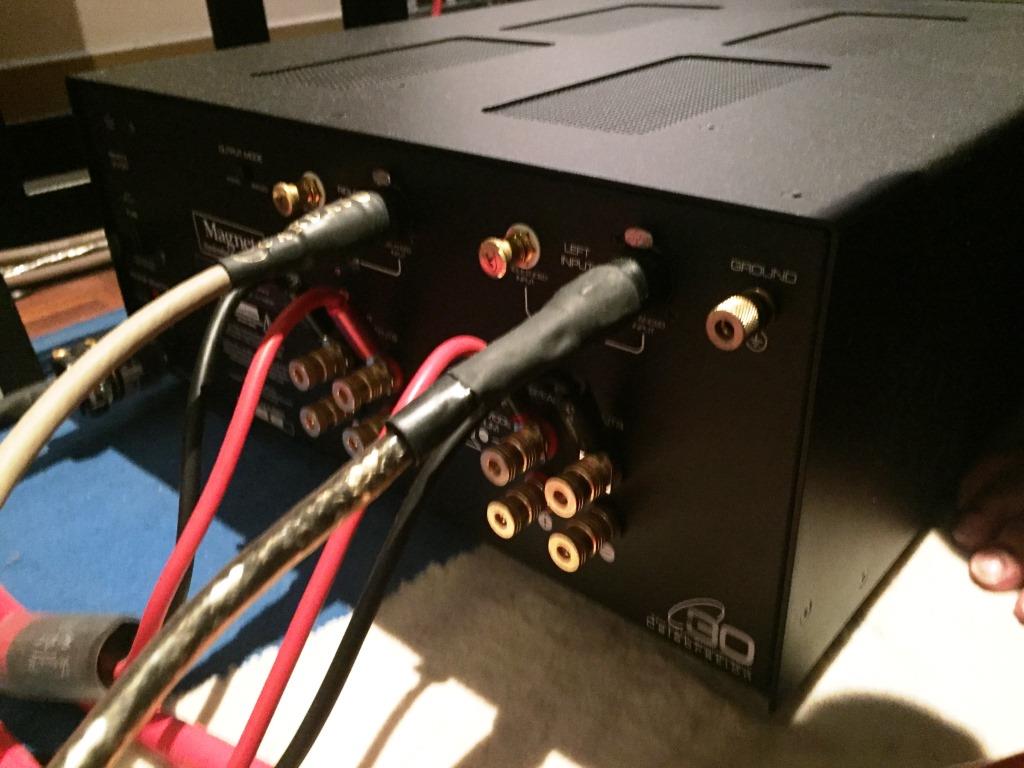 Before inserting the new Rev C amps in to my system, Victor listened to various analog tracks on my system for nearly an hour. After he was satisfied, the new amps replaced my amps. All cables were reconnected and we were ready to power up the system again. Upon powering up, I immediately noticed something different – a lack of noise. A large degree of white hash has been reduced considerably; there's still a little subjective noise when compared with  the big brands like Mark Levinson or Pass Labs, but it has improved tremendously. We proceeded to play some music, and I noticed smoother and more refined highs. There's seemingly better transparency too, when it comes to the little details hidden in the musical mix. At the end of the session, I asked Victor to let me keep the amps for a while so that I can better evaluate them.
After listening to the Magnet Hyperion Reference One (Rev C) for more than two weeks, I concluded that my above initial findings were accurate, but the amp also never lost any of its performance winning aspects. Bass still dug deep and remained big, rounded and solid in agility. The mid range was still as succulent and warm as Lam Seng Fatt described them earlier (see http://av2day.com/2014/05/musical-and-succulent-amplifier/). The noise reduction revision brought about a certain degree of refinement, yet did not disturb the best parts of the amp's performance parameters. The Magnet amps are still that dynamic, and powerful beast that kicks ass too.
The new revision also brought about improvements to the thermal management of the amplifier. I found the latest version running less hot after an hour of high SPL use, though the initial 20 minutes of warm-up time had the heat sinks feeling just as warm as before. The older version of the amps would have activated their protection circuit way earlier before the new amps did. Still, in my quest for rock concert playing levels, I managed to trip the protection circuit of the new amp twice during the review period. Let it be said, that the activation of the protection circuit in no way damages the amplifier. Just let it cool down for a couple of minutes and it will be turned on again for sure, and play music just as usual.
The original Magnet Hyperion Reference One offered stunning dynamics and great power, bringing excellent power to dollar ratio for those who need high power, but do not have so muscular bank accounts. The latest Rec C version of the Hyperion Reference One adds low noise floor, refinement and better thermal management to the package without losing any of it's original great attributes. I absolutely must have it. I requested for an upgrade trade with $$$ top-up and Victor willingly obliged. Still priced at RM$18,000 per unit, The Magnet Hyperion Reference One (Rev C) now offers higher performance levels, that are shockingly close to the established order of high-end marques. HiFi-Creations is currently having a limited time promo price campaign with the latest top of the line Magnet power amps. Kindly call to inquire if you are interested. I highly recommend it if you are looking for a high powered amp at a reasonable entry cost, given today's tough economic conditions and the hi-fi hyper inflation that we are experiencing at the moment, in Malaysia.
Magnet is sold by HiFi-Creations, contact:
Victor Pheh at 012-2962799
Article by WL Low