Article by Tan TE
.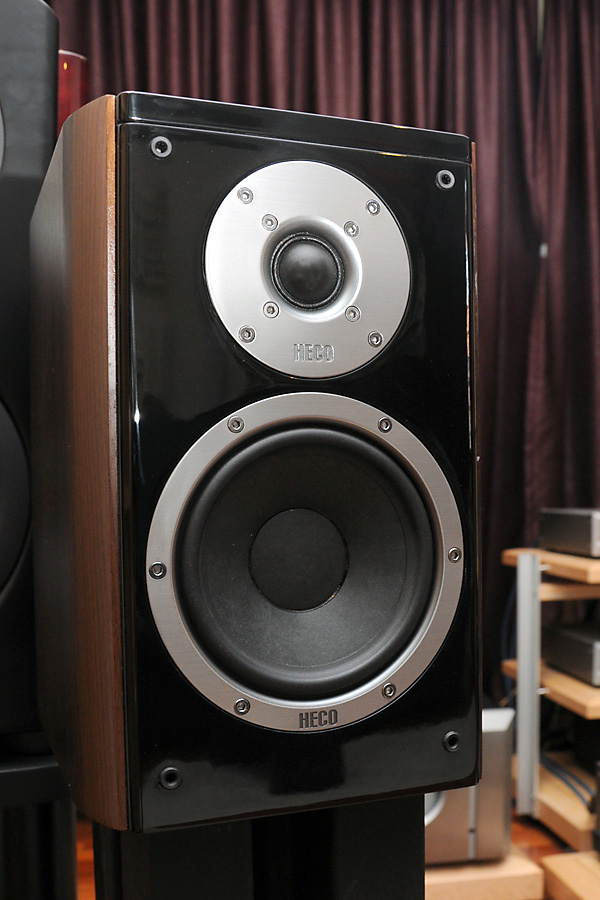 .
For this post, I went down the loudspeaker price ladder further, and ended up with a pair of HECO Music Style 200. HECO? I bet this name is not quite familiar for many audiophiles in Malaysia, me included. I encountered the name in the recent KLIAV Show and perhaps also occasionally in some online advertisements, at least I knew that it was a German company, but I had not come across any HECO users during any of my home visits. So, the most natural thing for me to do was to go googling up HECO's website (http://www.heco-audio.de/en/). And what a surprise it was to me. Apparently, HECO has been in the loudspeaker business since 1949, unlike other loudspeaker companies who take off-the-shelf drivers to put into their own boxes, HECO designs and makes its own drivers, and the loudspeaker range offered is positively extensive, ranging from small shelf-top speakers, to 5.1 system to high end stereo pairs.
.
The pair of loudspeakers for this write-up comes from HECO's Music Style range, which is 8 model deep, consisting of floorstander models, bookshelf, on-wall, centre and subwoofer. Apparently, HECO has aimed the Music Style range at both the stereo and home theatre crowd. The Music Style 200 is the bookshelf speaker in the range, equipped with a 25mm silk dome tweeter and a 125mm midrange/bass driver made from HECO's long fibre paper cone. The size of the box is 195mm x 300mm x 277 mm. HECO quotes impedance as between 4 to 8 ohm, frequency response of 34Hz-40kHz, and sensitivity of 89db/w/m. Recommended amplifier power is 20-140w.
.
I have to commend HECO for the quality of construction of the Music Style 200's cabinet, which looks simply luxurious for this price. The finish I got is called "Espresso" which has glossy piano black finish for the front baffle and top panel (my only complaint is that they easily attract fingerprints), the sides are curved and cladded in a deep colour wood grain finish, the back and bottom are finished in matte black. The drivers, port, and the speaker terminal panel are ringed or decorated with polished metal (I guess it is aluminium). The loudspeaker successfully combines a classy look with high tech elements and is positively handsome.
.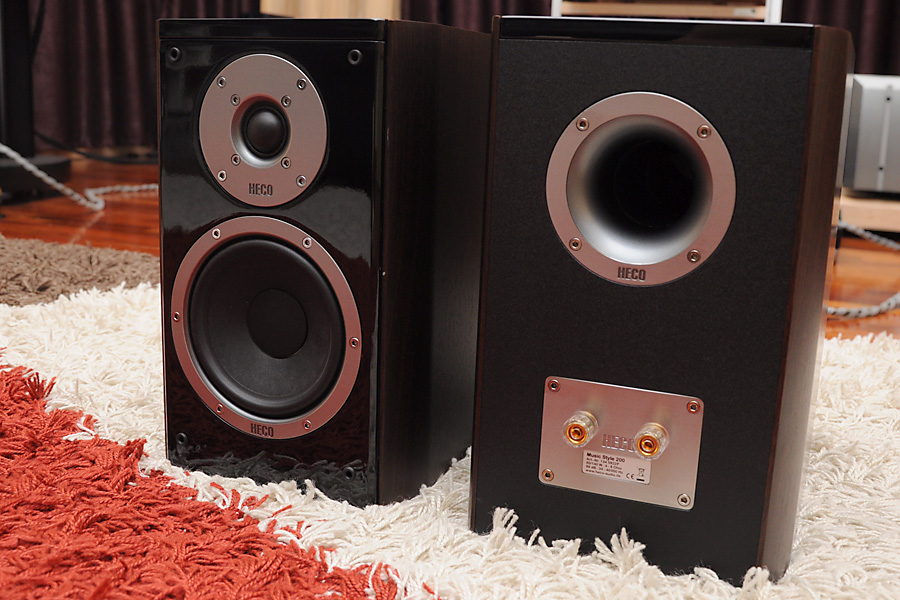 .
So, this review exercise allows me to achieve 2 objectives, one is to get myself acquainted with a new brand, and two is for me to know how truly entry level loudspeakers sound nowadays. The HECO Music Style 200 retails for RM2,210 a pair (excl GST), which is the lowest price point among all the small loudspeakers that have come through my listening room so far.
.
I put the Music Style 200 on my 24in high 4-pillar metal stands, situated in front of my main speakers. The matching electronics were a Marantz DV7001 universal player and a Cambridge Audio Topaz SR10v2 stereo receiver (though it was its integrated amplifier function that interests me, not the tuner), which I acquired recently from CMY. Fed up with having to take the NAD C315BEE, which I had been using in the past, out of my son's bedroom system again and again, I decided to find another good entry level amp. I was attracted by the SR10v2's affordability and its 85w rating which I thought would give me greater liberty in loudspeaker partnering (the CA Topaz SR10v2 turned out to have a warm and sweet voice which would complement many entry level loudspeakers well).
,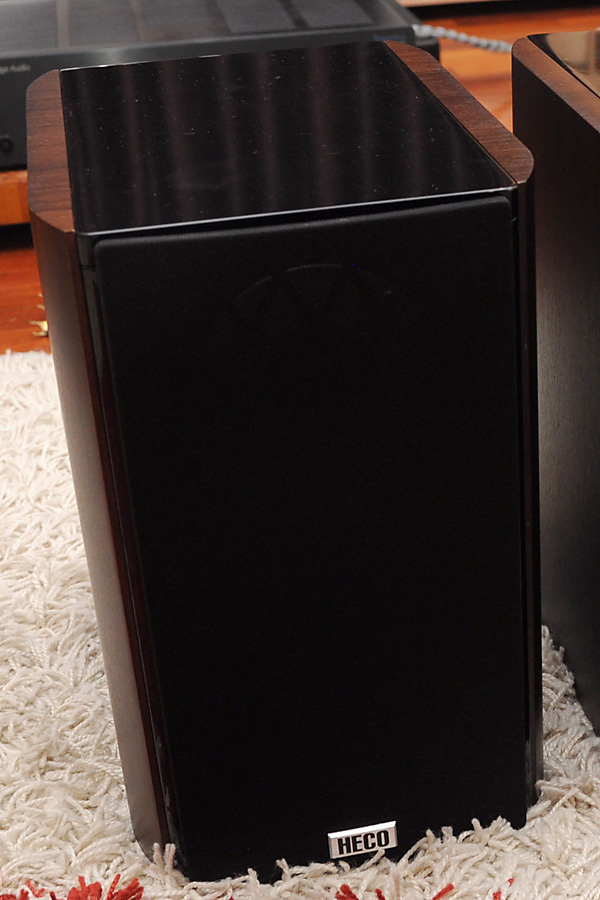 .
After a few days of running them in, and also listening to acquaint myself with the Music Style 200s' performance, it was time for fine tuning. Placed at the usual width like my main loudspeakers (about 3m/10ft apart), their midrange came across as a little thin and the imaging was somewhat diffused, this was remedied after I pulled them closer to each other, and imaging was further focused by a slight toe in, and that was how they stayed throughout the review period.
.
First off, let me compliment them by saying that, despite the Music Style 200s' relatively low price and entry level status, they did not come with any serious hifi "sins" in my book. They did not have a rough, screechy or overly bright high, they did not have a thin mid, and there wasn't any exaggerated or boosted bass. Bass quantity and extension were necessarily curtailed due to the size of these boxes, and admittedly my listening room was also too big for them to work in, but the bass region was not anaemic. Give them a smaller space and place them closer to their back walls for some reinforcement I am sure the bass performance would be even better. As it was, the bass performance was agile and had good definition. I also needed to be a little more careful with the volume knob, again given their size and my room, they could be pushed beyond their comfort zone in terms of power handling. When the sound started to get unruly and a bit disorganized, that was the sign for me to back off. However, I was able to achieve satisfying level with much of my favourite music including vocals, jazz and small to medium scale classical music.
.
The Music Style 200s put up an impressive performance. They have exemplary midrange (especially the upper mid) and treble performance, viewed in their entry level context. The smoothness and control they displayed in these regions would allow many hours of fatigue free music enjoyment. They sounded very open. They portrayed dynamic contrast very well. Furthermore. fast and rhythmic music did not trip them up (try some jazz), so musical proceedings did not get draggy or boring at all. All these were no mean feat from these small loudspeakers really.
.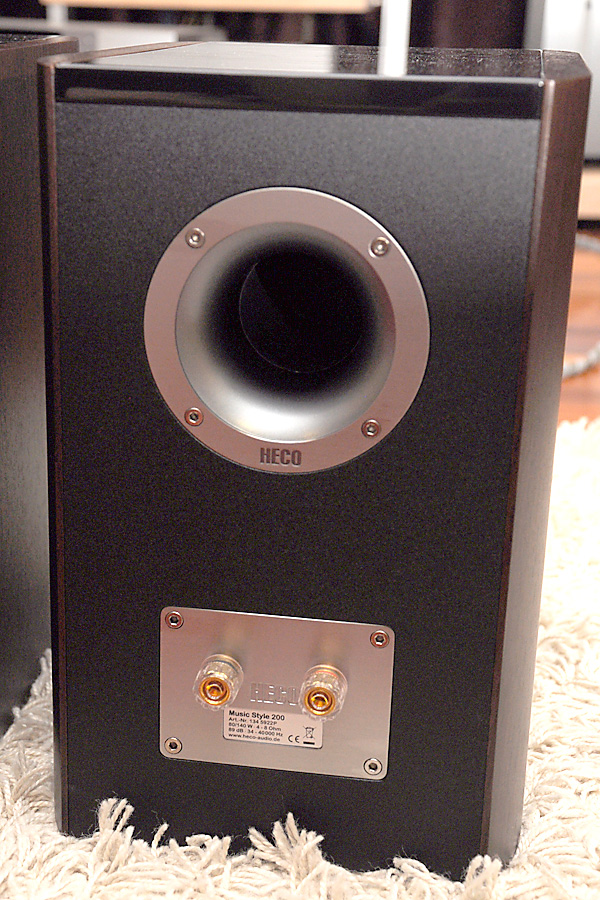 .
I like the HECO Music Style 200s and can easily recommend them to anyone who are starting on their hifi journey. Paired with any competent amplifier and a digital or analogue frontend (NAD, Rega, Marantz, Cambridge Audio came to mind), I think one can put together a system with a sweet and balanced sound for not much than RM5k. Well done, HECO!
.
HECO is carried by Audio Art, Contact David at 012-2499823 for more information.
.
___________________________________________________________
Here, I'd like to share 2 clips that I made of the HECO Music Style 200 playing in my room (matched with Marantz DV7001 and Cambridge Audio Topaz SR10v2). The clips were captured with an iPhone 6 and downsized to mp4 files (with 192kbps audio).
.
Cautions, as usual: these clips cannot convey the actual performance in full, frequency extensions are limited, soundstage cannot be heard at all, and how loud the system was playing cannot be conveyed. However, I hope they can convey a few characteristics I would like to highlight (it is also advisable to listen to them through headphones if possible).
.
I'd like to thank Pop Pop Music and Reference Recordings who have graciously given me their written permission to use their recordings in these clips.
.
The first clip is of the Music Style 200 playing Track 3 "Breaking Up" from Pop Pop Music's third 2v1g album, sung by Winnie Ho and accompanied by Roger Wang. Listen for the sweetness and nuances expressed in the vocal part and the guitar: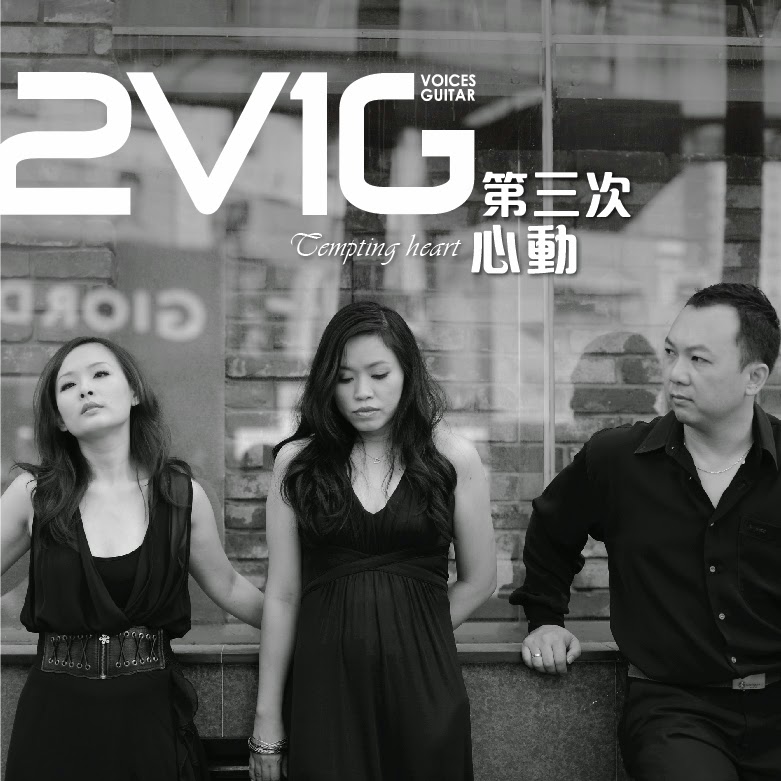 (File size 13.6MB. Length: 2m 44s )
.
The second clip is of the HECO Music Style 200 playing Track 14 from Reference Recordings' SACD – Tutti (RR-906 SACD) – Eiji Oue, E.C.F., from Presque Isle, Eiji Oue/Minnesota Orchestra. This is not an overly demanding track (but there is a little crescendo that I hope would put a smile on your face), and the Music Style 200s plays it with a good amount of details and a nice musical flow.
.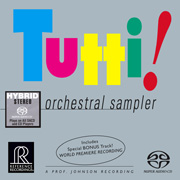 .
(File size 6.1MB. Length: 1m 13s )