The Future of Entertainment
by Venoth Nair

Blu-ray technology has been around for a decade now and has pretty much been the last word when it comes to a complete cinematic experience at home, until now that is. Today we see the dawn of a new standard, and that's 4K Blu-ray. Though similar in so many ways physically the two discs couldn't be any more different, with four times the resolution and greatly improved gains in both picture as well as sound.  4k Blu-ray definitely sets the bar high for what's to come when it comes to home entertainment. It's been quite a while now that 4K TV's have been available in the market but without the content or players to actually deliver the goods, but that's about to change.
Samsung a leader in display technology has stepped up the plate and delivered its first offering to the market with the new UBD-K8500 which is a genuine 4K Ultra HD Blu-ray player. This player being the first of its kind over on our shores will definitely set the bar for what we can expect with 4K.
Beginning with its build, the UBD-K8500 design pays homage to the curve screen TV's that was developed by Samsung. The unit has a curved body with a concave front fascia which gives it a totally unique look. This shape though quite common with Samsung TVs and even some of its soundbars seems a little odd when applied to the player, although in all honesty, with a player this groundbreaking it doesn't hurt to stand out. The entire body is treated with a brushed finish that smartens up the player and capacitive touch buttons on the top right side of the fascia feel futuristic and cool. What's missing though is a display, which may irk some consumers, but the idea here is that all the information needed will be displayed on screen, so you need not look to the player as a reference.
Turning the unit around we find only 4 connectors for inputs and outputs. These are two HDMI connections (one for AV and one just for sound) a LAN connection and a single optical output for sound. Samsung has totally done without older legacy connections which may be disappointing for some but considering that this is a groundbreaking product, changes like this are pretty much inevitable as the newer format has certain playback requirements like a HDCP 2.2 rating and HDMI 2.0 connections that most older equipment do not support.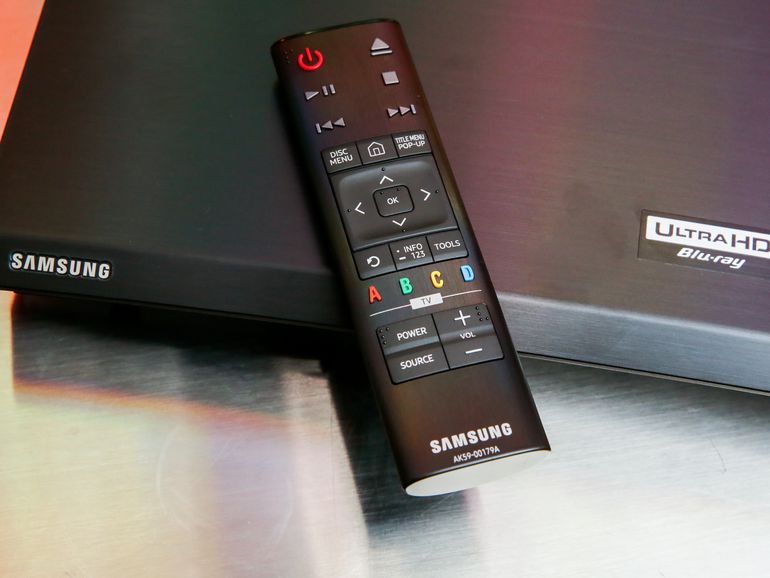 Turn on the unit, and you're greeted with an on screen user interface that is neatly laid out and informative. Finding your way around the menus is a pleasant process which is done with minimal fuss. The remote however might be a problem for some as its small size and buttons which are laid out close to each other was difficult for me (I have rather large hands) to navigate comfortably without needing to turn on the light to see what button I was engaging. The remote is good looking and has a modern, sexy look but I just wish it were slightly larger overall in size for easier operation in the dark, or backlit maybe, which would be even nicer.
Loading speed on the player is a touch longer then say, the best Blu-ray player currently available but that has to be expected as 4K content is much larger than regular HD and considering the sheer amount of data, it's safe to say that load speeds are pretty impressive. Also considering the players price point, overall performance in terms of load speeds and operation is pretty great. Consumers can be easily fooled into believing this unit is a player costing twice as much.
Switching to video performance now, using a couple of UHD Blu-ray Discs, the Samsung is definitely not a disappointment. Almost immediately, gains in picture quality can be seen from improved detail to fantastic colours. Shadow details are also great with the Samsung utilising its HDR abilities well with dark images. Scenes like that in the starting sequence of Vin Diesel's, The Last Witch Hunter; where suddenly so many elements are made visible where previously on regular Blu-ray they are not. The overall experience with the player is eye opening as 4K content shows off details which were previously not possible.
The Samsung UBD-K8500 is, too say the least, high on the desirability factor for most AV enthusiast not just because of what it is, but because of what it can do as the first of its kind on our shores. Add to that a relatively affordable and pretty darn competitive price of RM 1799 and you have the makings of a must have device, especially for home theater enthusiast and those looking to step into the high resolution world of 4k. If you're ready to take the plunge and want to experience 4K at home, then make sure to give this player a look, but be warned, you might never look away.
For further details contact:
Samsung Malaysia Electronics (SME) Sdn Bhd
Tel: 603-21650000
Article by Venoth Nair