American Connection
by Dick Tan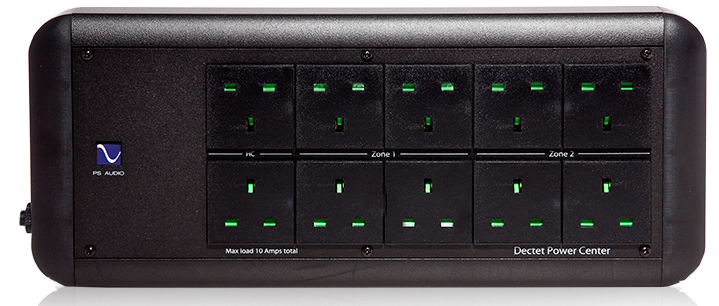 American high-end audio manufacturer, P.S. Audio makes a wide range of highly regarded amplification systems, digital streamers and cd players, Digital to Analogue Converters (DAC) and phono preamplifiers.
To ensure that all the above work as claimed P.S. Audio also makes an equally extensive range of power conditioners, regenerators and power cables.
One of the latest to hit the audio/video market is P.S. Audio's Dectet Power Conditioner.  Essentially a 10 outlet AC power centre the Dectet is conveniently compact measuring 22.5″ x 13″ x 5.6″ yet weighs a solid 10.5 lbs.  The Dectet retails for RM3,199.
Designed for optimum performance with P.S. Audio's own AV Series Power Cables the Dectet, according to P.S. Audio is an active three zone power centre conceived to produce clean, unrestricted AC power for high end audio as well as home theatre systems.
The Dectet's design feature include powerful filtration through heavy duty large core magnetic devices wound from heavy gauge OFC copper cables.
Filtration methods are on both common and differential mode with easily perceivable audio and visual benefits.
In addition, each of the power outlet on the Dectet are hard wired onto a star wiring system.
Finally, the Dectet also feature P.S. Audio's proprietary IsoZones technology which isolates the 10 power outlets into three zones.  Depending on the type of components used and the amount of power actually required by the individual components PS Audio recommends that digital and analogue components be powered via separate zones, that is, digital components into one and analogue products into the other for optimum performance.
For further details contact:
A & L Audio Station Sdn Bhd.: 03 79582884
H.J. Yap: 012 3584387
Article by Dick Tan