The Dawn of a New Age in Visual Enjoyment
by Venoth Nair
As a global market leader in consumer displays, Samsung has always been the one to look out for when it came to new iterations and developments in visual technology. At this year's Forum 2017 which was held in Singapore at the Sands Expo and Convention Centre in Marina Bay Sands, Samsung pulled out all the stops showcasing their latest range of products which are all connected via a network based ecosystem which revolves around their new MySamsung App.
On the Visual front, Samsung has launched a brand new range of TV's which sports Samsung latest technological offering in the form of its cutting edge QLED TV. This new range of Quantum Dot Televisions is furnished with a newly developed Nano-sized semiconductor quantum dots which combines a new metal alloy into each dot. This new technology allows the new QLED TV to reproduce fantastic colours which are highly accurate in varied brightness which results in an outstanding image quality. The highly precise image is also view-able from any angles or environments without the image being distorted in any way or form.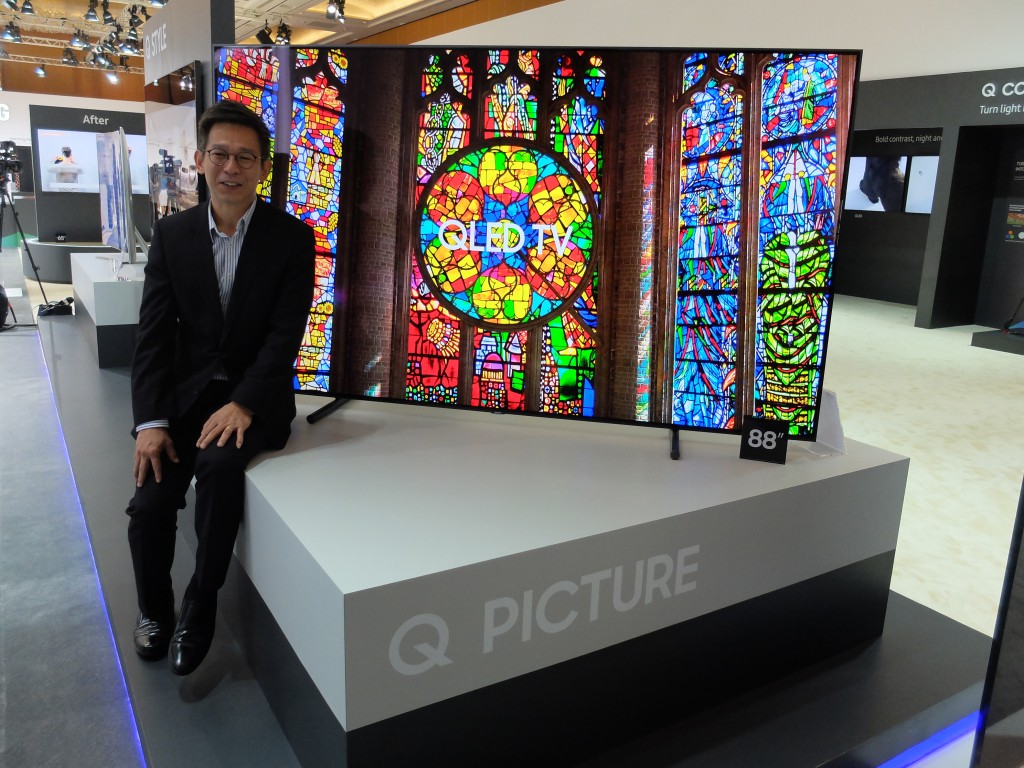 The new QLED range consists of three different sub ranges which are aptly named Q7, Q8 and the range topping Q9. Screen sizes range from the now typical 55 inch all the way up to an eye watering 88 inches if you're looking for that super-sized movie fix.  All models throughout the QLED range will come with Samsung's new and improved Samsung Smart Remote which to put quite simply, will be the "one remote to rule them all".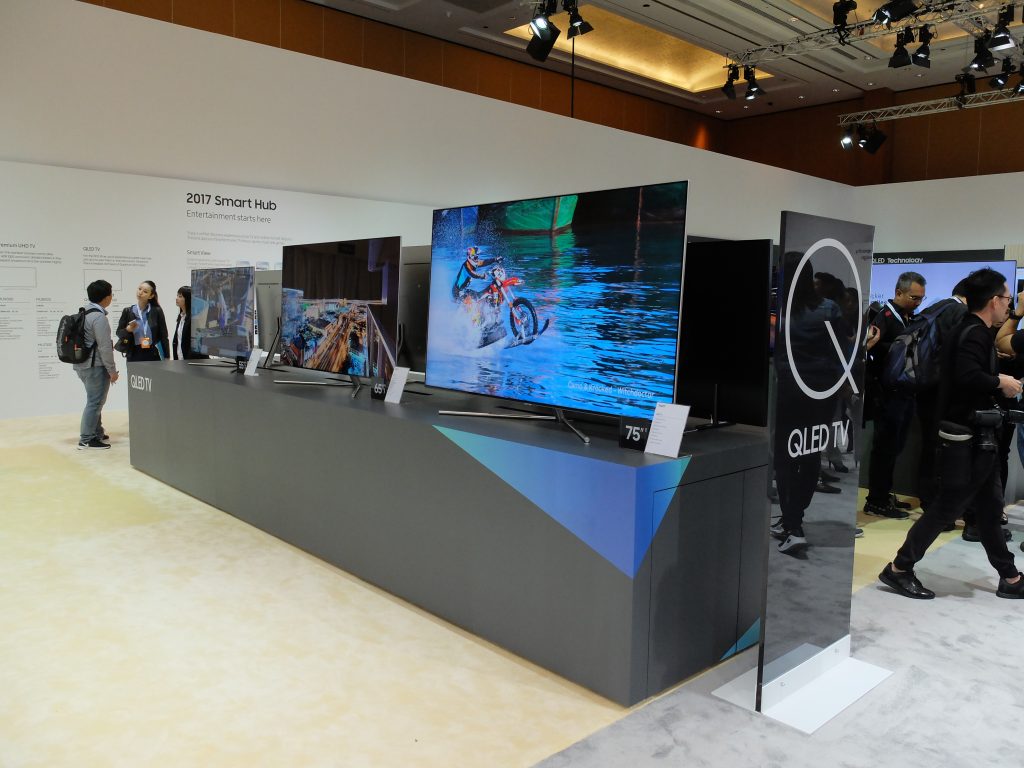 The new Samsung Smart Remote is a meticulously crafted, all silver wand which has a metal finish and looks refreshingly futuristic. It is capable of command and control of most of the latest electronic equipment that's under the Samsung stable. The remote is also capable of voice commands which are the new norm when it comes to how we interact with technology today.
A problem usually encountered with all modern svelte high performance TV's are that although the display itself maybe exquisitely designed and supermodel slim in their profiles, the stands or mounting options that come along with it add too many unwanted inches to its depth. This will most certainly pour cold water on your hot moment when it sends your beautiful investment inches of the wall, totally destroying the beauty of its slenderness. Well this problem has definitely been dealt with "beautifully" by Samsung with the introduction of a gapless wall mounting solution that keeps the profile of the TV completely flat, maintaining its thinness.
Another amazing feature about the new gapless wall mount solution is the inclusion of a built in soundbar mount which sits the matching soundbar's from Samsung perfectly beneath the new TV's. This method also eliminates the need for additional drilling and unsightly holes on your walls as the bracket is connected to the main TV mounting. If you're a traditionalist and prefer to keep your TV's on the ground, then Samsung has come up with two different types of stand options which are sold as accessories to personalise the look of your TV and give it a more avant-garde style. There is a small footprint table top stand and a floor stand option which looks similar to an easel stand giving the QLED TV an art piece look. Both stands are immaculately finished and complement the TV's appearance seamlessly.
Keeping up with the theme of stylish advancements, the new QLED's have also come up with an interesting new single cable connection concept. How it works is that the power and audio information is transferred via a single lead which is concealed neatly in the stand. So the soundbar and the TV actually obtains power from a single plug. Communication between the two is also done via this single lead cable, keeping the rear of the TV gorgeously clean.
Last year Samsung pioneered the market by being the first to launch a true native 4K Blu-ray player on our shores with its UBD-K8500 which pretty much took the lead when it came to 4K capable players. This year the Korean Stalwart introduces a new model to the 4K domain with the UBD-M9500. This model was designed with many more connectivity features than its predecessor with the inclusion of Bluetooth that gives not only the power to command and control the unit, but also to stream mobile content straight onto your connected displays using the player. Its Bluetooth connection also allows for the use of headphones directly to the player for personal audio enjoyment.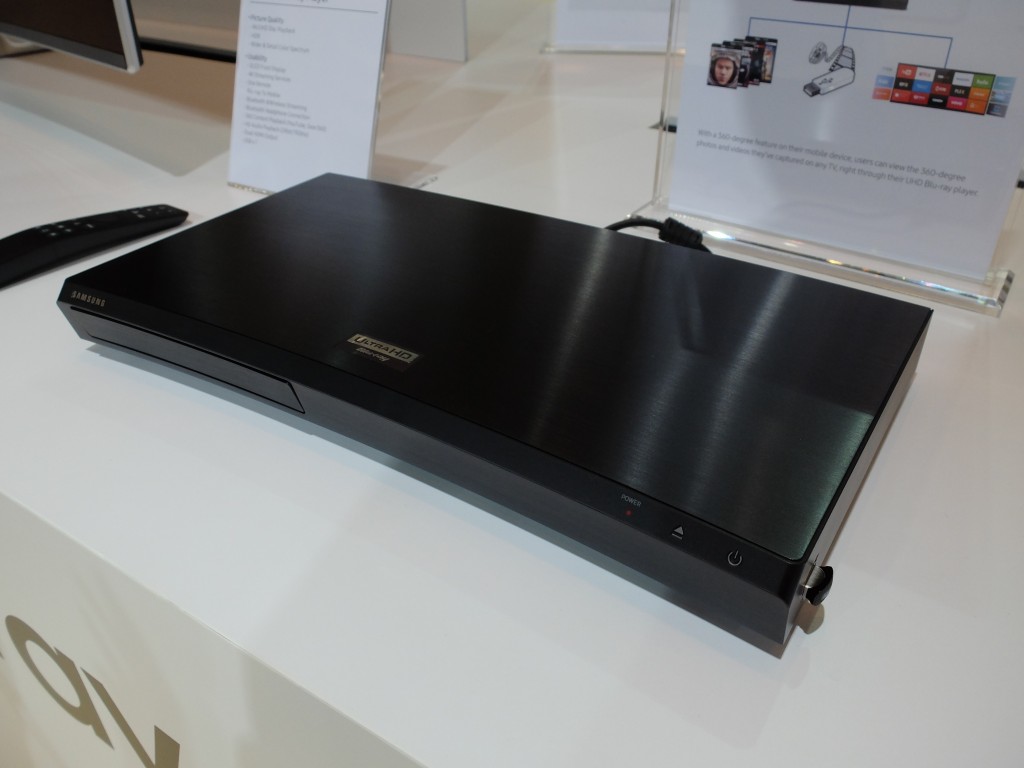 Switching over to audio, Samsung delivers products to complement the new TV range with three brand new products which take the form of a new soundbar, the MS-650 and two new wireless audio systems. With regards to the former, Samsung has built the MS-650 to be a single unit soundbar system which has built in dedicated drivers for sub bass frequencies, eliminating the external sub-woofer unit.  This soundbar also supports the new single lead cabling system which shares power with the new Samsung QLED TV's. If all this is anything to go by, it's safe to say that 2017 is going to be another great year for Samsung and of course us AV enthusiast as well.
For further details contact:
Samsung Malaysia (SME) Sdn Bhd
Dita.r[at]samsung.com
03 – 21650418
Article by Venoth Nair