Article by WL Low
You've read about the low cost, easy DIY of the Raspberry Pi computer used as a digital media player. Also my first favourable sound experience of it in Simon's man cave. Finally is in my very own room. I wanted to see how the Raspberry Pi would measure up against my resident Bryston BDP-1, which was the start of the digital media player revolution in my musical lifestyle. Unfortunately, the Bryston had developed a fault as it would show an error message when booting up each time, and so had to be sent back to AV Designs for repair.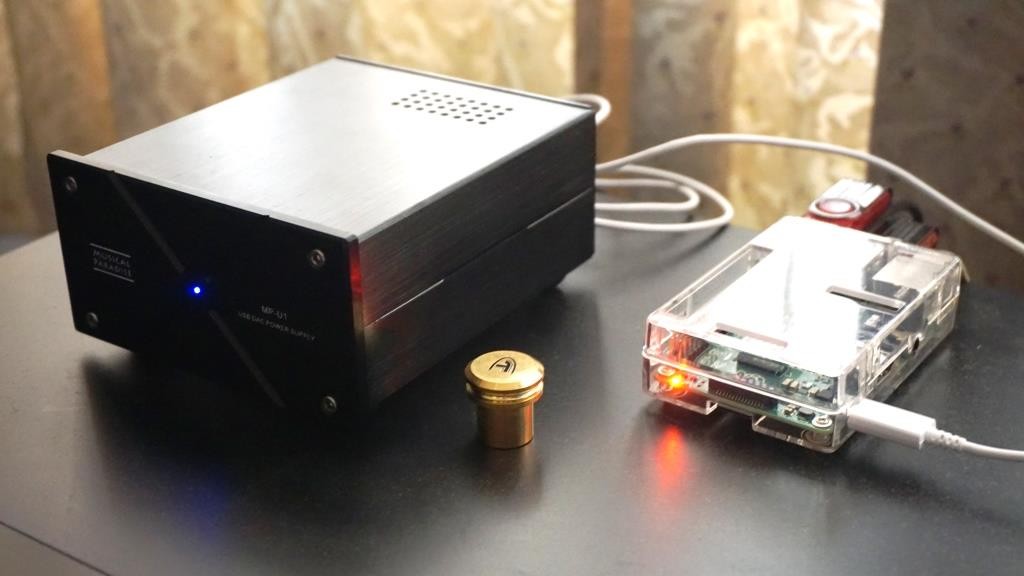 With that, the Raspberry Pi goes solo. Hooking up the Raspberry Pi to my audio system is as simple as any other digital media player. The Raspberry Pi can output digital signal via either USB or HDMI, however I used USB to connect to my Bryston BDA-1 DAC. Then came the power supply which could either be a 1 mA mobile phone charger, or in this case, an optional beefed up switching power supply from Jalan Pasar was used, with a regular USB data cable, as one would use with an Android based smart phone. As usual, my music files are all stored in USB thumb drives. There are 4 USB slots on the Raspberry Pi, which you can use as data input or output, which the little computer is smart enough to determine by it self, without any interference from the user. With one USB slot used to output digital signal to my DAC, there are 3 slots left. Here's the funny part I can only use any 2 of the 3 remaining slots for my USB thumb drives. For some funny reason, the Raspberry Pi would not recognise the third USB thumb drive if slotted. And one final complain is that all the 4 USB slots are all bunched in too closed together, meaning only the small bodied USB thumb drive could be used. Otherwise, you could only used one USB on each side. I can understand that space is a premium with such a small mother board of the Raspberry Pi. So there are certainly  limitations to the DIY digital media player after all!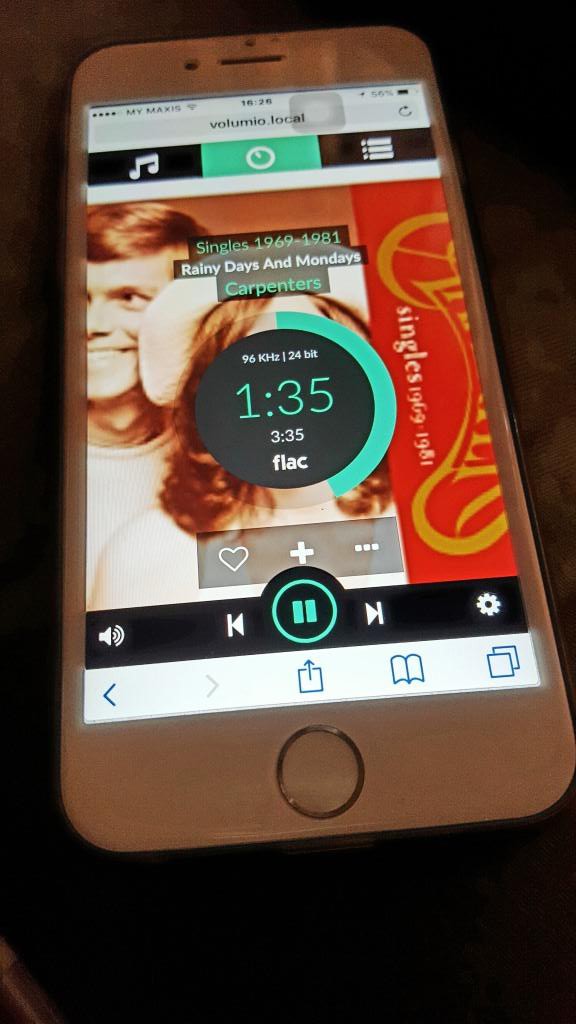 I then proceeded to downloading a music player app called Volumio in to my iPhone 6S to manage my music files already slotted in to the Raspberry Pi. There are other music player apps available that will do the job too, according to Simon, but he prefers the Volumio's simple, easy to use interface. Now that I've started using it, I agree with Simon, not that I've tried the other apps, but the Volumio offers nice graphics interface that's ergonomic with very sensible labels. Refer to photos of music menu a top and below.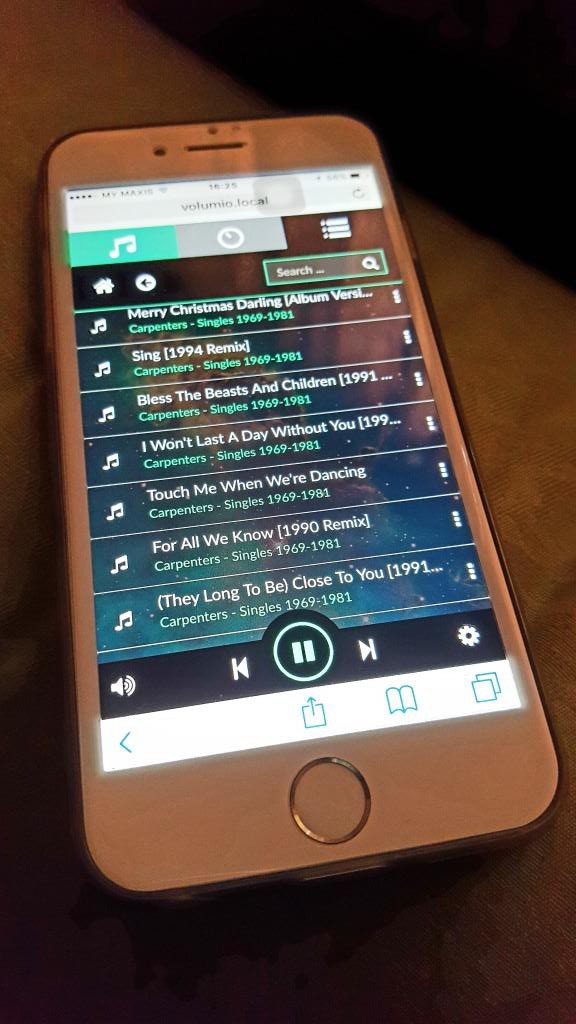 During the initial demo in Simon's man cave, as in previous Raspberry Pi article, I thought it sound pretty close to Bryston's version of the Pi, but just a little less resolving in the ultimate of details. The funny thing is that now with the Raspberry Pi in my system, without direct comparison to the Bryston BDP-1, I can't really tell if the DIY Raspberry is any less resolving in the ultimate of details either. With familiar music, like The Carpenters that you see in the Volumio interface pictures below, I did not felt the Raspberry Pi short changing musical details in any way what so ever. Best of all, the DIY media player sounds just as musical, just as good as my regular BDP-1. With no direct comparison available, I just sat back, enjoyed whatever music that was playing of the day. I used the Raspberry Pi for 2 weeks. During it's time with me, I tried the Raspberry Pi with 2 different power source. First was the optional switching power supply in the black box, and then I used my Samsung mobile phone charger. In practice, I found the linear power supply gave slightly smoother top end & lower noise floor(back ground hiss….), otherwise the Samsung smartphone charger didn't degrade much of the sonic strengths of the Raspberry Pi. In fact, during it's time in my system the Raspberry Pi showed me that file ripping & downloading quality played a major role to determine sound quality attainable from a digital media player.
All I can say is that the Raspberry Pi can potentially sound just as good as any audiophile branded digital media player should, minus the nice brush aluminium casing that audiophiles so love, has no built in display or status indicator except a green & a red blinking LED just like any computer, and lacks the ability to handle NAS storage or any large capacity disc drive. If you can live with what it lacks in terms of cosmetic or convenient features yet love the DIY tweak ability & low cost factor, the Raspberry Pi digital music player is a real world contender for sound performance & musicality factor. All one needs to have is a spirit of adventure, a little assembly time & DIY skills to make things happen.
Now here's another interesting project, Simon may soon be starting a HTPC project using the latest ASUS version(which supports 4k video files) of the Raspberry Pi! Now that would be fun….
Article by WL Low