A Healthy Mix of Old and New
by Venoth Nair
If you're anything like me, then you'd love everything retro in design. The TEAC CD-P650 is built completely in the spirit of the early CD players and harkens back to the good old days with a big black square fascia and widely spaced clicky buttons. Even the display is setup in the typical fashion with its bright fluorescent dot matrix display.

The external physique of the TEAC stays true to the vintage style with a course matt finish on the entire chassis of the player. On the front, the usual complement of buttons for basic controls and the all too familiar centre mounted CD tray completes the look. In contrast to its classic route and to keep the CD-P650 current, it comes with a full function remote.
The CD-P650 also comes with a Headphone output which is a thoughtful addition to this budget CD player. Much to my inclination the headphone output shows itself to be rather impressive, able to drive big power hungry headphones like my 250 ohm Beyerdynamic with absolute ease.  It's not perfect and most definitely isn't the best in class, but do bear in mind the budget price of this player does come with limitations. Besides, a more capable standalone headphone amp could easily cost more than the TEAC player as it is.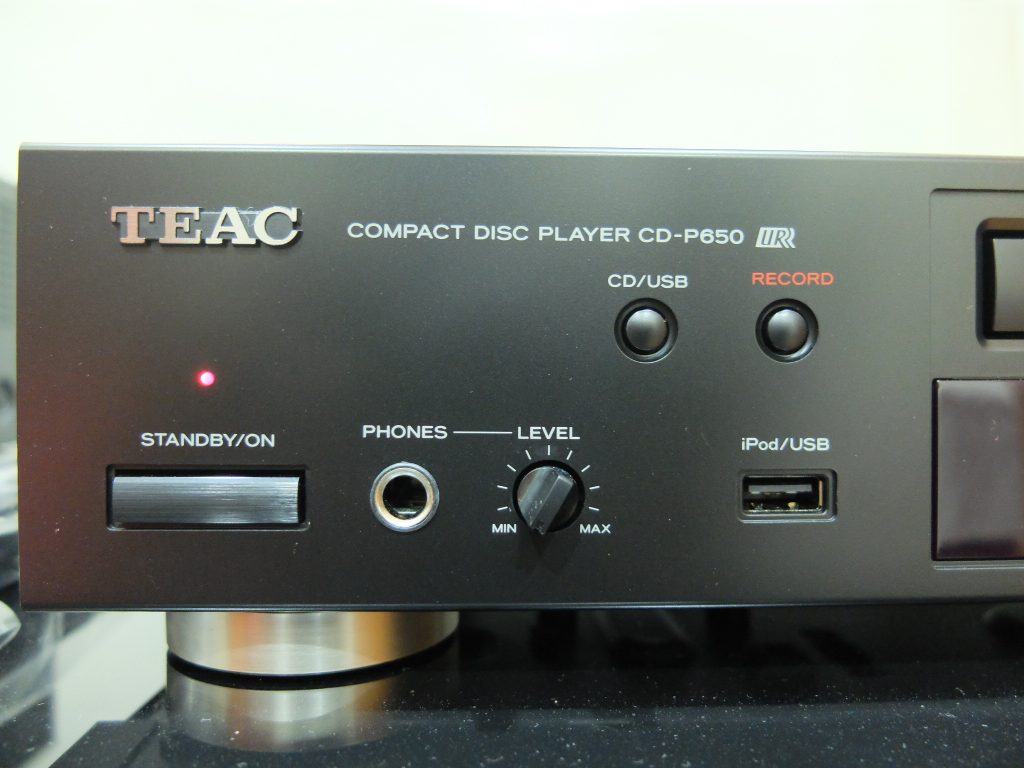 Today's consumer is typically engrossed in the digital world with most of their music on mp3 format. To bridge the gap between today and yesteryears the CD-P650 comes with a USB input on the front allowing the connection of either a USB based storage device or a mobile device like a smartphone or an iPod. Once connected, the digital content is sent through the internals of the CD player before it is output just like music on the CD's itself. Command and control can be performed easily through the supplied remote, keeping things completely simple. Even Spotify playback can be done through your connected device which is a great addition.
Switching over to the inside of the CD-P650 we find a PCM1791A Digital to analogue converter chip from Burr Brown which is responsible for the key task of converting that raw information into something audible. This D/A chip is notable for its great sound characteristics and dynamic range and comes with a 192 KHz/24-bit resolution. In addition, the CD-P650 utilises a CD drive mechanism that clamps the discs to minimise vibration, helping to reduce jitter distortion and in the process, keeps the sound clear and clean.
Around the back, the CD-P650 comes with the basic connections one would need to put it into normal CD operation.  They include a pair of analogue line outs and a single digital output should you have an external DAC lying about. Once connected the CD-P650 starts up like just any other player with a couple of little twists. For example, switching between CD player mode and USB mode is done using a button which keeps the operation linear. Once in USB mode the player authenticates the connection made and sets itself to operate as a media player.

Another neat feature is the ability to actually record your prized CD collections and convert them into MP3's which is all achieved without the need for any other equipment. This helps ardent CD enthusiast with a large collection of CD's to backup all their songs and use them in other digital portable equipment. The process of the conversion is rather simple and straightforward. Just plug in a portable storage device like a thumb drive, pop in a CD that needs to be backed up and then hit the record button. The entire process is smooth and convenient with users being able to select the bitrates from 64, 96, 128, and 192 kbps. The record speed can also be adjusted to either record at normal speed or 2 times for a shorter conversion time.
To sum everything up, the TEAC CD-P650 is a complete package with an affordable RM1,200 price tag. Its ability to perform media based playback along with copying of CD's make this more than just your average run of the mill budget CD player. Add to that a competent performance when it comes to playback both on line level as well as with headphones and what you're left with is a sweet, retro deal.
For further details contact:
WKH Distribution Sdn Bhd.
Tel: 03-62700035 or
Kenny Sea: 019 93395186
Article by Venoth Nair