Turntable Pedigree
by Dick Tan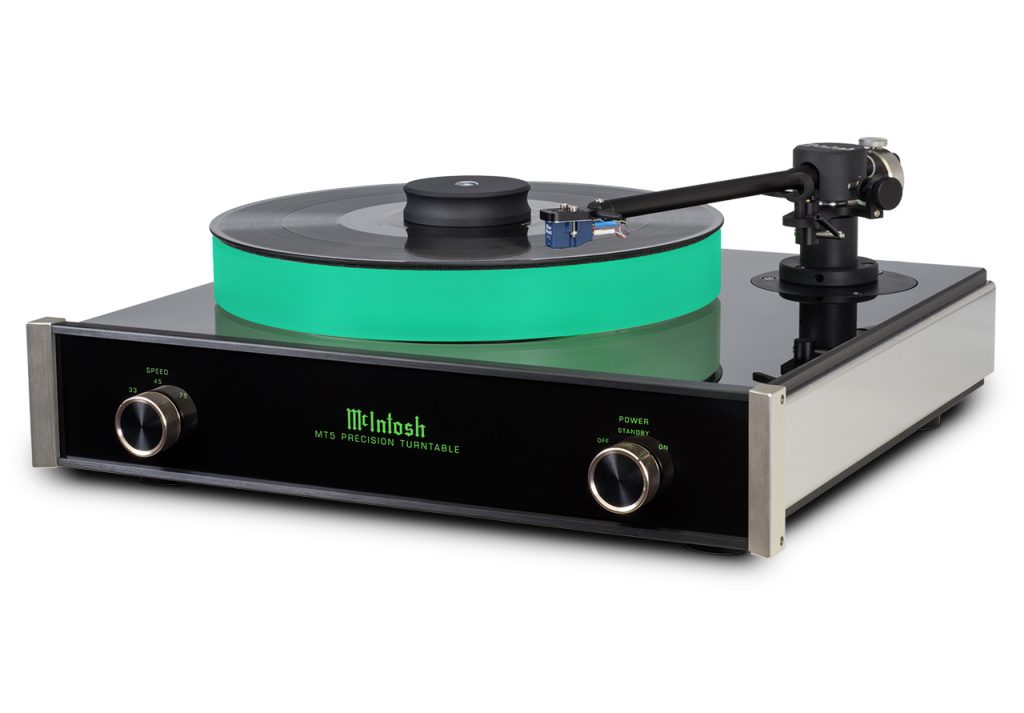 One of America's most iconic of hi-fi brand, McIntosh is known for its superbly engineered amplifiers and receivers.
Once encountered, nobody will ever forget the unique fascia of solid black front panel, softened by the subtle glow of green and blue panel lightings.  That is the classic McIntosh look and much to the company's credit it has been able to maintain its unique aesthetics for almost 70 years now.
Essentially that has been the 'secret' of McIntosh's success – unmatched, classical good looks accompanied by equally unmatched sonic performance.
Adding to the wide range of McIntosh electronics is the company's turntables of which there are two, the latest being the MT-5 introduced some two years ago.
Yes, there's the classic McIntosh look even to this most American of turntable.  If you didn't think that it's possible for a turntable to have a front the MT-5 will effectively dispel the myth.
Featuring a thick, solid, belt driven silicon acrylic platter that turns green when switched on, the MT-5 comes with a Dual-Aluminum tone-arm tube mounted with a high output moving coil cartridge.  Unlike most moving coil cartridge this particular Sumiko designed unit has such a high level of output (comparable to that of moving magnets) that it is possible to connect direct to any normal phono input without the need of a moving coil cartridge amplifier. As moving coil cartridge amplifiers are a necessary but expensive stage in the use of moving coil cartridges, the fact that one is not needed in the MT-5 is a major money saving feature which all audiophiles will appreciate.
The front panel which is in effect the lower front of the turntable base gives the MT-5 turntable a decidedly 'amplifier' look and provides a perfect match for the rest of McIntosh's component lines.
Only 2 controls are found on the front panel, the power on/off switch on the right and a three-speed selector for 33 ⅓, 45 and 78 rpm on the left.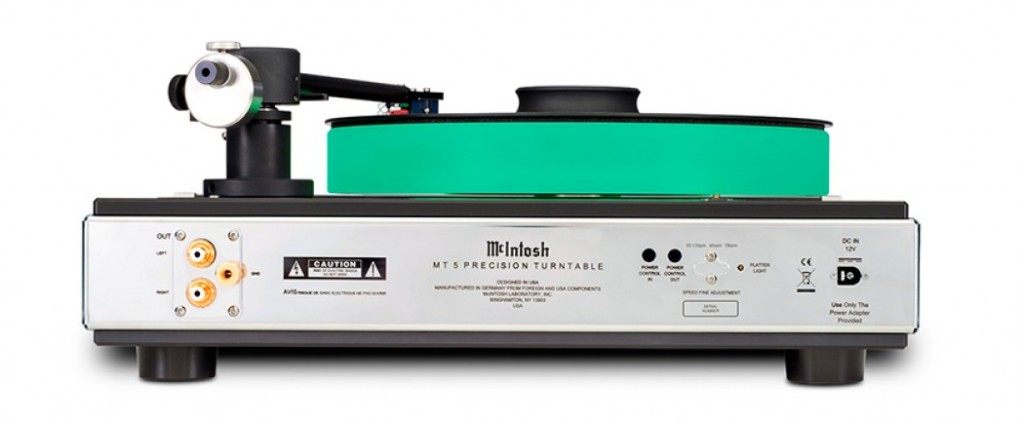 At the rear of the MT-5 are a set of phono style output sockets.   This will allow users to experiment with different makes of phono cables for optimum sonic performance.  Measuring 44.45 x 17.8 x 19.0 cm the MT-5 weighs a hefty 14.5kg.
Much of this weight is easily accounted for by its rigid chassis which is made from a combination of stainless steel and a special alloy.  It is topped of by a highly polished acrylic top.
According to McIntosh this amalgam of heavy metal and acrylic has the added benefit of contributing to the inherent inertness of the chassis, drastically reducing vibration.
McIntosh also pointed out that one of its primary goal when setting out to design the   MT-5 was to reduce or totally eliminate structural vibration out of the chassis of the MT-5.
And in this respect, they believe they have clearly achieved their goal for the chassis off the MT-5 is acoustically as 'dead' as one could possibly get it.
A solid chassis will in turn enable the tonearm and cartridge to perform to the optimum, extracting only signals from the LP record, not resonances created by an otherwise badly damped chassis.
At RM35,800 McIntosh's MT-5 is not exactly your plug and play conventional turntable although it is intended for easy, convenient operation.
It will undoubtedly interest McIntosh owners who are intrigued and attracted to vinyl and want a turntable that will provide an aesthetic match to their own McIntosh system.
Yet the MT-5, on its own is more than capable as a high-performance turntable to merit serious consideration from any vinyl lover. And yes, there is also that alluring good looks that make it almost impossible to take your eyes away from it.
For further information contact:
Audio Perfectionist (M) Sdn Bhd. 
Tel: 03-79542818 or
Kenny Lim: 012-2103810     
Article by Dick Tan