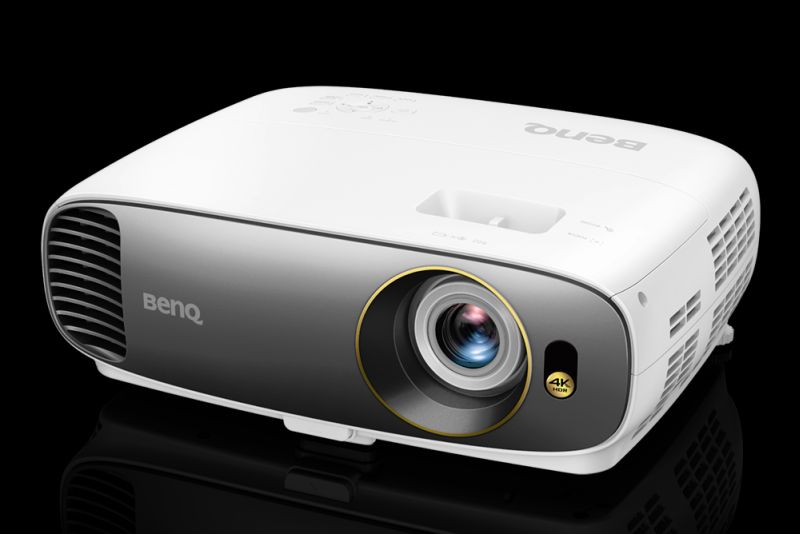 One more 4K home cinema projector is entering the Malaysian market. And this model is quite affordable and from what can be seen on Facebook postings, many home theatre enthusiasts are getting very excited.
BenQ, the global leading DLP projector brand, will be launching the CineHome W1700 DLP 4K HDR home cinema projector, priced at RM7,999. It will be available at leading AV outlets next month.
This affordable projector has the latest 4K UHD HDR technology, as it offers 8.3 million pixel true UHD 4K resolution, CinematicColor accuracy, and projection-optimized HDR for stunning true-to-life image quality. It supports HDR10.
"We are excited to be able to introduce BenQ's state-of-the-art home cinema projector. The new W1700 brings home the magic of big-screen 4K digital cinema to a broader audience, at a very affordable price," said President of BenQ Corporation, Conway Lee.
"We are stepping it up a notch by providing the latest UHD HDR technology — it is a whole new level of resolution. The new home cinema projector lets our audience enjoy theatre-like experience right in their living room with friends and family. To simply put it, this projector is an affordable convenience."
Producing 8.3 million distinct pixels for true 4K UHD performance, the W1700 utilizes revolutionary 0.47" single-DMD DLP technology to minimize the projector's sleek, compact profile for modern lifestyles, and pure 4K-optimized optical system for ultimate image precision and colour accuracy without the artifacts that can plague LCD projectors.
W1700's pristine 4K video quality is supercharged by High Dynamic Range support, offering greater brightness and contrast range with auto image optimization to bring out every lifelike detail for cinema enjoyment. W1700 delivers breathtaking realism to the living room big screen, in addition to support for the latest HDCP 2.2 copy protection that lets users enjoy all the fast-growing choices of 4K content.
Advanced CinematicColor Accuracy and Audiovisual Enhancement Evoking genuine emotions by preserving authentic cinematic colors, W1700 employs exclusive BenQ CinematicColor technology and RGBRGB color wheel to meet the film industry's highest standards of colour accuracy. With over 96% coverage of Rec. 709 color gamut with precise Delta E<3 performance, W1700 faithfully reproduces exactly what filmmakers intended.
W1700's astounding audiovisual performance is further enhanced by proprietary CinemaMaster Video+ and CinemaMaster Audio+ 2 technologies, turning even modest spaces into world-class cinema auditoriums with motion-adaptive edge pixel enhancement, sophisticated colour algorithms, and beautiful flesh tone rendition as well as dramatic audio processing for resonant bass and soaring high notes.
Blending beautiful aesthetics with flawless function, W1700's lightweight design, sleek profile, and compact footprint blend perfectly into any décor. Comprehensively equipped with auto keystone correction and powerful 1.2X big zoom to accommodate any space, W1700 sets up without complicated installation hassles to host 4K movie nights at a snap.
Simple and modern, W1700 easily becomes a smart projector by connecting an HDMI dongle such as Google Chromecast or Amazon Fire TV Stick to instantly stream TV shows, movies, sports, and even video games to the big screen.
Powered by ultimately durable Digital Light Processing, the 2015 Academy Award of Merit Oscar winning technology used in 90% of the world's digital cinemas, W1700 delivers long-lasting picture quality with precise colors and razor-sharp clarity without maintenance or degradation.
To find out more about BenQ projectors, please visit http://www.benq.com.my/product/projector/W1700  – Article by Lam Seng Fatt