Seeding Performance
by Dick Tan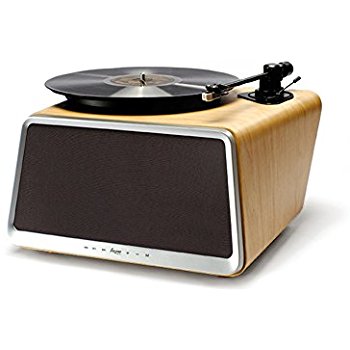 At first glance the Hym-Original Seed Stereo System would seem to be a piece of our audio past.
Indeed, the Seed is designed to reflect the retro aesthetics of the all-in-one audio system from the sixties but with a very high dosage of modern audio technology thrown in to optimise audio performance. Intended for those who desire simplicity of operation yet loath to lose out on performance the Seed, one would be pleasantly surprised to discover is made with a rigorous application of audio technologies which include a patent pending three point suspension systems to isolate its delicate turntable operation from structural vibrations (which would seem inevitable from the built-in speaker system).
According to Hym-Original the patent pending three point suspension design took well over two years to achieve.
With an aesthetics that you will either love or loath the Seed is a combination audio system turntable with a moving magnet Audio Technica cartridge but is just as adapt in reproducing any digital audio sources. The latter is achieved wirelessly via Bluetooth.
Measuring 380 x 350 x 270mm and weighing a solid 14kg, the Seed, in addition to its belt driven turntable and digital wireless electronics also feature an 80 watts power amplifier driving two 4″ woofers and two 1″ tweeter.
To reflect its versatility the Seed features connectors which include both standard as well as 3.5mm RCA sockets and USB inputs are located at the rear baffle of the system.
Clad in an attractive oak vinyl with a woven cloth front baffle where the speakers are located the Seed retails for RM3,500 and should appeal to those looking for a simple to operate all in one audio system.
For further details contact :
CMY Audio & Visual Sdn Bhd
Tel: 03-2143 9406 / 21434357
Dicky Ng: 012 3308873