Custom Metal
by Venoth Nair
The new JVC HA-FD01 is an all metal chassis headphone with a diaphragm made of carbon. The newer material is selected for its high rigidity and light weight which allows for highly accurate sound reproduction. When it comes to headphones, JVC has always been a strong advocate of using wood. Many of their premium and flagship cans are all made with components from this organic material which gives JVC a signature sound that's unique to the brand. This time however, JVC takes the material game a step further with this new product but with an interesting twist.
The build of the JVC HA-FD01 is robust with an exterior body made entirely of stainless steel which is mostly matt finished except for the circular back and ring which are both machine polished. There is a little mention on the driver type and the unit's model number on the polished ring but that is the only form of text of any kind on it which keeps the overall look clean. The JVC comes with a detachable cable that is of a high grade OFC type that keeps both left and right channels isolated all the way through. The cables connect via the MMCX type connectors which are rock-solid. The sleeve on the cable is dark and slightly decorated with little copper colored marks to insinuate the high quality cables tucked in underneath.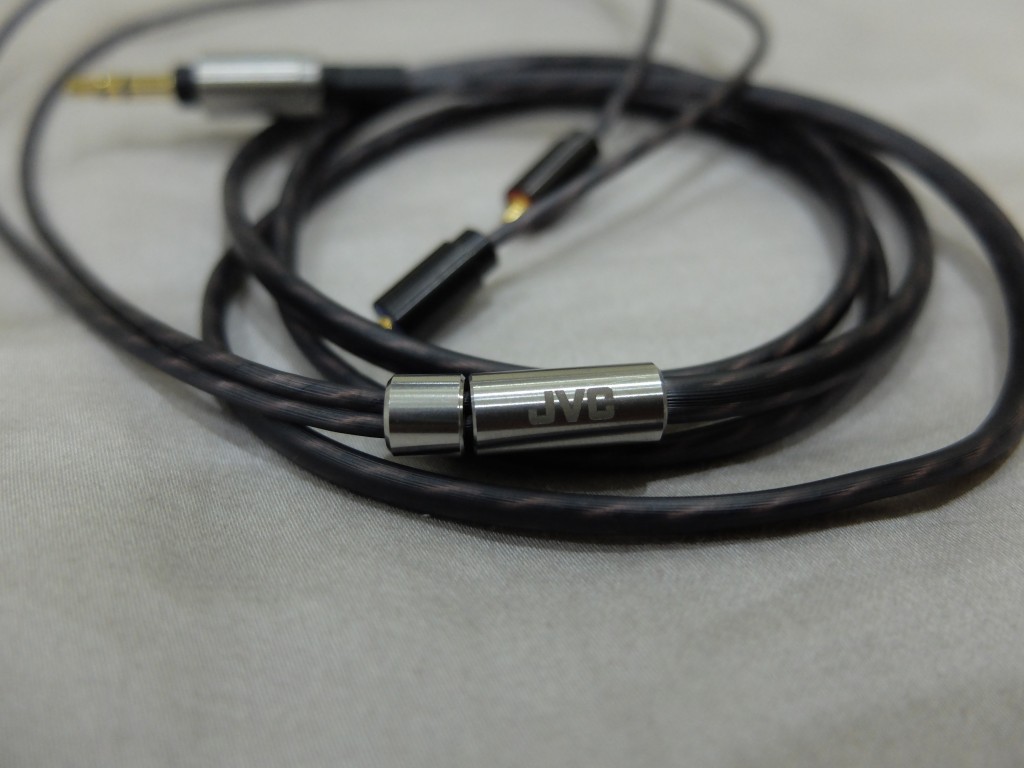 On duty delivering the merchandise is an 11mm DLC Dome Dual carbon diaphragm which sits in a titanium driver case. The first thing you might notice about the unit is that there is no indication of left or right on each of the headphone pieces. This is because their designed in a way that allows them to be used ambidextrously. This sorcery is possible due to an innovative body that allows the angled nozzle tip to be rotated 360 degrees. Another benefit to this range of motion is the ability to adjust the nozzle to fit your usage needs perfectly where one could loop the cable over the ear or wear them like a typical headphone style.
An interesting feature about the HA-FD01 is its ability to swap out the inner tube or J-Mount nozzles as JVC calls them to provide for a little tweaking on how the headphones sound. As this tube come immediately after the diaphragm,, it makes sense that such a components character would affect the sound and knowing this, JVC has decided to furnish prospecting buyers with not just 1 but two alternative options of material for this component. The J-Mounts come in Titanium, Brass and the classic stainless steel.
Also included with the HA-FD01's are a range of JVC's own, with development help from SMP, spiral dot ear pieces in 5 different sizes for a perfect fit. These little silicon earpieces are lined with little divots inside the canal between the nozzle and your ears. These little divots help to reduce turbulence within the canal which could affect sound quality. The addition of these earpieces to the set substantiates JVC's HA-FD01 as a headphone that can fit many different types of users. Rounding off the accessories department is, as typically found with headphones of this caliber, an adorable little carrying case to keep your investment safe and sound.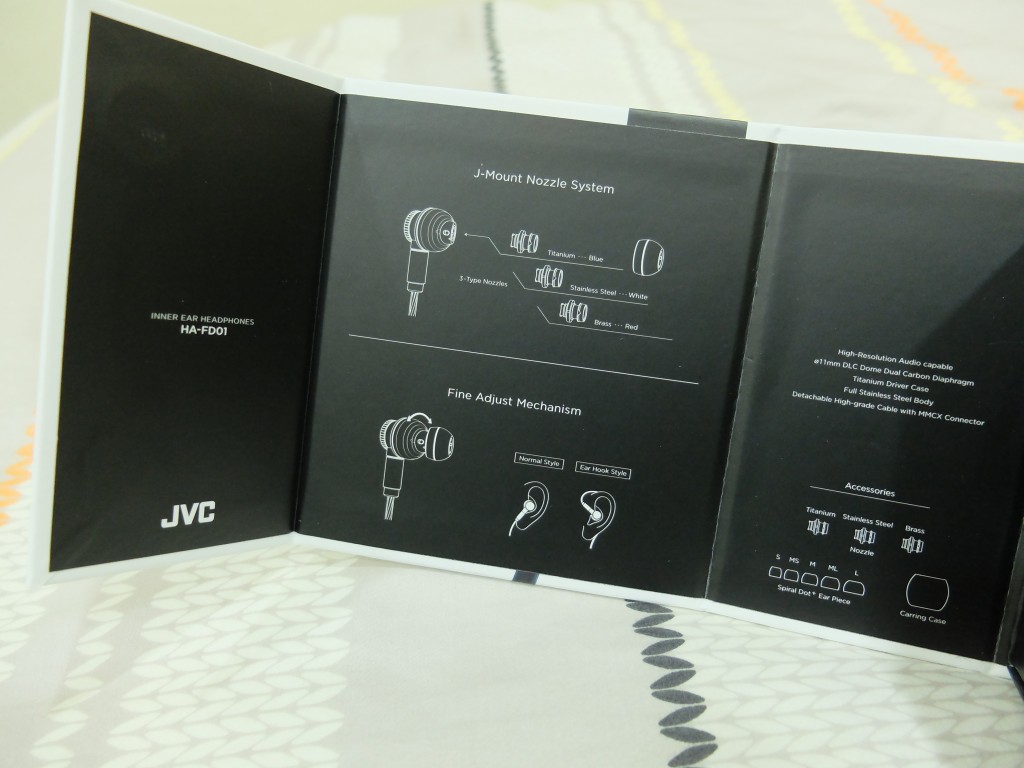 The fun in using the JVC HA-FD01 is in the mixing and matching of all the different components and fit adjustments to see which combination suits you best. Playing around could also bring to light combinations that maybe advantageous to different genres of music. The JVC is made for Hi-Res Audio and its quality shows during listening. A word of caution though, this unit due to its design and material choices requires quite a bit of running in before it really starts to hit its sweet spot. These headphones are highly detailed and deliver a soundstage that's very impressive. Individual instrument placement is done with ease and sound very organic in their presentation. One major difference however that was noticeable when compared to previous JVC models is the leanness in the lowest bass notes. It's not a negative but a difference in its sound signature.
The JVC HA-FD01 is a great headphone for those who want a good looking unit with solid build and premium sound. Its flexibility and plethora of accessories make it great for those who want to tweak their sound depending on their listening moods.
The JVC HA-FD01 retails for RM 1850 and is distributed by Klingen & Erlesen Sdn Bhd.