Flexing Muscles
by Venoth Nair
Emotiva is an American brand noted for producing a wide variety of amplification products with an ideal based around providing quality sound at reasonable prices. The new baby in their range, the A-100 "Flex" amplifier as it's called, is the smallest amplifier from the stable which is actually more of a desktop headphone amp which can drive speakers as opposed to being an amplifier that can drive headphones.
Being designed as a headphone amplifier the Emotiva A-100 is built on a half size chassis making it perfect for desktop audiophiles or those who are restricted when it comes to space. The small form suits the amplifier overall as it has the most rudimentary knobs, a volume control and an input for your headphones up front, that's it! The logic behind the design is to take a simplistic approach where the entire build is focused on achieving a specific goal and that's premium sounding amplification for your headphones and speakers.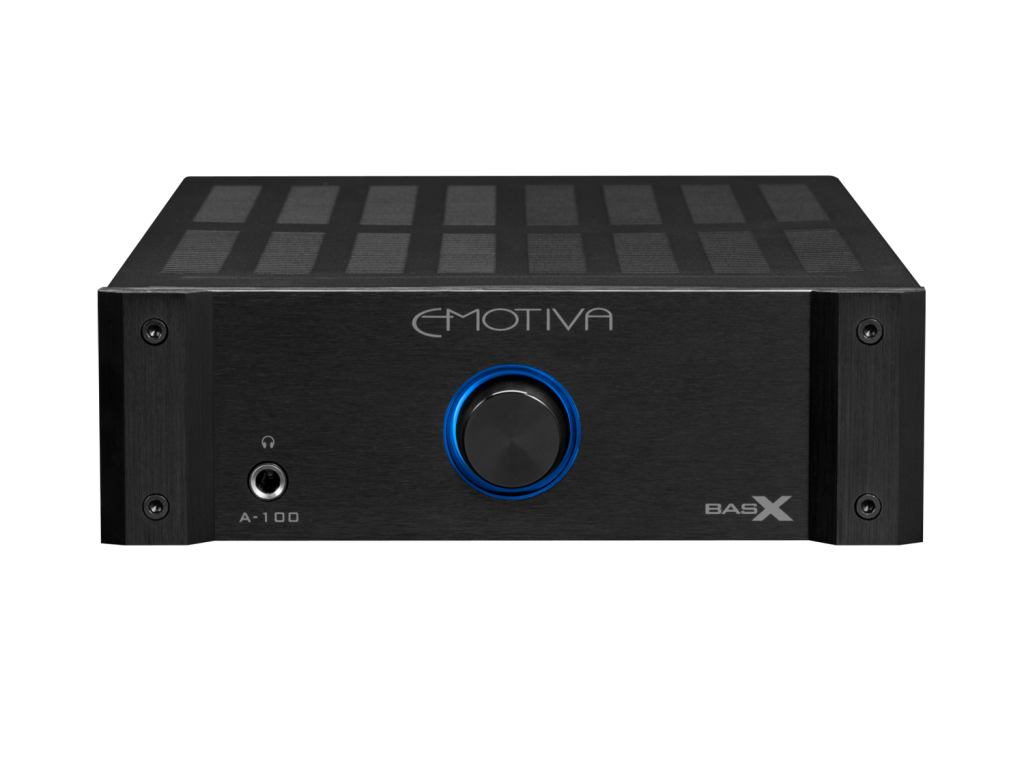 Emotiva has given the A-100 some solid ground to start from with a highly robust chassis, with all its internals arranged smartly, resembling electronics which usually cost a lot more. In the middle sits a large toroidal transformer which is wired up with thick cables in an interior that's packed with electronics while on the rear there is a large heatsink which is further assisted by a small fan to keep the amp cool when it's pumping up the volume. Those fearing mechanical noise or interference by the fan need not worry as it only switches on when the amp runs too hot. In all the time I have spent with it, the fan was never activated.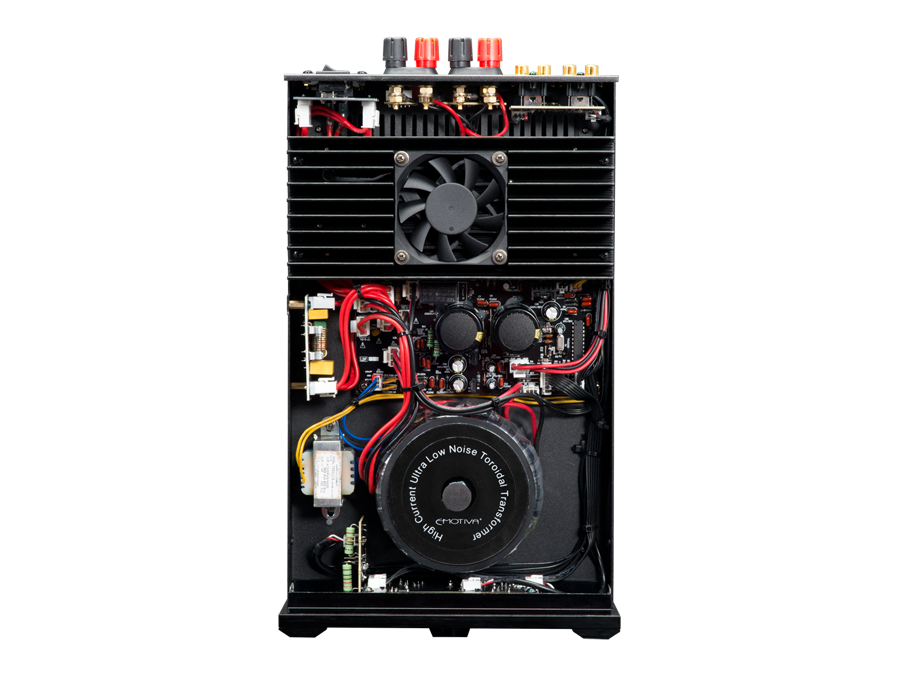 At a modest 50watts per channel into 8 ohms, the A-100 is more suited to a desktop based system or a smaller single source type system. Impressively the A-100 is even capable of handling 4 ohm speakers delivering a solid 80 watts to the speakers at that load, a feat many small amps are incapable of. Amplification on the A-100 is of an audiophile class A/B variety which is another plus point at this level. There is only a single line input and a matching output on the A-100 so if you're planning to run multiple sources you might be disappointed. Although being designed to resemble a purist headphone amplifier, this is a natural approach.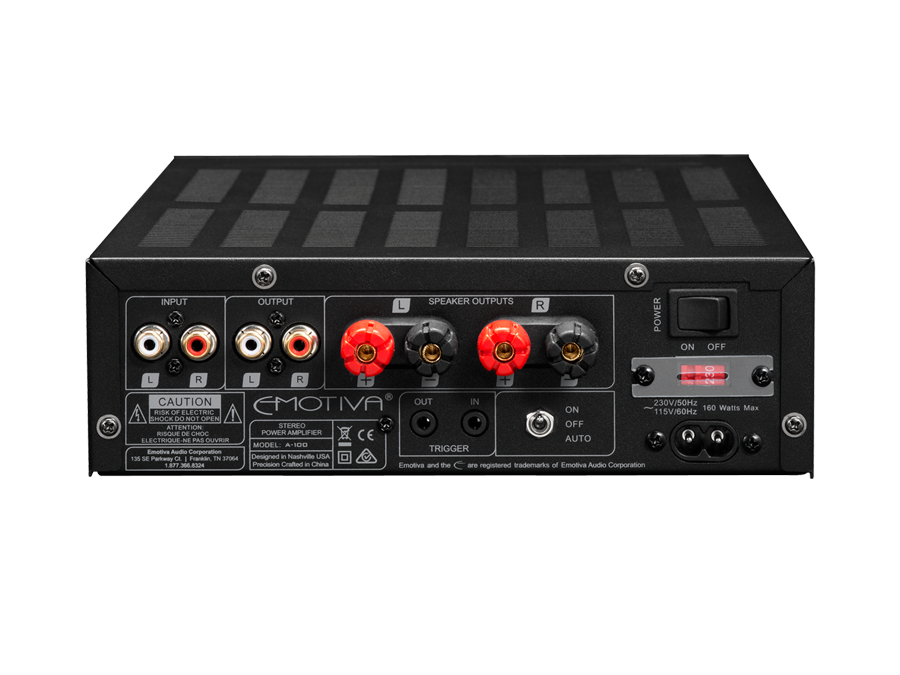 One weakness to the otherwise clever design of the A-100 is the lack of any kind of indication on the volume knob as to the point at which the volume is set. The knob is just a plain clean knob with absolutely no marking at all. A design like this is common with a digital based volume control but in an analogue system it can be quite dangerous especially if the system volume is unknowingly turned to the maximum and a track is played. A DIY solution can be employed; however this is something Emotiva should have done correctly from the factory.
All hooked up and fired up the Emotiva A-100 shows off a confident and brawny performance. This is an amplifier that loves bass and it shows in its delivery with full bodied, deep, low frequency extension. There is no need to fear the bass output however as it's never intrusive or disruptive to the rest of the frequency range. There's bags of detail which is reproduced with great clarity in the mids and highs which makes for a satisfying listen when paired with headphones of equal or better calibre.
Using the A-100 with headphones of different impedance is not an issue though care should be taken when it comes to handling the volume as the amplifier is unable to toggle between different resistivity settings. Just remember to start at zero volume when switching between cans to prevent any sudden outbursts. The A-100 also allows for headphones to be driven directly by the main speaker output which is a rather terrifying prospect. All that needs doing is a little tinkering with the unit by removing the resistor jumpers on the headphone stage and the A-100 will send 50 watts of pure class A/B power directly to your headphones. The idea for this is to permit the A-100 to effortlessly drive inefficient planar headphones.
Even when used with speakers the Emotiva delivers a cracking performance which defies its modest output figures, something the engineers at Emotiva should be proud off. However if I was to nit-pick on the sound output the A-100 could use a little more sparkle on the treble to give the perfect balance against is solid bass output. Speaker matching here is crucial, and it pays to match this amp with a pair of speakers that have that edge in the higher frequencies resulting in a composed performance
The Emotiva A-100 Stereo Flex is an amplifier built for the audiophile looking for a headamp that doubles as a speaker amp. This amplifier strikes the perfect balance between performance and simple functionality. Best of all, this great amplifier can be picked up for a mere RM 1549 which by any comparison is amazing value. This is one piece of equipment that truly deserves a listen.
The Emotiva A-100 Flex Stereo Amplifier is distributed and sold by Maxx Audio Visual.
For further details contact:
Maxx Audio Visual Sdn. Bhd.
Tel: 06-6014070
Max Loh: 017-6778820