Clean Power for the People
by Venoth Nair
Taiwanese brand Keces is a small engineering company with an inherent attitude towards building high value, high quality power supply systems. In recent years they have also dabbled in desktop audio, with components such as a headphone amplifier/DAC combo and speaker amplifier. Their equipment roster is always recognisably sturdy and built to resemble many high-end designs but, in their case, come with a likeably modest price tag.
All forms of electronics depend on electricity to function and when it comes to audio, power is one area that requires plenty of consideration. A reliable and steady power supply is fundamental when it comes to achieving sonic excellence. Perceptive of this, Keces has put a lot of insight into the manufacture, design and component selection for the internals of the P8.  Through this rigid process Keces hope to build a component that will deliver stable clean power, ensuring that your system performs optimally.
Weighing in at hefty 6kg, the Keces P8 power supply is rather heavy considering its small form factor of 300 x 220 x 66 mm. This is in part due to the solid casework of the P8 which is built from 4mm thick aluminium and metal. The robust solid chassis is designed to minimise EMI and RFI interference keeping the innards all safe while assisting with heat dissipation as well. Inside the hefty shell we find a large, high quality toroidal transformer tucked in next to neatly arranged capacitors and other electronic components. The design, which is built to focus on keeping noise levels in check while providing clean power, is applied liberally as seen in the choice of materials for the P8.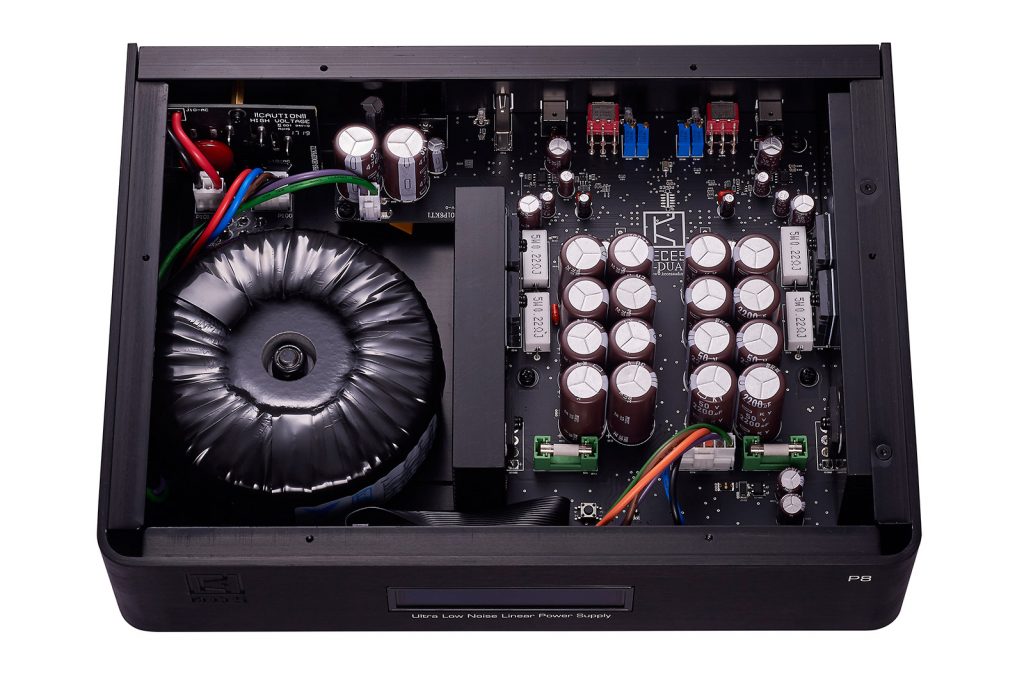 The P8 comes with a dot OLED display in the fascia which keeps you informed on the current voltage and amperage output levels being fed through the system. This information is useful to help monitor the performance of both your P8 as well as your homes power supply. The display which is in white, is bright and easily legible although sadly the display cannot be dimmed or turned off, a possible distraction for some.
The Keces Audio P8 is intended to be used mainly in a desktop setting as the connections provided for all the supply comes from 2 variable DC power outputs that can accept loads from 5V all the way up to 24V. This makes the P8 suitable for most desktop devices like headphone amps, DACs and even turntables. Additionally, the P8 can also power USB powered devices as well thanks to an included USB power output. This output a 5V @ 1-amp voltage and is suitable for many USB based DAC's.  It also allows these components to benefit from stable clean power.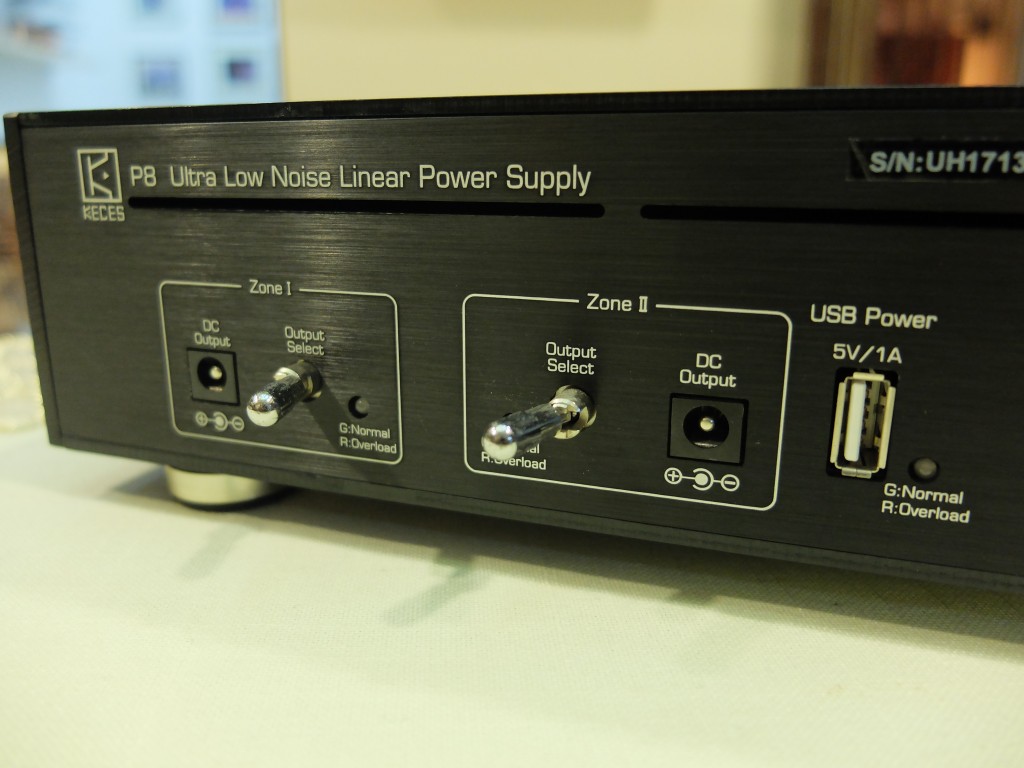 Ideally, this power supply unit should be regarded as the backbone to a complete desktop solution, cleaning up the power supply and actively eliminating any unwanted noise or disturbances to the audio signal. Those using a headphone-based system or active speaker system will most likely experience audible signal gains during regular use. The P8 is so effective in cutting down noise it is quite likely to also bring about an improved level of signal to noise ratio in your hi-fi system.
At RM 2600 per unit, the P8 is more suited to a mid-range to high end desktop setup. Of course, that being said having a power supply like this would be a welcome addition in any kind of system be it entry level or serious. The quantum by which the gains are measured however is also very much affected by numerous factors such as connected audio kit as well as the raw power source itself. If your main power is relatively stable and clean, then the gains experienced may not be as instantly obvious as when the supply is thick with noise. Either way this component should be given a try.
Further details contact: 
Maxx Audio Visual Sdn Bhd
Tel: 06-7620811
Max Loh: 017-677 8820