An Italian Job
by Dick Tan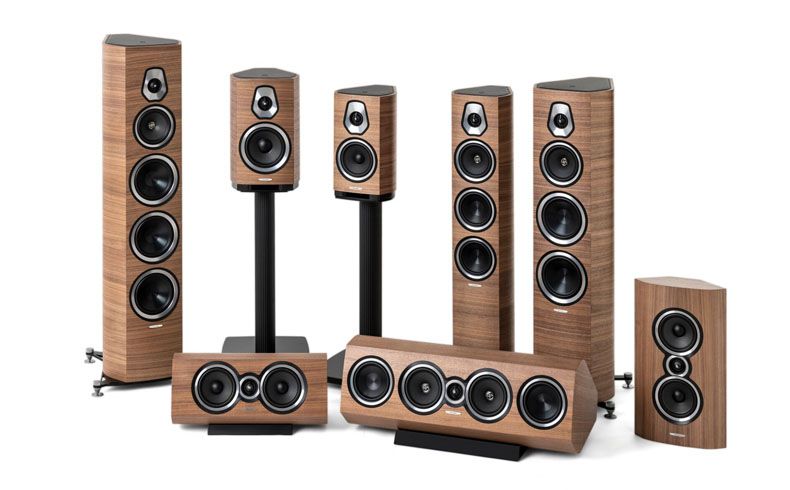 Perfect Hi-Fi, in conjunction with the recent official opening of its new showroom at the OIO Mall took the occasion to simultaneously launch its new Sonus Faber Sonetto range of speaker system.
The new 8 model strong Sonetto range, according to Andy Tan of Perfect Hi-Fi is the latest, perfect manifestation of Sonus Faber's speaker technological innovations combined with the unmatched level of craftsmanship that the Italians are now famous for. He also added that the Sonetto Range is not only designed but still made in Italy.
Aesthetic features, shared throughout the entire Sonetto range includes a hand sewn leather top panel, solid aluminium enforcement rings for the drive units and a variety of finishes that include natural wood and a lacquer finish of black and white.
The flagship of the range is the floor standing Sonetto V111, a three-way design featuring three 180mm aluminium cone woofers, one 150mm cellulose pulp midrange and a high definition DKM 29 mm dome tweeter
The bass units are loaded via a floor firing reflex port to achieve a very low bass extension of down to at least 27 hertz. Measuring 1188 x 283 x 427cm the Sonetto V111 weighs approximately 26.5kg.
Next in line, the Sonetto V features two 180mm bass drivers and a similar midrange and tweeter unit. It measures 1072 x 258 x 409mm and weighs approximately 23kg. It is capable of reaching maximum bass response of down to 38 hertz.
For those where space is a premium but would still prefer the slam that only a floor standing speaker can deliver the Sonetto 111 may be the perfect choice. A three-way design it features two 150mm woofers to achieve a maximum base response of 42 hertz and measures 1018 x 219 x 305mm. The Sonetto 111 weighs 16kg.
And where a more compact bookshelf design is more appropriate there are the Sonetto 11 and Sonetto 1. Both are two-way designs featuring a 165mm and 150mm woofer respectively.
To enable the Sonettos to operate in a home theatre mode Sonus Faber offer the Sonetto Centre 11 at the Centre 1 as well as the Sonetto Wall.
For further details contact:
Perfect Hi-Fi Sdn Bhd
Tel: 03 58821693
Andy Tan: 019 2112566