No Atmos Required
by Dick Tan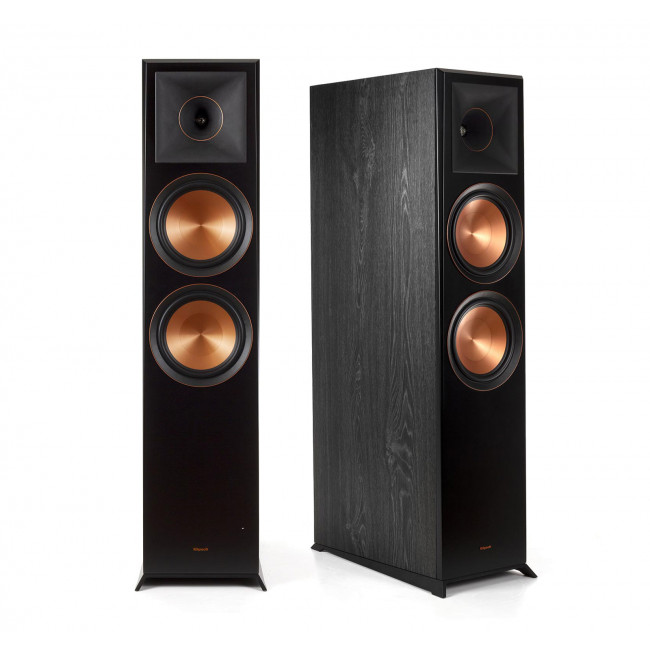 Are you contemplating upgrading to the latest in Dolby Atmos surround systems but abhor the idea of enduring the work required to mount the additional speakers required to achieve the much sought after overhead Atmos sensation?
You may then want to consider Klipsch's floor standing RP-8060FA speaker system that comes with a built-in Atmos surround speaker loaded at the top panel.
In typical Klipsch style the RP-8060FA is a large floor stand speaker measuring approximately 43″ x 10.9″ x 20″.
Within the enclosure Klipsch has cleverly designed in two actual separate speaker systems, the front panel mounted main system and the top mounted Atmos system.
The main system comprises dual 8″ Spun Copper Cerametallic woofers and a 1″ Titanium LTS vented tweeter mounted behind a Hybrid Tractrix Horn.
The Atmos speaker unit at the top panel comprises a 6.5″ woofer and a similar horn loaded tweeter.
The angled, top panel location of the Atmos speaker assembly enable Atmos encoded surround sound information to be beamed to the ceiling location where a separate Dolby Atmos Speaker may otherwise be mounted.
As is the hallmark of all Klipsch hi-fi speaker systems the RP-8060FA is highly sensitive requiring only 1 watt to produce a phenomenal sound pressure level of 98 db.
This means the RP-8060 FA does not require a very powerful amplifier to drive it to a very high-volume level.
The sheer amount of drive units used and the extensive internal bracing of the enclosure to ensure the cabinet is optimally rigid has accounted for the solid 33kg weight of the RP-8060FA.
The finish options include Ebony, Walnut or Piano Black.
For further details contact:
WKH Distribution (M) Sdn Bhd
Tel: 03 – 6270 0035
Kenny Sea: 019 3395186