Easy as They Come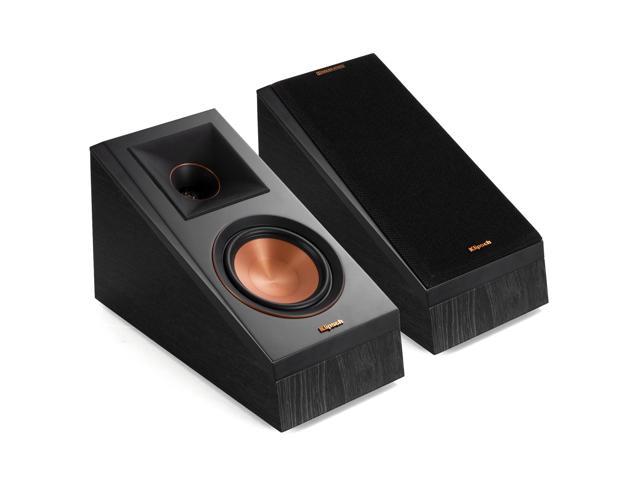 Considered by some authorities of home theatre sound to be one of the best buy Atmos speaker design that many can buy, the Klipsch RP-500SA is a dedicated Atmos speaker system that can be either mounted in the ceiling towards the rear as part of the surround speaker assembly or on top of your existing main speaker as an up-firing immersive sound speaker.
A built-in switch will enable the RP-500SA to perform optimally in either configuration.
A member of Klipsch's updated new Reference Series, the RP-500 measures 18.8 x 17.3 x 28.4cm and weighs a fairly substantial 4kg.
Mounted flushed in the sloped baffle are a 1″ Titanium LTS vented tweeter and a 5.25" cerametallic cone woofer, the latter featuring Klipsch's trademark copper cone finish.
While the RP-500SA is available in several finishes it is likely to be found mostly in its favourite Ebony option. Being horn landed with Klipsch 's Hybrid Tractrix Horn the efficiency of the RP-500SA is exceptionally high, well in excess of 90db for 1-watt input.
As such the RP-500SA although powerfully rated to be able to handle input in excess of 300 watts do not require a lot of power to achieve a high sound pressure level.
The RP-500SA is set to retail at RM3,299.00 per pair and may be auditioned at the coming KL International AV Show 2019 at The Vistana Hotel, Kuala Lumpur from July 26-28.
For further details contact:
WKH Distribution Sdn Bhd
Tel: 03 62700035
Kenny Sea: 019 3395186