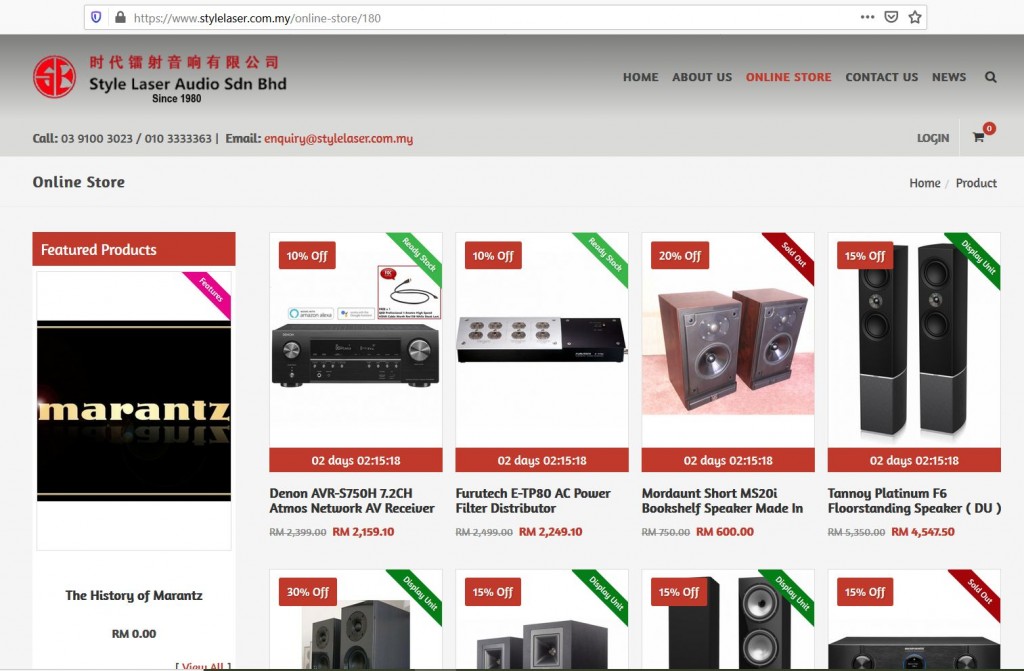 Style Laser is extending their Movement Control Order (MCO) sale till May 12 which is the last day of the latest extension of the lockdown order.
In their online store www.stylelaser.com.my/online-store, there are 77 pages of things on sale and you can spend hours just looking through the entire catalogue. Style Laser is marketing themselves as the one-stop online AV and hi-fi store.
Style Laser is offering free shipment within peninsular Malaysia and they will ship within four days of purchase.
Among the items which are priced 40% off is a preloved Denon DBP-2010 Blu-Ray Disc Player priced at RM690, a preloved Magnet SA-4 Integrated Amplifier at RM450, new Chord Chorus Reference 5pin Din To 5 Pin Din Cable at RM1,799.40, Chord Active Resolution HDMI Cable 10Meters at RM563.40, preloved Kenwood SS-3300 AV Surround Processor at RM138, preloved Carver C20-V Pre Amplifier at RM309, Q Acoustics 7000i 5.1 Channel Satellite Speaker Package at RM2,939.40 and preloved Monitor Audio Radius 270 Floor Standing Speaker at RM1,770.
The 30% off list include Polk Audio Signature S10e Satellite Speakers at RM945, preloved Jamo S622 Bookshelf Speakers at RM315, preloved Pioneer BDP-330 Blu-ray Disc Player at RM735, Q Acoustics Concept 300 Bookshelf Speakers With Original Stands at RM6,999.30 and Chario Studio 1016T Floorstanding Speakers at RM7,665.
Among the brands sold by Style Laser are Onkyo, Pioneer, Denon, Yamaha, Marantz, KEF, ELAC, Wharfedale, Chario, Q Acoustics, Polk Audio, Chord Company, Fibbr, Mipro, Cambridge, Paradigm, Jamo, Audioquest, Focal, Luxman, Monitor Audio, Tannoy, Golden Sound, Pro Au, Rega, Sherwood, Cyrus, Rotel, Magnet, Roksan, Harbeth, TEAC, Furutech, Klipsch, Pro-Ject, NAD, Audio Pro, DALI, Sonus Faber, Mission, Atlantic Technology, Optoma, AKG, IsoAcoustics and others.
Components include speakers, CD players, amplifiers, AV systems, headphones, network streamers, turntables, DACs, AV receivers, sound bars, subwoofers, phono preamps and even karaoke equipment.
They even have Chartwell LS 3/5 Monitor Speakers By Graham on sale at RM10,169. – Posted by Lam Seng Fatt