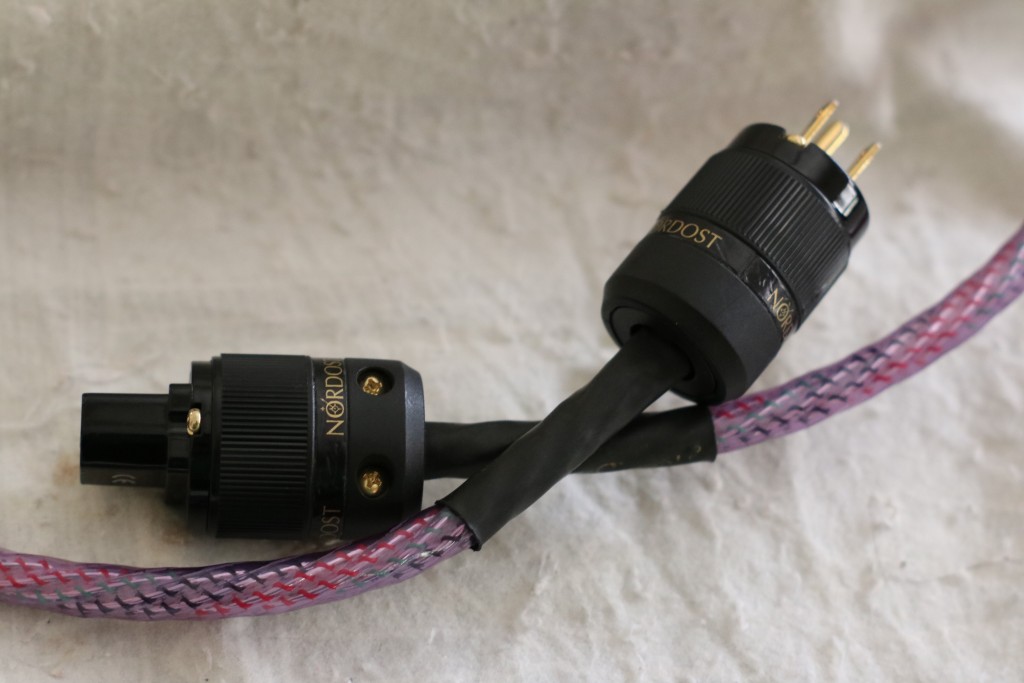 By Lam Seng Fatt
Nordost has categorised its cables into ranges with names like Leif (Universal Cable System), Norse 2 (High Performance), Valhalla 2 (Reference) and Odin 2 (Supreme Reference).
The Frey 2 power cord that I received from Perfect Hi-Fi for review is from the Norse 2 range and is in the middle of the three models in this range with the others being Heimdall 2 and Tyr 2. Nordost's products have always been pricey and the Frey 2 retails at RM10,270 and it's fourth from Nordost's current top model, the Odin 2.
Norse 2 Series power cords use Nordost's proprietary Micro Mono-Filament construction which creates a virtual air dielectric complete with an elegantly engineered suspension system.
"When combined with silver-plated OFC solid core conductors and Fluorinated Ethylene Propylene (FEP) insulation throughout, the result is the ideal electrically and mechanically controlled construction for ultra-fast, low-impedance current and voltage transfer.
The complex topology of Micro Mono-Filament conductors is especially effective in dissipating mechanical energy present on the AC line, which otherwise enters your delicate electronics. Frey 2 adds additional conductors, further diminishing low-level storage and charging effects, creating wider, faster dynamic response and resulting in a more dramatic, involving and realistic musical response," states Nordost's website.
According to the specifications, there are 5 x 16 AWG conductors, which are made of silver-plated 99.99999% solid core OFC. The DC Resistance is 2 Ohms per 1,000ft and the Velocity of Propagation is 85%.
To be expected of a company like Nordost, the power cord is very well made and uses proprietary connectors.
The cable is not very thick and is quite flexible. So unlike very thick cables, you don't have to struggle to plug the Frey 2 power cord into your amplifier.
I used the Nordost Frey 2 power cord with two power amps – the resident Bryston 4B SST and the Nagra Classic Amp which was in for review (see http://av2day.com/2020/01/nagra-classic-preamp-and-amp-a-perfect-match/) – and the Luxman L-505uXII integrated amp (see http://av2day.com/2020/03/luxman-l-505uxii-one-of-the-best-integrated-amps-in-the-market/) and with all three, the Nordost Frey 2 power cord displayed the tendency to brighten up things.
Whether it is your cup of tea depends on the inherent character of the power amp or integrated amp. In the case of the Bryston, which is inherently slightly lean but neutral, the brightness was not to my liking while the Nagra, which is inherently natural sounding, had a bit more sparkle. The Luxman, which has a slightly lush signature, benefited the most from the brightening act of the Nordost.
The Frey 2 also sounded a bit leaner and bass was not as full when compared with my resident power cord. That could explain why it sounded the best with the Luxman since the slghtly lush sound compensated for the leanness.
In terms of soundstage, clarity and dynamics, the Nordost Frey 2 delivered all in abundance. It also sounded quite fast with plenty of 'snap' especially with snare and kick drums.
Since it requires good matching for the Frey 2 to sound good, it would be advisable to take your time to audition it and perhaps you could take your preamp, power amp or even integrated amp to Perfect Hi-Fi to test the power cord. I am sure Perfect Hi-Fi would oblige. Who knows, you may end up buying the Odin 2 power cord instead.