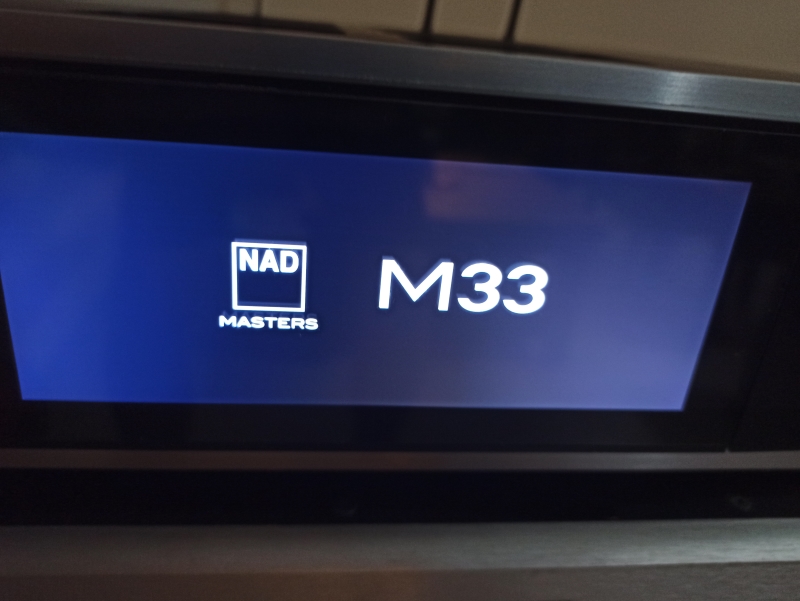 By Lam Seng Fatt
From the outset I have to comment on the sound quality of the NAD M33 Streaming DAC Amplifier. Every review of this all-in-one component has praised its sound quality.
So when I began this review, I made sure that I hooked it up with the best accessories available in my house — a Wireworld Starlight 8 ethernet cable from wi-fi router to Silent Angel Bonn N8 network switch with iFi iPower X power supply and Shunyata Sigma ethernet cable from the network switch to the NAD M33.
Being a lazy fella, I did not fully read the manual and fumbled to get the M33 going, but after the BluOS was downloaded into my handphone I finally succeeded in getting the M33 powered up and TIDAL launched, after which it was simple to navigate and play the unit. The all-in-one NAD M33 was so simple to use that on a few days my first and third sons 'hijacked' the system to listen to their playlists on Spotify. The LCD touch-screen display was also a 'wow' factor for the millennials.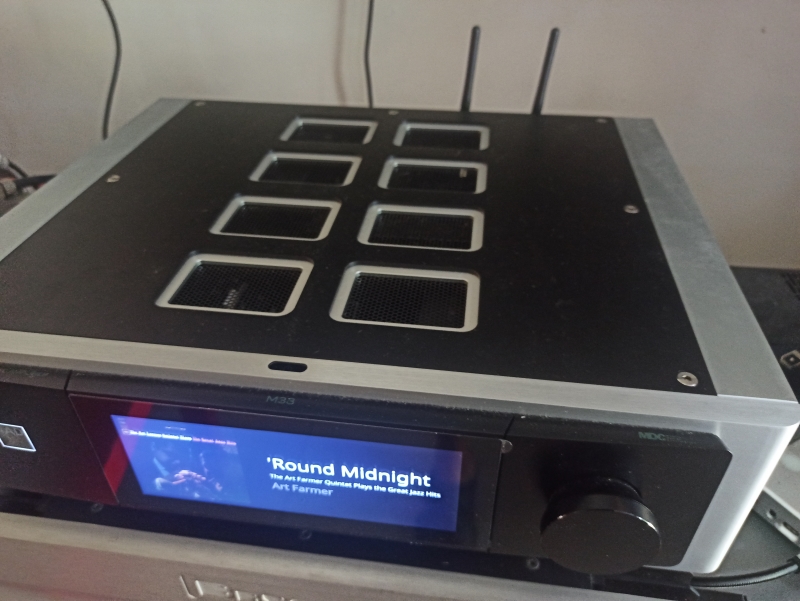 After listening to some familiar songs, I realised that the sound quality of the NAD M33 was ultra-clean and ultra-clear with an ultra-low noise floor and an ultra-large soundstage. With such attributes, the NAD M33 should impress any audiophile, but I have to say that those who are used to the warm romanticism of valve amps may find such ultra-clarity disconcerting. It is like having to get used to watching a QLED or OLED TV with 8K resolution after spending years watching standard definition TV.
I checked out how the NAD M33 as preamp driving a Class AB Bryston 4B SST power amp would sound with the resident ATC SCM50 floorstanders…well, the sound was less clear, less clean, perhaps more organic with amorphous images.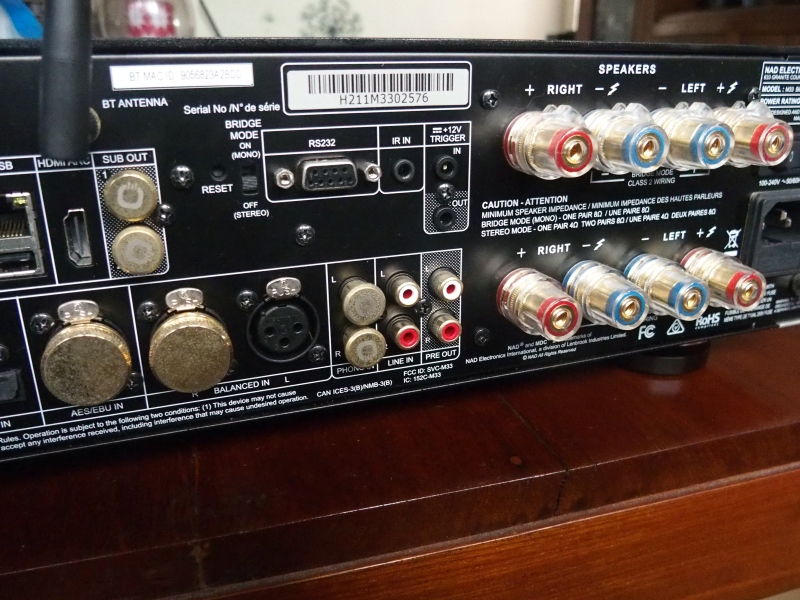 The exceptionally quiet and clear sound of the NAD M33 is due to its Class D amp modules. These are not the normal Class D modules, but the latest breakthrough design by Purifi Audio from Denmark called the Eigentakt module. This Class D design offers high loop gain (>75dB) in the entire audio band, negligible Intermodulation Distortion (IMD), Total Harmonic Distortion remains extremely low at any frequency and any power level right until clipping, negligible output noise, deep black silences and a generous and detailed sound even at very low playback volumes, high power supply rejection ratio (PSRR), load-invariant frequency response and negligible output impedance, very low idle losses and reduced electromagnetic interference and exceptionally clean clipping and clipping-recovery in both voltage and current domains.
The Purifi Audio leadership team has several familiar and famous names. They include Bruno Putzeys (Co-Founder) who was the inventor of UcD (Philips), probably still the most widely used class-D amplifier for upmarket audio products and inventor of Ncore (Hypex), which is generally considered the first class-D amplifier to successfully compete with class-A on audio performance and is used by Grimm and Mola Mola. Another familiar name is Peter Lyngdorf (Co-Founder) who owns Lyngdorf Family Holding, Hi Fi Klubben, DALI and Steinway Lyngdorf and has his own range of Lyngdorf products.
Though the NAD M33 boasts a long list of features, it is its sound quality that sets it apart from its competitors. But like I said earlier, it takes some getting used to as most audiophiles would not have encountered an amplifier that produces such extreme clarity. I must say that for the first time I could hear all the instruments clearly on Patricia Barber's Cafe Blue.
Of the features available, I tried the headphone jack and found it to sound good with my AKG K240 Mk II and Sennheiser HD600 cans. Plugging in the cans will automatically mute the speakers.
I also tried the phono (MM/MC) input. To programme the phono input, you need to navigate on the touch screen of the display panel. There is an MM/MC selection button and an Analogue-to-Digital Converter (ADC) button with samplilng rates of 48 kHz, 96 kHz and 192 kHz. It is best to choose the highest sampling rate. This feature offers you the unusual experience of listening to analogue music digitally.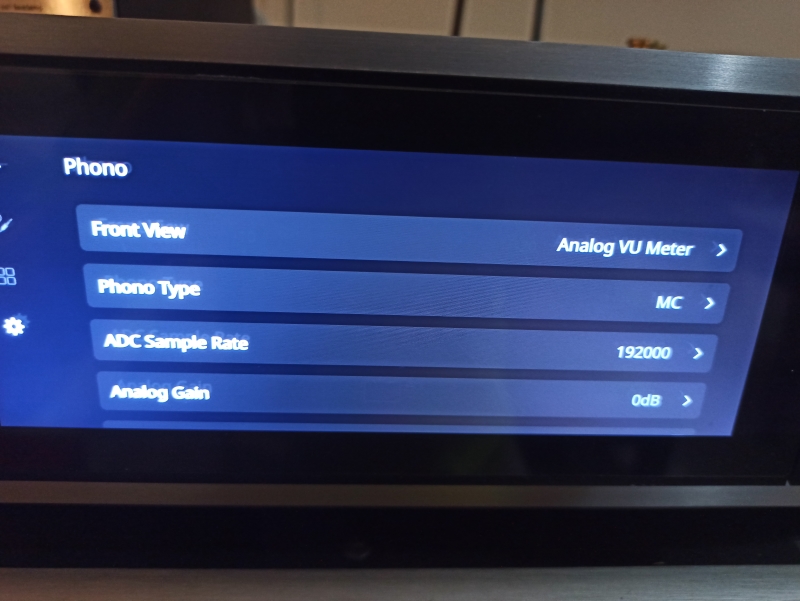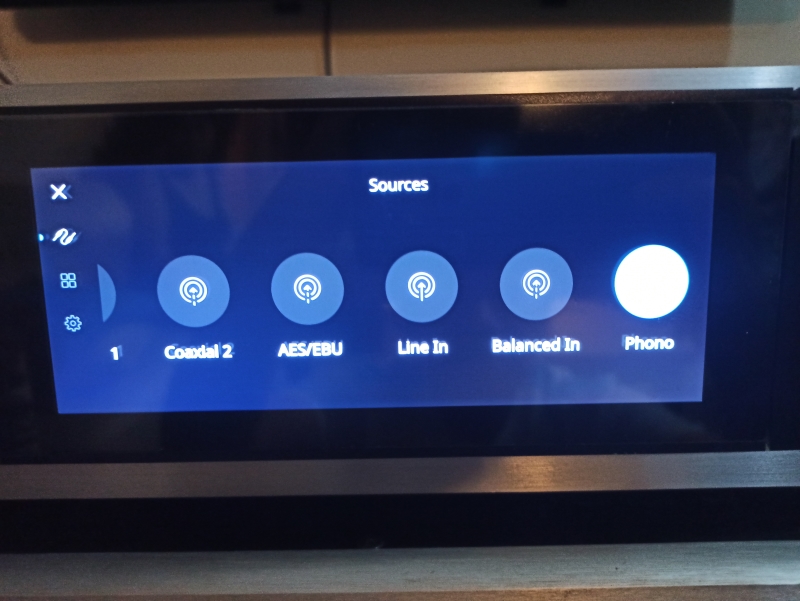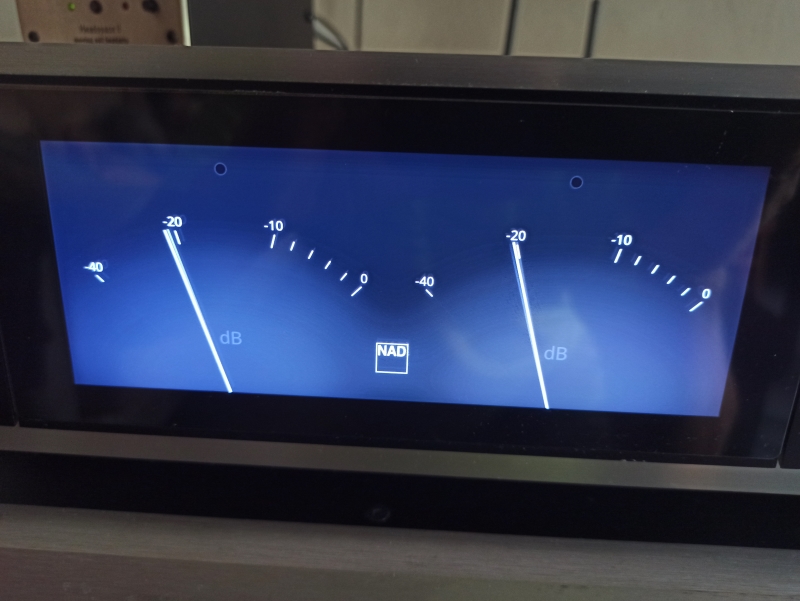 The NAD M33 has loads of functions and there was at least one vital feature that I did not try — the Dirac room correction system.
Plenty of features and connections plus ultra-clear sound quality make the NAD M33 possibly the best all-in-one Streaming DAC Amp in the market.
The NAD M33 Streaming DAC Amplifier costs RM29,999 retail and is available at Stars Picker Audio Library.