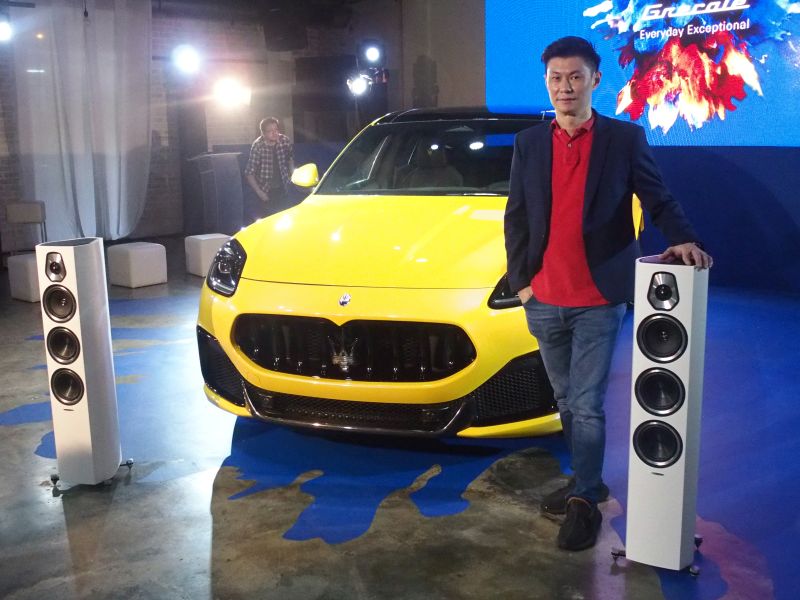 By Lam Seng Fatt
Supercar manufacturer Maserati has teamed up with Sonus Faber since 2020 because the high-end speaker maker is Italian and believes in craftsmanship and artisanal quality.
Today, the Maserati Grecale SUV was launched at Slate@The Row in Kuala Lumpur and Andy Tan, the owner of Perfect Hi-Fi, the Malaysian distributor for Sonus Faber speakers, was there to showcase several Sonus Faber speakers including the Omnia wireless streaming speaker for the lifestyle segment.
According to Maserati's website: "Born in Italy, Maserati and Sonus faber are connected by common values, a love for the Italian culture and a commitment to delivering an extraordinary brand experience with luxury, performance and innovation at the forefront. Combining the roar of the Tridente engine and the natural sound of the Sonus faber system, each brand, despite their continuous evolution, remain rooted in tradition and devoted to maintaining their stellar reputations in the automotive and audio industries. Defining innovation as the desire to face new challenges, Maserati and Sonus faber continue to look towards the future by expounding on technological advancements that offer its luxury clientele the caliber of product synonymous with both brands. Setting the standard in the luxury space, Maserati and Sonus faber fuse the spirit of Italy into its craftsmanship and design; solidifying each brand's position in their respective markets."
The partnership kicked off with the Maserati MC20. "The Maserati MC20 is the only model in the world currently in production with Sonus faber sound system. It features 12 channels High Power Amplifier with 695 Watts of power and 12 speakers with specific characteristics in order to stay true to the Sonus faber philosophy, which is the ultimate pursuit of 'natural sound', creating a sound reproduction that implies the use of natural materials like the silk used for the tweeters' dome.
"Thanks to the specific Sonus faber tuning, the sound results always natural, clear and detailed giving the listener the ability to distinguish the different instruments on the stage, with the emotion of experiencing a live music performance," said Maserati's website.
The exclusive partnership continues with the Maserati Grecale. Inside the cabin, the control panel takes centrestage, but the Sonus Faber speakers are found on the doors with metallic grilles.