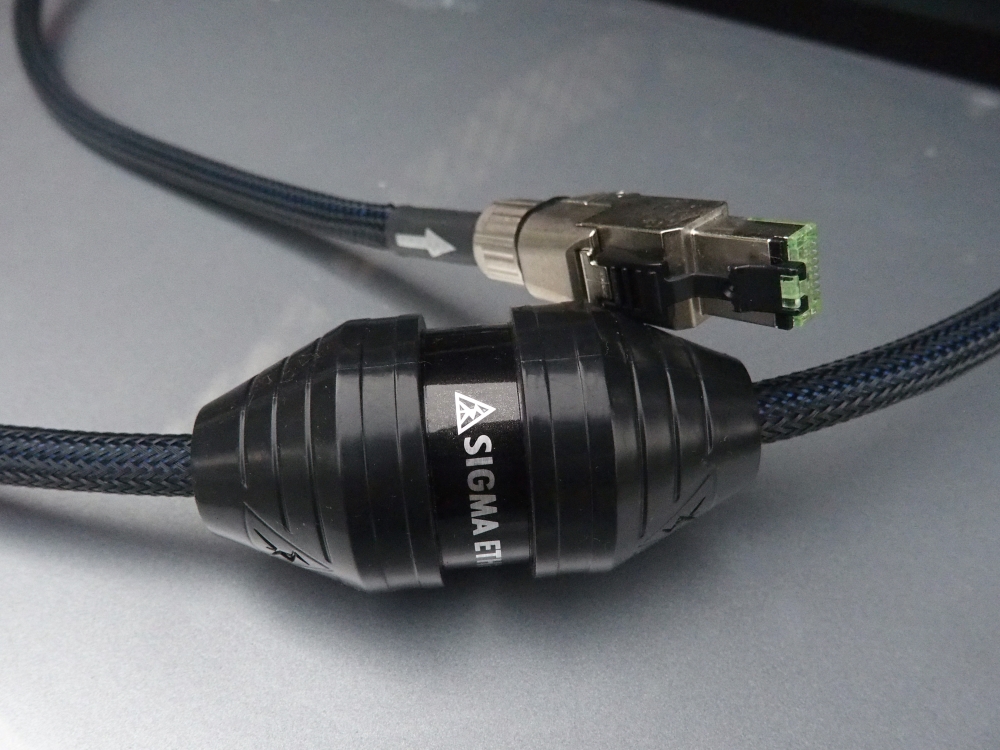 By Lam Seng Fatt
Recently I was at CMY Audio & Visual in Sungei Wang Plaza and suddenly felt the itch to test a Shunyata ethernet cable and compare it with my Wireworld Starlight 8 Twinax cable.
Since I had already been seduced by the Shunyata Omega USB cable which is now my reference USB cable, I thought it would be interesting to compare a Shunyata ethernet cable with the much-praised Wireworld model.
So I decided to compare the second-ranking Shunyata with the second-ranking Wireworld ethernet cable and borrowed a Shunyata Sigma for review. The Shunyata Sigma ethernet cable costs much more at RM9,995 for 1.5 metres compared with RM1,449 for 1 metre of the Wireworld Starlight 8.
In its website, Shunyata Research states that its digital cables are produced using a Precision Matched Z (PMZ) concept. This means that tolerances of the conductor surface, dielectric extrusion, and the precision of the braided shield are held to minute variances. The result is better performance through a reduction of cable-induced 'signal jitter'.
It uses ArNi, a type of wire created by Shunyata Research with the highest purity of copper available — OFE C10100 or Ohno (single crystal). Then it is formed in virtual hollow tubes eliminating skin effects and eddy current distortions.
Shunyata also uses a CMode filter that effectively reduces common-mode noise without introducing the sonic compression effects associated with conventional filters. It reduces high-frequency noise distortion while delivering an analogue ease and palpable background silence that closes the gap between digital and analog systems.
The cable undergoes Shunyata's proprietary Kinetic Phase Inversion Process which involves four days of continuous KPIP processing to dramatically reduce burn-in time and significantly improve sonic performance, delivering a relaxed and life-like presentation.
To ensure top-quality connections, the ethernet connectors are German-made Telegartner which features full-metal construction.
Having used the Shunyata Omega USB cable for many months, I am quite used to its sonic signature which is a smooth and 'relaxed' sound with a big soundstage and excellent separation and imaging.
The Shunyata Sigma ethernet cable appears to have Shunyata's house sound and its attributes which make the sound very analogue-like.
I hooked up the system this way — Wireworld Starlight 8 ethernet cable from wi-fi router to Silent Angel Bonn N8 network switch and the Shunyata Sigma ethernet cable from the network switch to whichever DAC or streamer/DAC that I had for review.
The sound quality was fabulous, but very often sanity prevailed and I had to ask myself if it is worthwhile or wise to buy an ethernet cable that costs more than some of the DACs I used and more than the Silent Angel Bonn N8 network switch.
Perhaps in a really high-end system with streamers and DACs costing, say, RM40,000 and above each, it would make sense to have the Shunyata Sigma ethernet cable. But in an entry-level or mid-level system, I think the Wireworld Starlight 8 would be good enough.
Shunyata ethernet cables are available at CMY Audio & Visual outlets.