Exhilarating Performance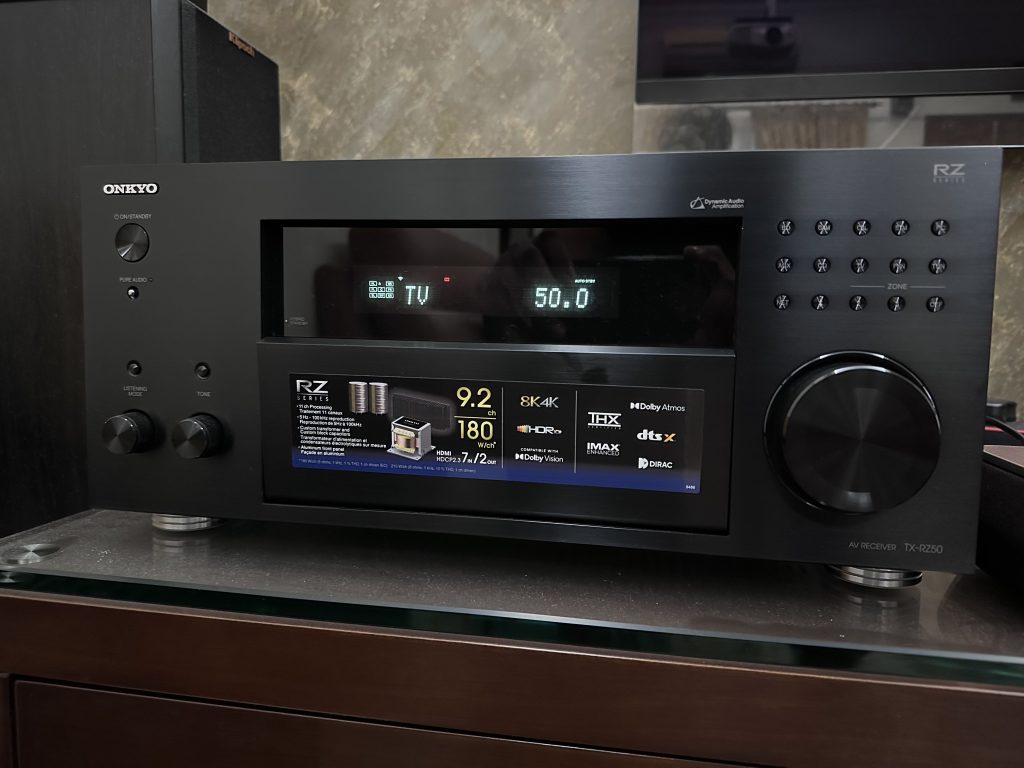 Japanese AV Stalwart Onkyo has been making receivers for many years with a pretty lengthy list of successes on its roster. The company has been going through some ups and downs as well as changes in ownership, but the brand has endured. Continuing to deliver great value AV equipment for both the novice and high-end enthusiasts alike.
Currently established as the most sought-after model from the Onkyo line-up is the TX-RZ50. This model sits as the entry point into the more competent RZ range of receivers from the manufacturer. The RZ family is built in a familiar Onkyo chassis and front fascia design with the green led display. The key separating factor is the front fascia design with its cleaner central area and volume knob set lower on it's left.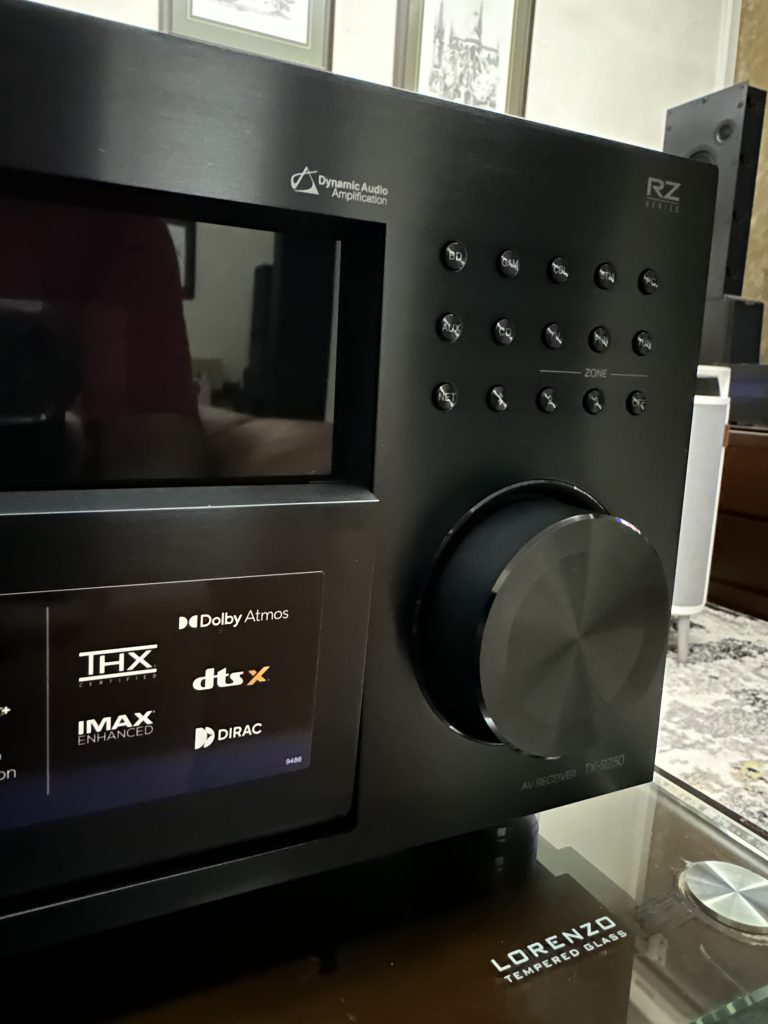 Let's get over the basics by firstly going over the extensive feature set. The RZ50 is a 9.2 channel THX Certified, Dolby Atmos enabled receiver. The internal processing with Pre outs allows the unit to increase its channel count to a whopping 11.2. This means the unit will cater to a 7.2.4 Atmos cinema system layout with help from external power amps.
Additionally, the receiver also has a Klipsch optimised mode designed for perfect matching with both The Reference and Reference Premier speakers from the brand. The receiver applies optimised crossover settings which allow for perfect synergy between the speakers and the receiver.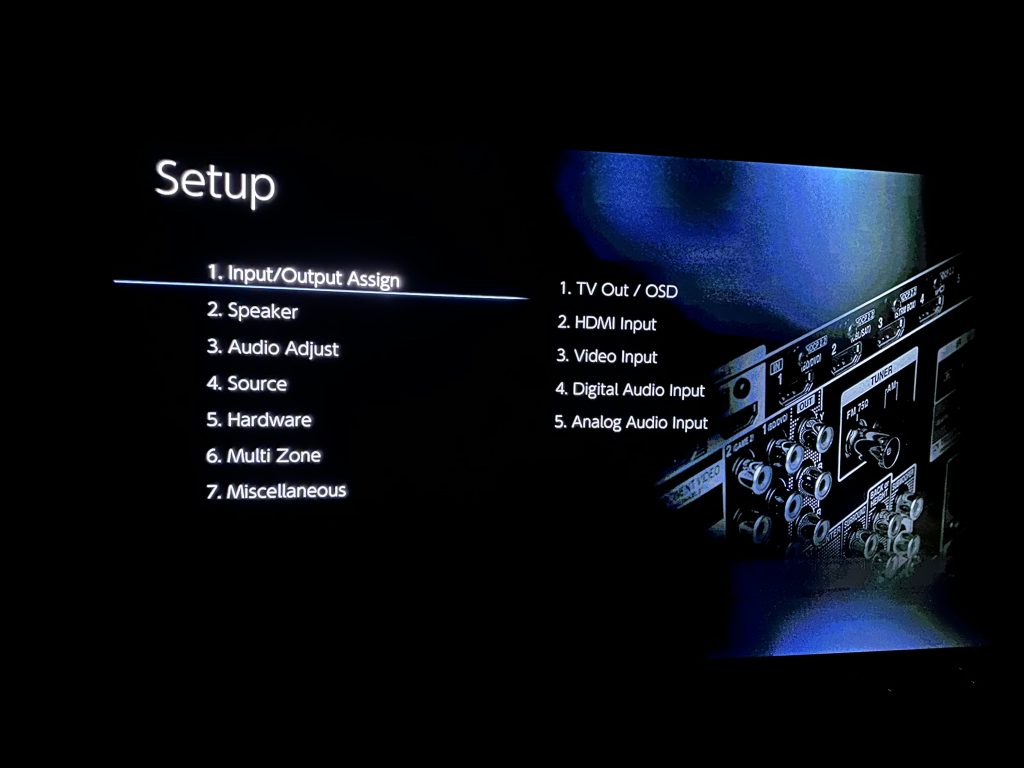 A little dirty thing that many receiver manufacturers do with power ratings is declare the power output based on a single channel being driven. So, in the RZ50 case, its 250 watts into 6 ohms power claim is actually based on a single channel being driven, so in reality the power output will be smaller as your receiver will be in fact powering speakers based on the configuration that you have in your system. More on this later.
Switching to video performance, the RZ50 supports 4k/120 and is also capable of 8k/60 with both HDMI outputs. The Main output is of course eARC enabled and all HDMI connections are HDCP 2.3 compliant. I connected a variety of components from Blu-ray players, Streaming TV Boxes and even my PlayStation 4 and all worked without any handshake issues at all.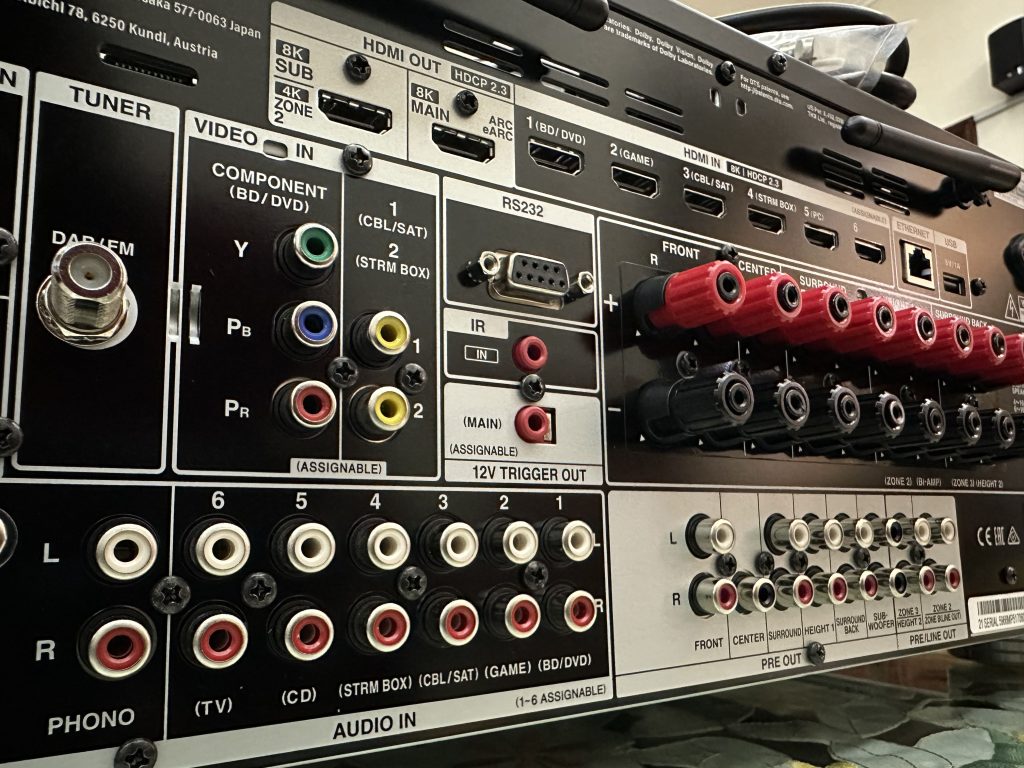 The Onkyo TX-RZ50 is also built to stay connected. It has support for most of the popular streaming services (Spotify, Tidal, etc) and can be controlled by Onkyo's own control app or the respective service apps. The receiver also has 2-way Bluetooth so not only can you play music off your devices, but you can send audio signals to Bluetooth enabled headphones for a private listening session. Though this may not be the most "Audiophile" method, it is super convenient and, in my testing, worked flawlessly.
Setting up the Onkyo TX-RZ50 couldn't be easier. This is thanks to its rather clean and easy to navigate on screen interface. If a display is not available, navigation is possible via the on-unit display though that makes the process a little more cumbersome. Onkyo has also included Dirac together with the receiver to help with speaker calibration which let's admit is the best option to date.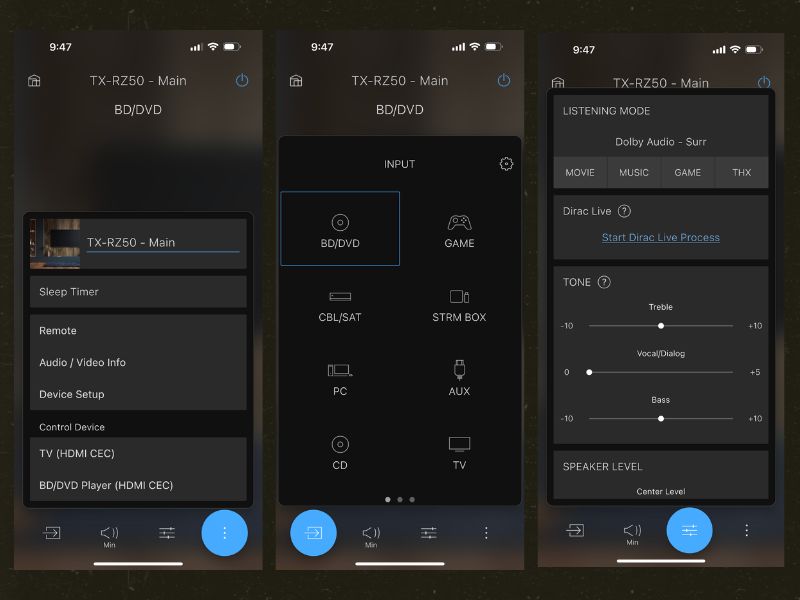 Dirac implementation is also convenient as it can be done with the included mic and smart phone. Or if you like, the option to go full blown is possible by using a PC or Mac with a 3rd party mic (like the Minidsp Umik-1). The entire process can be completed within an hour (without any hiccups, and your mileage can vary here) and once done, you're ready to go!
Watching movies through the RZ50 is an exhilarating experience. This is a receiver that has no problems throwing down a complex action sequence while maintaining massive scale. Almost instantly I was reminded of how I felt when I first heard the TX-NR609 many years ago. Its explosive dynamics and balls to wall attitude make this an exciting receiver for the action movie fanatic.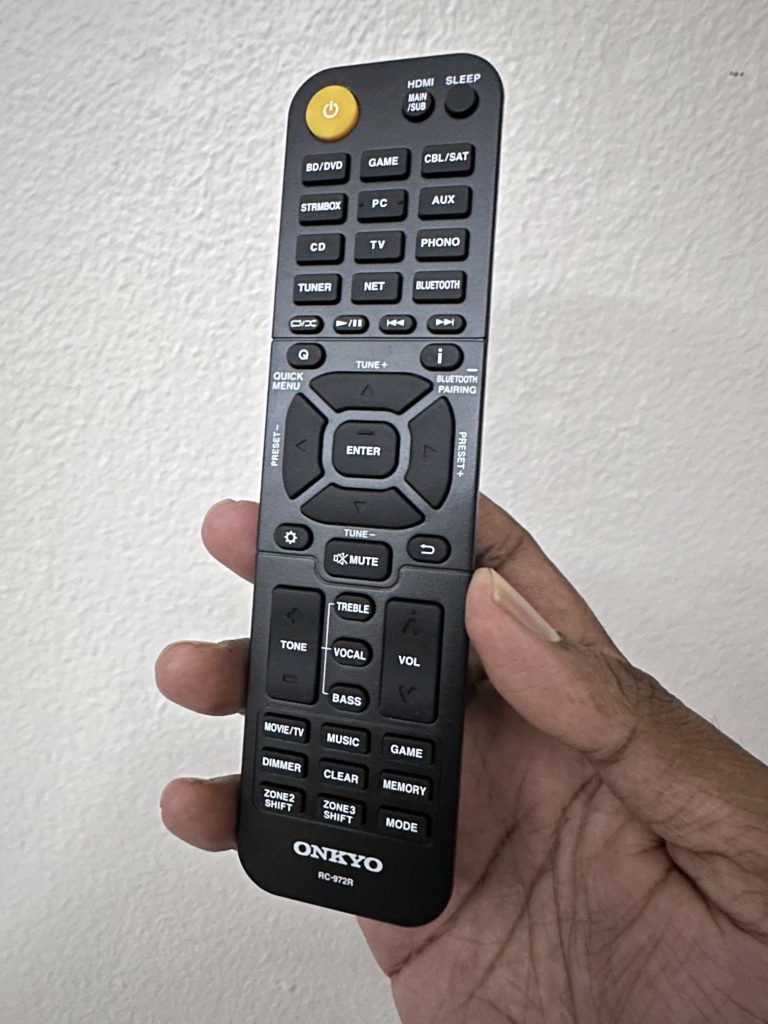 The receiver had no problems keeping the demanding PMC ci series speakers in check. The PMC's are pretty demanding speakers when it comes to amplification and can be very revealing of poor performance. There was none of that thankfully with the RZ50. Granted the heavy lifting was offloaded to my dual subwoofers but it still takes a good amount of competence to keep these speakers in line, which the Onkyo had in spades. This puts the earlier thought on the power rating to rest.
The RZ50 is also very capable of providing delicate nuances to help keep drama. Those quieter scenes in movies like IT and A Quiet Place are done superbly, keeping that sense of intense drama even where there isn't much going on audio wise. Speaker coherence was also superb in part due to good implementation of Dirac room correction.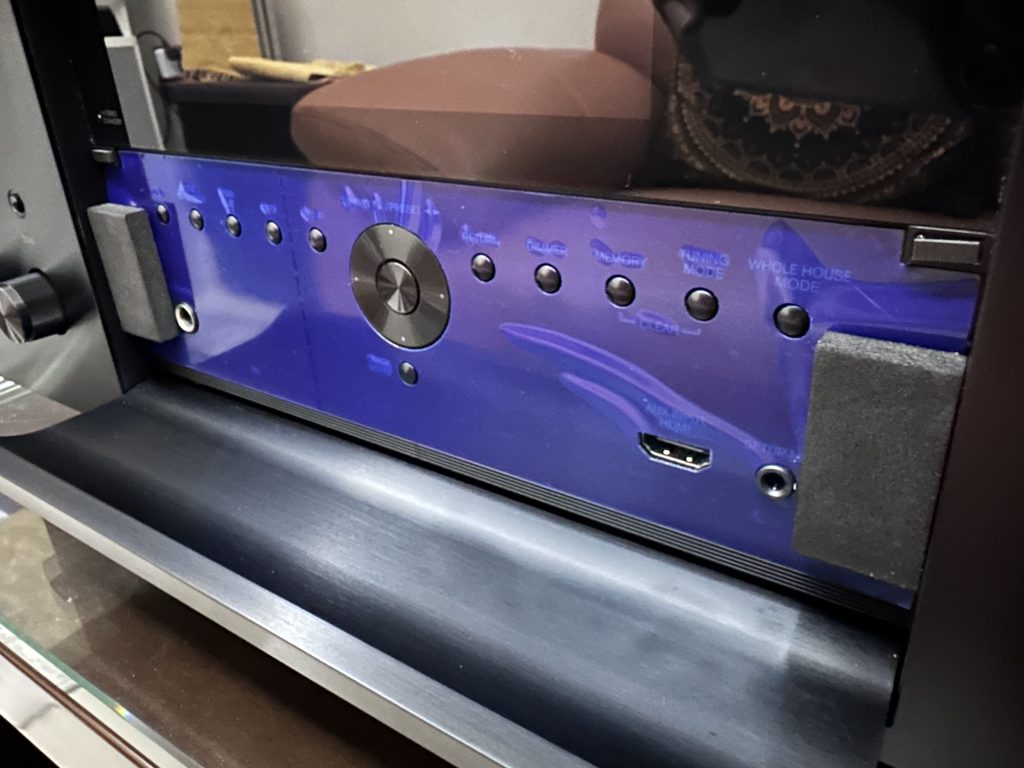 Onkyo has consistently been the best value preposition when it comes to price to performance and features. The brand has always been the Swiss army knife of the receiver world providing every single feature that can be specified into a tightly integrated package. The TX-RZ50 continues to embody that approach while offering fantastic performance. A receiver well worth looking at if you're shopping for a sub-RM 10k receiver with Dolby Atmos. Highly Recommended!
The Onkyo TX-RZ50 is Distributed by WKH Distribution. For more info, please contact them at +603 6270 0035.