Article By Dick Tan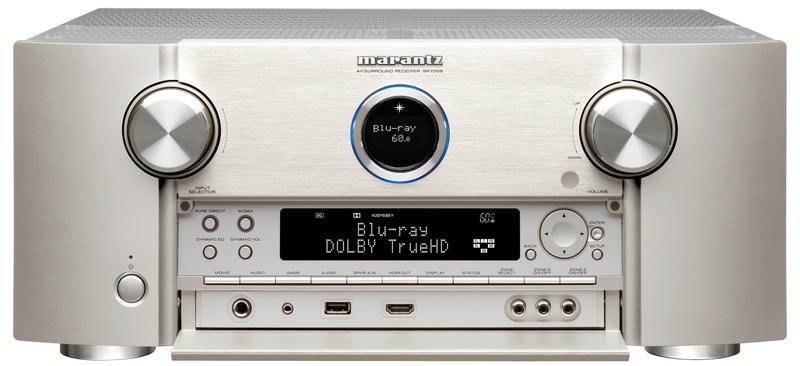 It seems like only yesterday when we welcomed the top of the range Marantz SR7007 into our midst.  An excellent AV receiver, there seems little that could be improved upon it but improve they did.
The new Marantz SR7008 looks identical to its predecessor and the main improvements are 'under the hood'.
Firstly, the SR7008 now includes a couple of extra amplification channels increasing from seven         (in the SR7007) to nine.  Even with the extra two channels Marantz has been able to maintain the SR7008's power output at 200 watts per channel into nominal 8 ohms impedance.
To attain these many channels of high power output has meant beefing up the power supply system and consequently the weight of the SR7008 has also gone up and now weighs almost 14kg.
In addition there are now also more analogue output ports.  To be precise, there are eleven (11) mains and 2 sub outputs. This means the SR7008, if preferred, maybe utilized as a preamp/processor unit with 11.2 analogue outputs driving the required numbers of power amplification system that would likely be the scenario in a sophisticated high end home theatre set-up.
Also upgraded is the Audyssey acoustic correction system which is now in its MultiEQ XT32 guise which Marantz says is configured to effect an even more accurate calibration of the surrounding acoustic.
The other aspect of the SR7008 remains essentially unchanged from the SR7007 and includes up to six HDMI inputs at the rear and one infront.
There are 3 HDMI output ports. All the HDMI ports are 3D/4K compatible which means they can either pass through or process 4K video.  In the latter role the SR7008 is able to upscale all video signals to 4K for display in a native 4K TV or projector.  Inspite of these improvements the price of the SR7008 relatively unchanged at RM7, 900.
Also upgraded along the same lines are the new flagship pre/pro and power series, the AV8801 and MM8077 which retails for RM12, 500 and RM10, 900 respectively.
For further details contact:  Wo Kee Hong Electronics Sdn Bhd., Tel: 03-79548088/HP: 0193395186