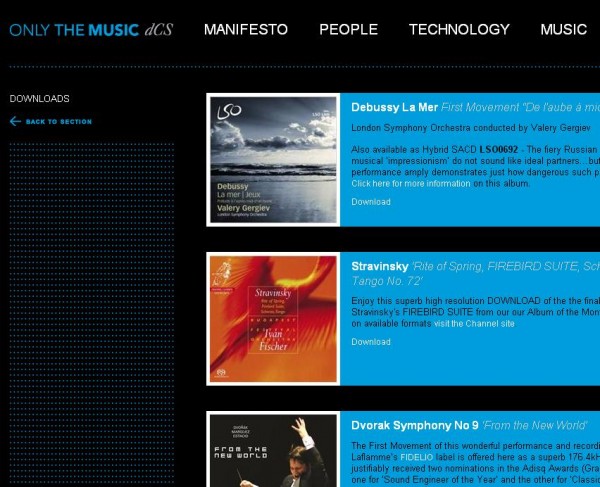 Mention the brand 'dCS' and any audiophile will tell you it is the ultra-expensive but excellent DAC manufacturer. Entry-level dCS stuff costs around RM60-70,000, so…
But here's a chance for you to get great hi-res music from dCS for FREE!
The high-end company has started a website called Only The Music where you can download seven tracks at no cost. Click http://www.onlythemusic.com/Downloads/?page=1
The hi-res files include:
> Debussy La Mer First Movement ''De l'aube à midi sur la mer'
London Symphony Orchestra conducted by Valery Gergiev
> Stravinsky 'Rite of Spring, FIREBIRD SUITE, Scherzo à la Russe and Tango No. 72'
> Dvorak Symphony No 9 'From the New World' The First Movement of this wonderful performance and recording from René Laflamme's FIDELIO label
> Michael Gees ImproviSatie – Challenge Classics
> Jungle Boldie Turtle Records
> Explorations in Space and Time Chesky Records
> Britten WAR REQUIEM 'Dies Irae' (excerpt) From WAR REQUIEM performed by The Netherlands Symphony Orchestra conducted by Jaap van Zweden
These hi-res files are in 24/176.4 or 24/192 resolution. Happy listening!