Article by Randall Tan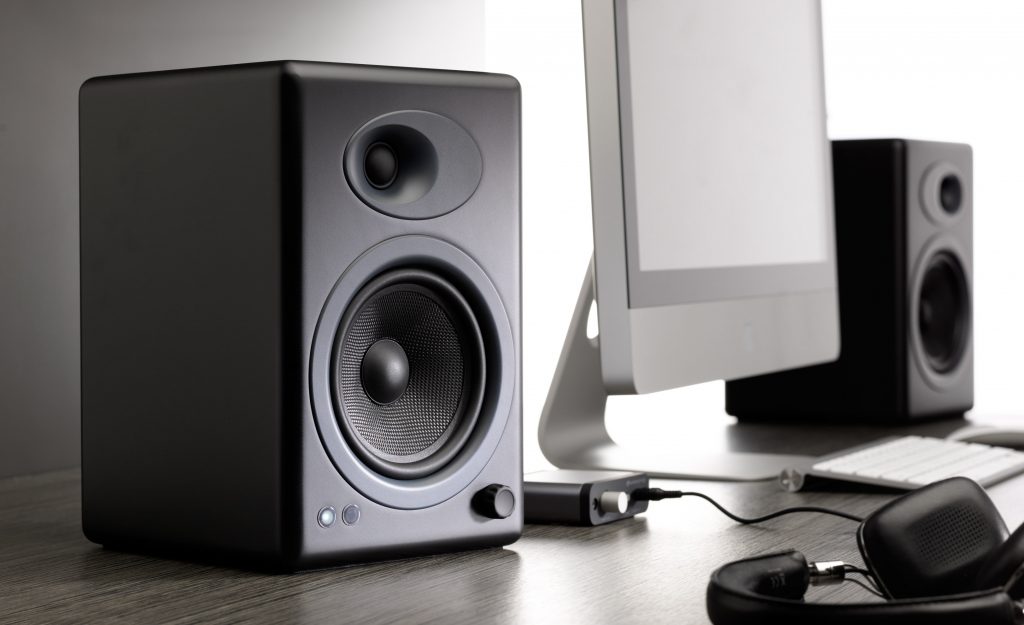 Highly reviewed and winning awards from various magazines and websites, Audioengine is a company dedicated to designing and manufacturing products with the tech-geek/audio-enthusiast in mind. It is also intended for the consumers who wants more than just average speakers for their computer system or even to significantly improve the bog standard sound quality that seem to come with most HDTVs.
Flagship of their wide range of speakers, the Audioengine A5+ boasts audiophile-quality sound in a simple 2.0 set up. The A5+ is not your typical speaker system as Audioengine is proud to mention. It is custom manufactured from top to toe to their well-researched design.
The A5+ is designed for maximum compatibility with various components ranging from your computer to your portable device, so long as it is able to output a signal via mini-jack or RCA. It comes with two audio inputs, one mini-jack and another stereo RCA, and has a variable RCA output to which you can connect a powered subwoofer if you feel the A5+ doesn't dig deep enough or doesn't satisfy your low-end cravings. To achieve that extended low bass Audioengine recommends its own S8 active subwoofer featuring a custom 8″ woofer driven by built-in 250 watts class AB power amplifier.  A nifty feature of this system is the USB power feature, which allows you to charge your portable device even while playing your favourite tunes.  Or, for that matter to even power Audioengine's wireless solution.
Utilising a 127mm Kevlar woofer together with a 20mm silk dome tweeter in a 25.4mm MDF cabinet, the A5+ is powered by a dual class AB monolithic amplifier with a claimed a frequency response of 50 Hz – 22kHZ. Rated total power output is 150W. The compact speaker cabinets measure 270 x 180 mm wide and 200 deep for the right speaker and a 230 mm for the left.
The reason for the discrepancy in depth is that the left speaker is where the power amplifier is incorporated.  It not only protrudes 30mm more but at 7kg weighs 2.6 kg more than the passive only right speaker. In any event both cabinets are solidly constructed and has a satisfying heft to it.  Performance aside the A5+ will look great on your desk in one of three colours Satin Black, Hi-Gloss White or Solid Bamboo.
For optimum performance Audioengine encourages owners to pair it up with its D1 USB DAC to bypass your computer's integrated audio chip. Featuring 24-bit 192 kHz processing via an AKM4396 DAC and a Burr-Brown/TI OPA2134 amplifier, the Audioengine D1 comes with a more linear frequency response of 10-25 kHz and is packaged in a small but attractive 88.9 x 101.6 x 25.4 mm aluminium casing weighing 0.5 kg.
In addition the D1 DAC is powered via a 5V USB, which doubles as one of two inputs, the other being via S/PDIF optical. The D1 outputs via analogue RCA, and there is also a headphone output on the front. Simple and fuss free, the D1 with its attractive anodized aluminium case will look perfectly at home on your table with the rest of your gadgets.
The Audioengine A5+ retails for RM 1500 (black/white) RM1, 800 will get you the solid bamboo version.  The matching subwoofer, the S8 is available for an additional RM1, 350 while the D1 DAC can be had for RM600.
For more information on Audioengine products contact:
Digital Audio Studio
Mr. Chin at mobile No: 012-2905989
Article by Randall Tan