Article by Venoth Nair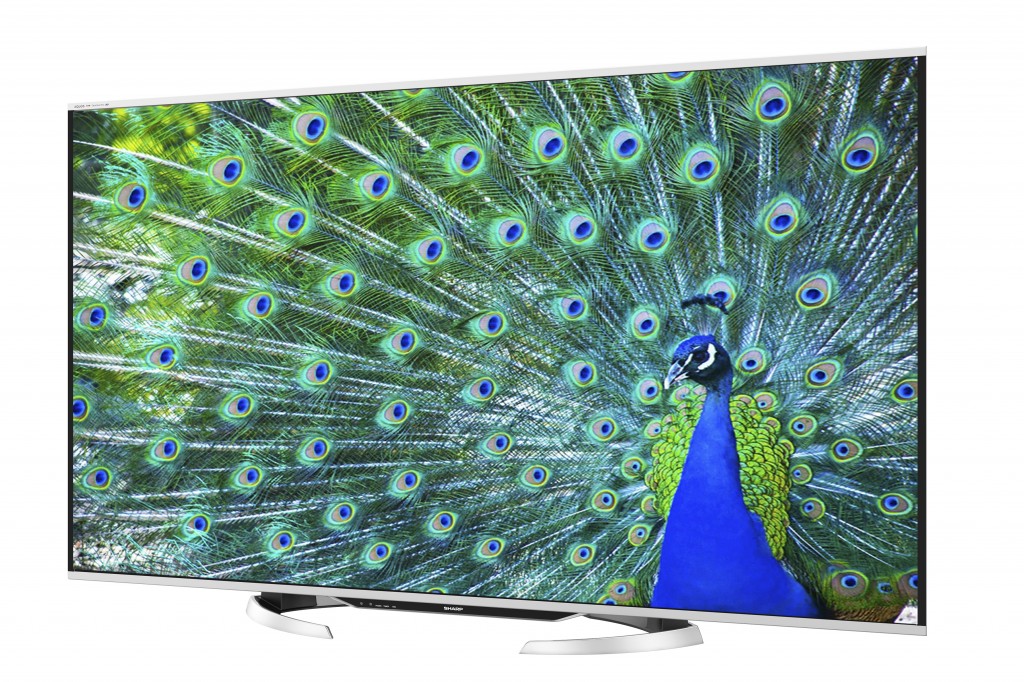 The latest craze in the AV industry when it comes to displays is of course 4K technology and super-sized televisions. This high resolution for visual displays usually equate to a very hefty price tag which exceeds the limit of most average users out there keeping 4K TV's isolated to the elite of the AV community. Large displays exceeding 70 inches are also pricy even when they are just full HD variants, which in such large sizing can lead to a pretty disappointing image.
To feed the resolution hungry masses, Sharp has introduced the new Quattron Pro LC-70LE960X 3D LED TV which melds together the sharpness and details of a 4K television but still in actuality functioning as a Full HD TV. This TV which is 70 inches in size brings the much coveted large screen bundled with excellent visual quality to a much more reasonable price range which is within reach of the AV enthusiast.
How does Sharp perform such wizardry you ask? Well by employing Sharp's Quattron Pro technology together with the built in Revelation Upscaler, the television is capable of reproducing higher quality images then a regular full HD screen by introducing a 4th subpixel. This gives a sensation of high definition that is similar to that of a 4K display. This high density of pixels means that the TV is also 4K ready, a great little point to note if you plan on going there later in life.
Out of the box, the Sharp oozes style with its super slim bezel in matt black on the sides and a polished metal finish for the top and bottom. Its super slender silhouette is beautifully maintained from top to bottom with the stand designed in an inverted sickle shape with a high polished chrome like finish. Classy.
After a good time spent watching favorites like 'The Avengers' and 'Avatar', it's easy to see the strength in Sharp's design. Images are bright, vivid and amazingly detailed, easily convincing anyone into believing that it's a 4K display, only a close inspection reveals the pixels which reminds you that this unit is running in Full HD. Black levels are also impressive, with a good grasp on shadow details. This TV comes with a THX certified stamp, meaning it has been made to perform under the strict requirements and standards of George Lucas cinema. The THX settings are designed to blend seamlessly into your cinema system to give you a complete THX experience.

Switching to the movie masterpiece that is 'The Wizard of Oz' for 3D, it's easy to be drawn in to the movie with each scene creating a "Wow" moment as various objects and creatures move around the screen. The depth and detail presented is plentiful, never once feeling disjointed or unreal. To achieve this, Sharp utilizes an active approach to 3D, with two pairs of rechargeable eyewear included with the unit. Image motion is kept smooth and clean with the employment of Sharps Aquamotion technology operating at 200/240 Hz.
Aside from the Sharp's staggering size and image quality, the tele also sports some other great features like built in Wi-Fi and Bluetooth which is coupled with MHL and Miracast connectivity enabling users to link their portable devices to their TV and watch videos as well as playback music.
Got a lot of sources to connect to your TV? No problem. The sharp comes armed with 4 HDMI inputs, an RGB input, USB inputs and a trusty RCA connection for your older, legacy sources. An SDHC card reader is also included for those who wish to show off pictures taken on their digital cameras straight on to the screen. Additionally, an Optical audio output is also provided should you desire to boost the audio of your TV with a soundbase or soundbar.
The Sharp Quattron Pro LC-70LE960X is one blockbuster of a television with great looks and superb performance. It's bright and crisp image quality is a treat to watch and puts you front and center irrespective of whether it's a 2D or 3D movie. So impressed was I with its abilities that I have decided to introduce one permanently in my own AV setup as well.
For further information contact:
Sharp-Roxy Sales & Service Sdn Bhd
Tel: 1 800 2 AQUOS (27867)
www.sharp.com.my
Article by Venoth Nair