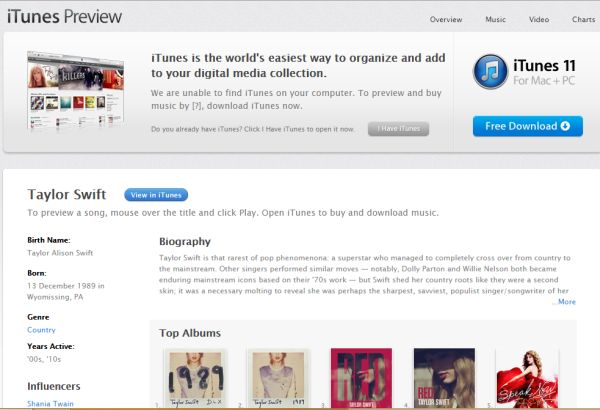 By Lam Seng Fatt
The next company to enter the Streaming War is likely to be Apple which will turn Beats Music into its own music streaming platform. And the launch could be in June.
Already, Apple with the help of rapper Dr Dre and music mogul Jimmy Iovine are trying to lure hot artistes to sign up with their streaming music service. If you recall, Jimmy teamed with Dr Dre to found Beats Electronics in 2006. The company marketed the hugely-popular and stylish Beats headphones and operated a music streaming service. Apple paid US$3 billion for their company in May last year.
The first to side with Apple is top-seller Taylor Swift. If you recall, Taylor pulled out her songs from Spotify last year.
Taylor Swift told Time: "[People] can still listen to my music if they get it on iTunes. I'm always up for trying something. And I tried it and I didn't like the way it felt. I think there should be an inherent value placed on art. I didn't see that happening, perception-wise, when I put my music on Spotify. Everybody's complaining about how music sales are shrinking, but nobody's changing the way they're doing things. They keep running towards streaming, which is, for the most part, what has been shrinking the numbers of paid album sales."
There are also rumours that Apple may be buying her record label.
It looks like the spotlight on the music streaming industry will shift from Spotify, Rdio and Pandora to the new kids in town – Apple's Beats Music and TIDAL from rapper Jay Z and his bunch of artistes. See https://www.av2day.com/2015/04/the-streaming-war/
Beats Music is likely to be rebranded with the iTunes name and the quality of music files may be CD (16/44.1) quality or even higher. TIDAL HiFi is offering CD quality music files.
The competition – or more likely a battle – between the two had already intensified even before the launch of TIDAL last month.
In an interview with www.billboard.com before the TIDAL launch, Jay Z said:
You have a long-standing relationship with Jimmy Iovine. Have you been in contact with him since the news has started trickling out?
Yeah, of course. My thing with Jimmy is, "Listen, Jimmy; you're Jimmy Iovine, and you're Apple, and truthfully, you're great. You guys are going to do great things with Beats, but … you know, I don't have to lose in order for you guys to win, and let's just remember that." Again, I'm not angry. I actually told him, "Yo, you should be helping me. This is for the artist. These are people that you supported your whole life. You know, this is good."
Have you heard the rumor that he's trying to lure people from your first-tier group by offering them more money upfront?
I think that's just his competitive nature, and I don't know if he's looking at the bigger picture: That it's not about me and it's not about him; it's about the future of the music business.

Not only will it be a battle between rappers and music moguls, but it will also be of star power. So far, Jay Z has Beyonce, Rihanna, Kanye West, Jack White, Arcade Fire, Usher, Nicki Minaj, Coldplay, Alicia Keys, Calvin Harris, Daft Punk, deadmau5, Jason Aldean, J. Cole and Madonna on his side while Apple has Taylor Swift and rumour has it that Apple is trying to get Beatles' songs to be streamed on its service.
Another front they will be fighting on will be pricing. TIDAL HiFi is charging US$20 a month for CD quality music while Apple is said to be thinking of US$7.99 per month, which is US$2 less than what Spotify and Rdio charge. But whether this amount is for CD quality or MP3 files is not known.
Another advantage Apple has is its ecosphere which has hundreds of millions of people using their iPods, iPads, laptops and smartphones.
We will have to wait and see what will happen. If TIDAL and Apple both survive and have their fair share of the market, it will be good for the music business since singers and musicians are currently suffering and making much less money because of free downloads and free streaming.
If singers and musicians are broke and beaten, then where can audiophiles get the music to enjoy on their hi-end systems?