Article by WL Low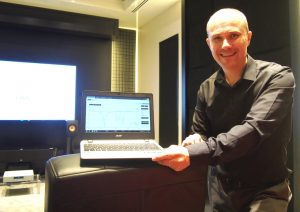 This seminar, held over the weekend, hosted at Hoe Huat electrical store at The Strand Mall, in the Giza vicinity of Kota Damansara, featuring Linn's latest innovation called Space Optimisation, presented by Angus Lawrie, Linn's Marketing Director.
Like all Linn products in line with it's latest thinking, of Hi-Fi meets lifestyle philosophy, Space Optimisation is a software, available in all their DS music servers, regardless if it's Majik, Akurate or top of the line Klimax series. Owners of past DS music servers fret not, it does not mean your item is now out dated, but it can actually be updated as a firmware update.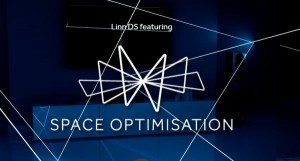 So what does Space Optimisation do? It's a software made to calculate room size & shape, room materials, surface types and décor finishing all taken into account, with your existing speaker position in it's optimum place. In today's compact living real estate, Linn has come to understand that music lovers may not necessarily have the right room or environment for serious listening. Audiophiles often talk about optimum speaker positioning in a given room.
With today's compact homes, there may not be an optimum room available for serious music appreciation. As a result, many hifi systems today are linked up to an AV centre in the family lounge, where optimum speaker placement does not meet with WAF! So for the sake of domestic harmony, speakers are often just lined up along side the television wall, which is by the way, unobtrusive to the family lounge, but does no favours to the sound.

With the Linn DS music serves streaming via Space Optimisation, even the most speaker unfriendly position in any given room, can be made to sound satisfactory, with Hi-Fi values of refinement, tonal accuracy and some semblance of a layered sound staging still attainable. Space Optimisation is not your traditional EQ or DSP encoding software. It's more of an room/space optimising software, that also takes one's speaker system in to account. Linn understands that not every body would like to have an all singing and dancing Linn system, so Linn has taken the initiative to measure most of the popular speaker models out in the market today, that are most likely partners in s Linn DS based system. Other than Linn's own speakers, they also measured more than 40 speaker models from other manufacturers, and the list is still growing, even as more speaker models gets added in to the software database.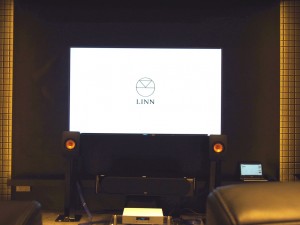 Angus starts the demo by playing music clips via a Linn Majik DS powering a pair of KEF LS50 speakers in their traditional audiophile optimised position. Then followed by the same music clips, played via the same system, but only this time, with the speakers right up in line with the TV wall, with the Space Optimisation software in use. The difference can really be heard!
The Linn Space Optimisation software is available for download at their official web site, but Angus reckons that DS msuic server owners should contact and get their local Linn dealer to help with update and room set up procedures. This is unless, the Linn DS owners are tweakers by nature and would like to have some fun playing around to improve the sound to their own liking.
Linn is sold by Perfect Hi-Fi, and all other authorised dealers.
For enquiries, contact Andy Tan at 019-2112566.
Article by WL Low