By Lam Seng Fatt
From the outset, I must stress that my selection was done in a purely professional manner and has nothing to do with the fact that certain people served me delicious cakes and freshly-brewed coffee for breakfast on July 4 morning.
Also, my selection as posted here is in RANDOM order.
Before I begin, I must say that I noted that many of the demo systems sounded mellow this year – even speakers that are known to be bright-sounding such as Revel and Focal rendered music in a rather mellow and likeable manner.
Making a strong Statement…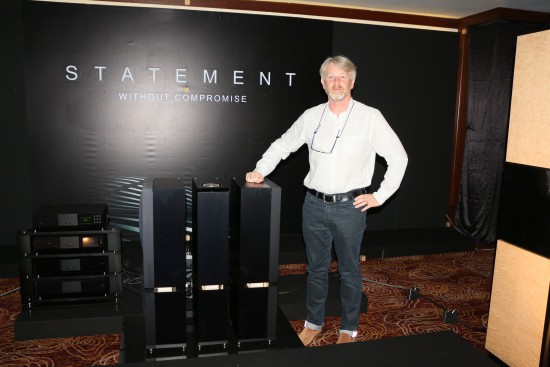 The Naim pre and power Statement amplifiers are the best that Naim can offer at this moment and what a great offering they are. Driving the tall Dynaudio speakers, the Naim Statements made it very clear that they were in complete control of proceedings. The scale and size of the soundstage, especially on classical music, and the effortless crescendoes and powerful, grainless fortissimos just showed that these Statement amps deserve to be named Statement. However, you will have to sell your double-storey link house to buy them from CMY.
Bryston plus PMC = good sound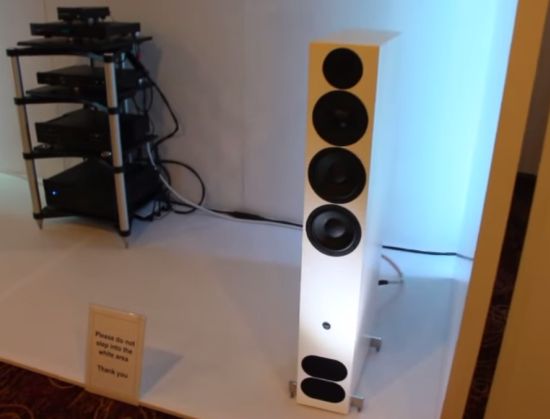 At more realistic prices, this system from AV Designs proves that careful matching can do wonders to sound quality. Using only a 135-watter Bryston integrated amp being fed music from the Bryston DAC, digital music player and the new Optical Transport, the system featuring PMC Fact 12 speakers sounded very cohesive, detailed and airy – with a lively and tight bass.
Clarisys is Apogee V 2.0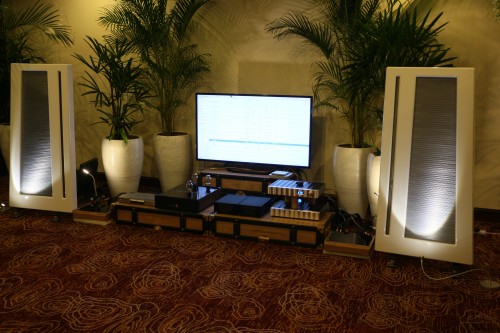 This system sounded different on diffent days of the KLIAV show simply because the configuration was changed regularly. When I was in the room, the Clarisys speakers were driven by a Jeff Rowland pre and power (Class D) amp with the Lampizator DAC. There were times when Wyred4Sound monoblocks were used to drive the bass panels and the Jeff Rowland for the mid/treble. I was told that the Clarisys speakers sounded best when they were driven by a Devialet. The sound was very transparent, fast with a large soundstage. For full-ribbon speakers, the bass was surprisingly strong and tight.
Open-baffle speakers leave listeners baffled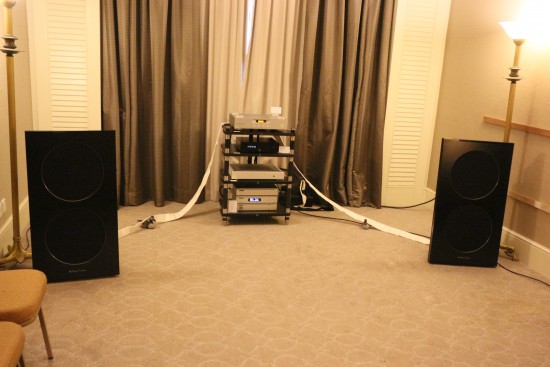 I noticed many people looking at the rear of the Spatial speakers to see how open-baffle speakers were designed. Since they were dipoles, they expected a soft and gentle bass, but when the bass hit them in their guts, they were shocked. These Spatial speakers could rock and yet they also had finesse. The other components in Audiostars' system such as the Clones new Asher DAC and SOTM music streamers contributed to the fluidity of the sound.
Revel-ling in a mellow mood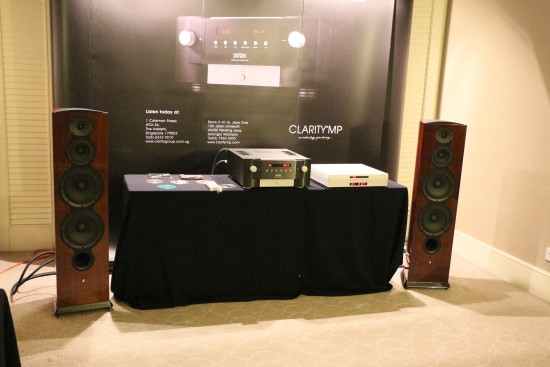 Revel speakers have always struck me as having an upper-mid emphasis which gave presence to the sound, but was tiring in long listening sessions. However, the new Revels were surprisingly mellow and the refined quality of the Mark Levinson integrated amp just added much more allure to the sound.
Focal focuses on middle-of-the-road audience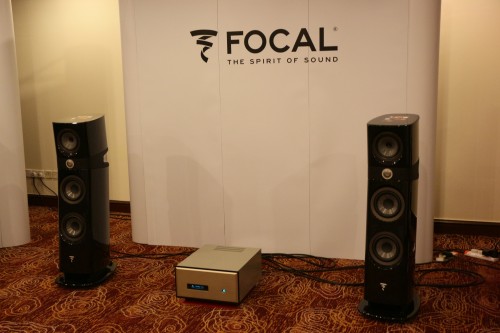 Focal (pronounced Fo-khayle) was another brand of speakers that had an upper-mid bump in frequency response which also gave the sound more transparency. But these new Focal speakers had a very mellow sound even though the pre and power amps were FM Acoustics and the source was an Esoteric CD player. I felt that the Focals were a 'play-it-safe' design aimed at the middle-of-the-road audiophiles, and they were easily likeable.
Old-school mellow sound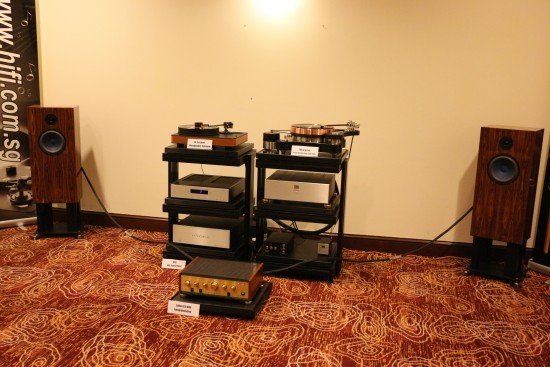 It is not often that you hear good sound from a pair of Audionote speakers which are not driven by an Audionote amp. I have always felt that an all-Audionote system sounds fantastic and Audionote speakers have to be paired with Audionote amps for them to benefit from the synergy. However, this system proved me wrong. The Leben amplifier matched very well with the Audionote speakers and the vinyl source with Aesthetix phono preamp also helped to boost the old-school mellow sound from this system.
New-school mellow sound
The minute I walked into this room, I noted that the music sounded very rich and deep … and mellow. I knew I was hearing something special. It turned out to be the Soul Note 10-watt Class A SA-710 Monitor integrated amp. It was driving Adam speakers and the source was a Soul Note CD player.
Towers of mellowness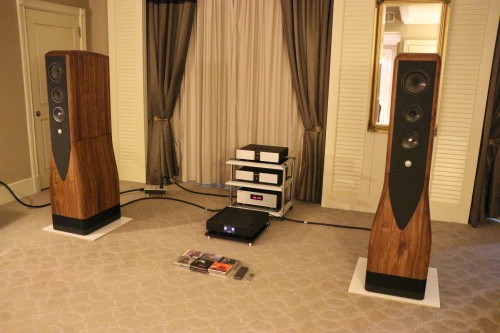 The Chario Serendipity speakers were rather tall and shapely and produced a smooth, soothing and mellow sound. They were driven by the Alluxity power amp connected to the Vitus Audio RD-100 DAC/Preamp and Vitus Audio RCD-101 CD Player. Maybe I am mellowing with age, but I quite liked this system and could have spent hours listening to it.
Towers of mellowness Pt II
I recall there was one show some years back when Sonus Faber speakers sounded a bit hard. This time, the Sonus Faber Lilium speakers driven by Audio Research components all wired up by a few hundred thousand ringgit of Nordost Odin cables sounded like an expensive system. Gone was the hint of hardness which was replaced by a hint of mellowness. Maybe it was due to the top-class Audio Research pre/power amps.
Franco's respectable legacy
During last year's AV show, I did not like the Devialet-based system. However, this year, I quite liked the Devialet driving a pair of Franco Serblin Accordo speakers. The speakers looked like some kind of sculpture while the Devialet looked like a mirror. Together they made music that was clear, crisp and likeable.
Mellow horns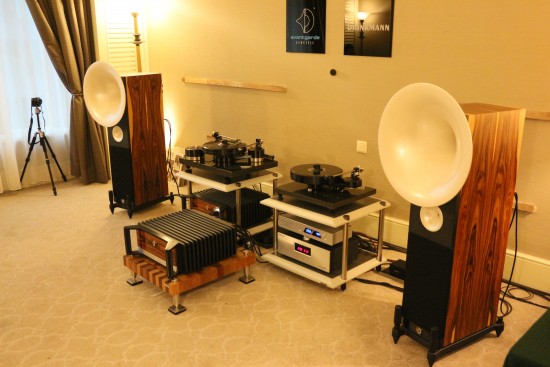 Again there was a time when the Avantgarde horns paired with the Avantgarde pre/power amps sounded bright and piercing. This time they were rocking and rolling without any hint of hardness or shrillness. I recall hearing Dire Straits being played in this room and I was moving to the beat. Maybe it was the Brinkmann turntable that did the trick.
Optimising the sound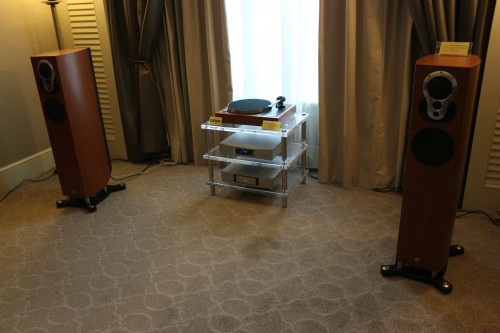 The day before, I had heard the KEF LS50 speakers being played. When I visited this room again, the Linn Akurate Exakt System comprising the Linn Akubarik Exakt speakers and Akurate Exakt DSM with Space Optimisation was on demo with the system having been Space Optimised. I recall walking in and suddenly realising that I had never heard Linn systems sound this good in an AN show before. Evidently, Linn's Space Optimisation feature works well.
Rocking all over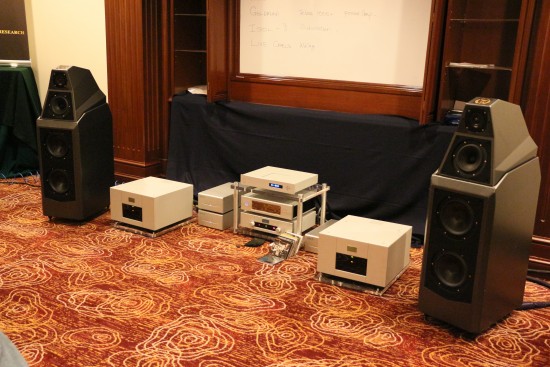 In an earlier post, Willy commented that this system rocked but did not appeal to him emotionally. I sort of agree with him, but in terms of 'fun' and 'energy', the Wilson Sophias driven by Goldmunds delivered loads of the good, rocking stuff. Seen from the rocker's point of view, this system delivered a full-blooded 'American' rock sound.
Another rocking room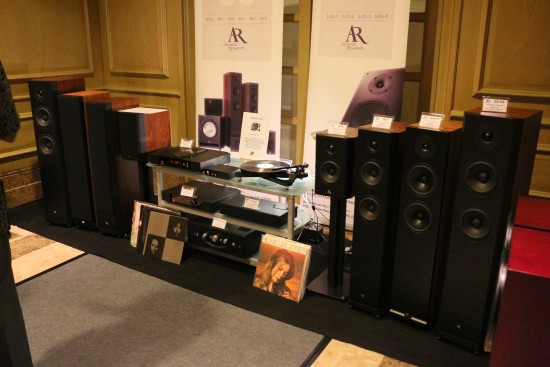 I also heard more rock and roll from a system comprising the Rega RP8 turntable with Exact MM cartridge, Rogue Audio and Acoustic Research speakers. The round was a bit rough around the edges, but – hey – we are listening to rock here. At this price range, you can't complain too much.
AV systems with and without Atmos
James' expert touch
Once again AV Designs' James Tan nailed it – the picture quality was dense and rich with plenty of fine details. And his Atmos set-up sounded seamless with pinpoint imaging. I recall a scene where there were alarms beeping to the front left of me and the top right, slightly behind and above me. I was impressed. James used an AV system comprising the Pioneer LX-88 Blu-ray player and AV Receiver, a JVC projector, Bryston A Series budget speakers system with ceiling speakers (beefed up by a pair of Bryston power amps).
Max-imum immersive sound
Max used his SVS subs to good effect as the bass was not intrusive or overpowering. Yet the bottom octaves were filled up and could feel my trouser legs flapping slightly in some scenes. His Atmos ceiling speakers were placed on tall stands on the sides of the room and this, I feel, made the Atmos effects not so seamless. But it sounded good nevertheless.
Aiming at the ceiling
The XTZ Atmos system was a surprise as these did not have ceiling speakers, but had add-on angled speakers that could be placed on top of the front and rear speakers and aimed at the ceiling. On demo were only two angled speakers placed on the front speakers. But the immersive effects could still be enjoyed.
Good ol' sensurround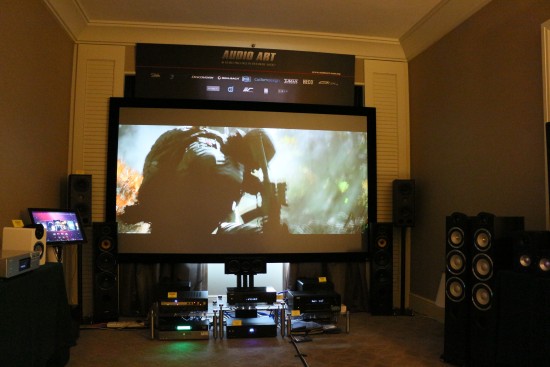 This room featured a normal (non-Atmos) AV system, but the sound was so good that I did not miss the extra sounds from the ceiling that an Atmos system would have provided. The picture quality was also commendable. Audio Art used a budget BenQ W1070+ projector, with Denon AV Receiver and Blu-ray player, and Adam speakers. It was a simple system, but simplicity often wins over complexity.
Let's be clear about this..
.
Many people agreed with me that the Epson laser projector was excellent. Its picture quality was fantastic with rich and deep colours, plenty of details and a surprising amount of depth. It could deliver all this without appearing artificial.
This is quite clear too
Another contender for the best picture quality turned out to be the Panasonic laser projector. It was placed beside a normal projector and it was easy to discern that the laser model was miles ahead in sharpness and colour saturation. Looks like laser projectors are the way to go