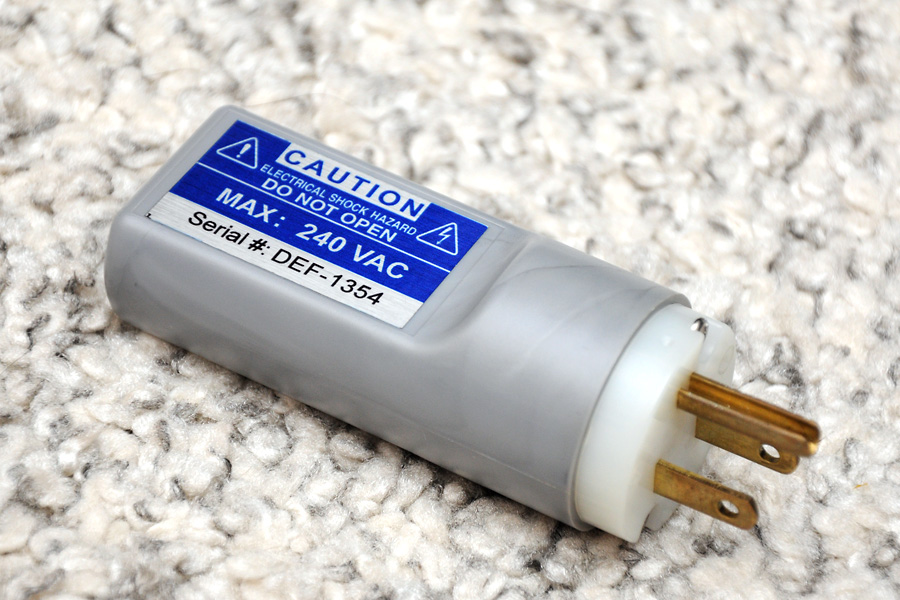 .
Article by Tan TE
.
I have been a long time fan of Shunyata Research. All power cords in my hifi system are from Shunyata, and for power conditioning Shunyata's Hydra 8 has been doing its duty for longer than I care to remember.
Unfortunately, the new generations of Shunyata products have been climbing up the price ladder, just like many other hifi equipment nowadays. So I became very interested when I learned that Shunyata had come up a sub-RM1000 (list price: RM 885) power conditioner and surge protection in a plug. Shunyata calls it the Venom Defender.
The Venom Defender provides 2 functions: power conditioning and surge protection. Shunyata says that "The VENOM DEFENDER features Shunyata's exclusive MPDA (multi phase differential array) which is a 30 element, surface-mount, filter network that dramatically reduces the noise floor improving musical enjoyment. Additionally, the NextGEN TMOVs provide up to 22,000 Amps of surge protection".
The Venom Defender is intended to be plugged into an extension stripe such as Shunyata's own PS8 or a shared power sockets that your other hifi equipment is plugged into, i.e., the Venom Defender is to be inserted in parallel with your equipment.
I have 2 American style power output duplexes for my hifi equipment, both of them directly wired to the distribution box. Both duplexes are also internally wired to each other. I use 3 of the 4 outlets (2 for my monoblocks and 1 for the Hydra 8 which is used to power my cdp and preamp), so the Venom Defender could go into the spare outlet and would provide its filtering and protection functions for my equipment on the other 3 outlets.
A few minutes after I plugged the Venom Defender in, changes to the sound quality became apparent. The highs took on a silken quality, the mid band had more vivid and denser tonal colour, and the bass not only improved in power and punch but also in terms of focus and definition. The entire system sounded more confident, like I had switched to a higher quality amplifier or a higher end frontend. The sound from top to bottom improved in terms of smoothness and clarity, the little wrinkles and crinkles in the sound that might irritate were polished away. To me, that was a pretty significant performance change, in both quality and quantity, for something that cost so relatively little!
Over the next few nights, I could also discern that the sound was still progressively changing from session to session. Was the Venom Defender still running in? I had no way to tell. Anyway, the most pronounced change was in the bass region. Now the bass power and bass quantity improved further, and coupled to the silken highs, the balance of my system tipped over to become somewhat bottom heavy. Don't get me wrong, the bass didn't get bloated or flabby. On the contrary, it was very very good – punchy, well defined and clean. Just that when it was matched to the now silkier and cleaner highs, the overall sound balance shifted, it now lacked a little sparkle and attack that I was used to and also, like I just said, was somewhat bottom heavy for my liking. However, I can imagine if you were a Techno fan or rock fan then this bass performance would be to die for.
Anyway, no matter, this is just the normal phase that every audiophile must go through to work a change into one's system. The improvement the Venom Defender bought was so significant that I was willing to go the extra mile, some tweaks or some adjustment to the acoustic of my listening room would restore the balance that I was looking for. However, as I was going through a busy phase at work and had no spare time to work on the adjustments, I decided to take the Venom Defender out from my system for the time being, so that I could continue to listen to music with my preferred balance.
If your hifi sounded noisy, or your bass was anaemic or flabby, I'd like to suggest you try the Venom Defender.
A few days later, another idea struck. Why didn't I try out the Venom Defender's effect on video performance? My HDTV (a Panasonic 50in plasma) in the living room shared a power stripe with the ASTRO receiver, DVD player and the AV receiver, exactly the kind of noisy environment that Shunyata designed the Venom Defender for. I duly plugged it into one of the spare outlets on the stripe and left it there overnight. By the next evening I had forgotten about it while watching some HD program on ASTRO. I found myself wondering why the plasma TV was showing much better picture quality than I remembered ASTRO HD programs to be, the colour was vivid and with better saturation, the contrast improved tremendously, I could more easily differentiate details in dimly lit scenes, brighter scenes exploded with more fine details. The picture also showed improved depth perception. When I looked at the TV screen at a close distance, I thought the noise level had greatly reduced too, leaving behind a 'calmer' and less hazy picture quality. I was truly amazed by the Venom Defender 's effect.
For the following few days, I experimented with the venom defender in or out with the TV.  When watching HD content without the venom defender I found that the picture was more noisy and the colour more bland. Plugging in the venom defender would give me the improvements I described above.
After getting used to the excellent picture quality, I did find the contrast level became s a little too high such that there was some feeling of glare during bright scenes. This was easily fixed by toning down the sharpness and the contrast setting a notch. The Venom Defender became an indispensable accessory for my HDTV watching. Many times I caught myself just marveling at the picture quality, oblivious to the content that was going on on the screen.
Later on, I also found the same improvement on picture quality when I used the venom defender with my home theatre projector system. I was already using Darbee for picture enhancement but the addition of the Venom Defender brought further improvement in noise reduction, better contrast and better colour saturation, though the quantum of improvement was not as big as with the TV.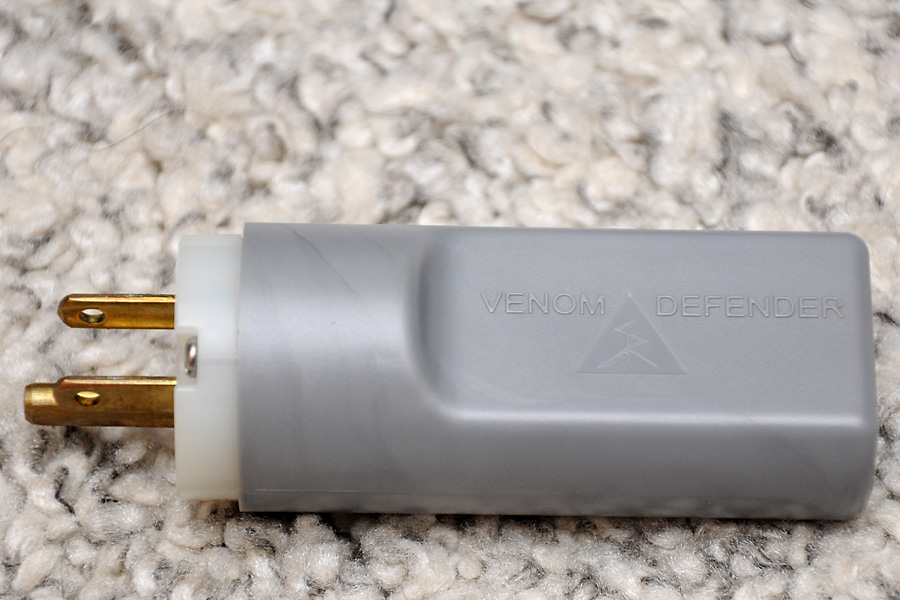 .
In conclusion, I am very enthusiastic with the Venom Defender, it is staying with me. But I also don't want to come across as too enthusiastic, the Venom Defender worked excellently with my mains supply, I don't know about yours. May be your mains is of better quality than mine to start with, so will the Venom Defender do as much for you?
However, if the Venom Defender could do for you what it had done for me, then you would be in on one of the best bargains in hifi / AV that I have ever come across for a long time!
Shunyata Research is carried by CMY Audio Visual. Call John Yew 03-21439406 to find out more.