Spearheading The Way To True 4K Performance
Article by Dick Tan
During the recent launch of its latest series of 4K UHD TVs Samsung's message was clear and concise…. not all UHDTVs are 'born' equal.
Samsung, one of the founding member of the Ultra High Definition Alliance has, in one fell stroke, taken UHDTV performance to a significantly new level and in the process raised the ante for other manufacturers of high performance, high end digital displays.
Samsung's new UHDTV range, the SUHD Series are a premium high end range that is set to take UHDTV performance way above mere 4K 3840 x 2160 resolution.
At the time of writing, Samsung's new SUHDTVs which comprises the 88″ 88JS9500 (RM99, 999), the 78 JS9500 (RM39, 899), the 65″ 65IS9000 (RM24, 999) and the 55" 55JS8000 (RM9, 999) are said to offer unique features not found on any other LED/LCD 4K TV, and these features will enable them (the SUHD TVs) to significantly outperform other competing TVs of the same or similar category.
To cut to the chase, the key features that Samsung has placed great confidence in, to ensure that the SUHD Series perform significantly better than its competitors include, among others:
1. Samsung's Nano Crystal Colour technology, its proprietary version of Quantum Dot technology. Nano Crystal Colour working in tandem with Wide Colour Gamut, another colour enhancing technology is Samsung's method to effectively squeeze a more efficient performance from the new, wider, DC1 P3 colour gamut. This is the new colour gamut that  most 4K programme sources will be based on.
Current HDTVs including many early generation UHDTVs, still operate off the HD standard colour gamut spec of REC709. While ideal for High Definition 1080p sources the REC709 gamut lacks the power to cover the significantly wider range of colours that 4K sources are capable of.
2. Peak illuminator, another Samsung proprietary visual technology that is achieved in collaboration with Dolby Visions' High Dynamic Range (HDR) technology is said to significantly improve brightness level, picture and colour solidity and visual realism.
3. Full Array Local Dimming (FALD) (On JS9500 Series Only) with between 150-240 independent dimmable LCD zones for greatly improved black levels, and hence a far superior contrast performance.
4. Samsung's SUHD Remastering and UHD upscaling video processing engine which Samsung says is not only capable of optimising colour and visual performance but enhance up-scaled  HD ready and Full HD contents to look virtually like true 4K sources.
More critically the new SUHDTVs, unlike most other current UDHTVs, are equipped with HDMI and USB ports that are 2.0 as well as HDCP 2.2 compatible.  The flagship TS9500 Series features a separate external connecting box that comes with four HDMI and 3 USB ports.  One cable connects the box to the SUHDTV.
This essentially means that the SUHD Series can successfully be used to access just about any video/media sources with little or no compatibility or copyright protection issues, making the SUHD TVs a ready and perfect match for the upcoming 4K Blu-ray format players that are expected to reach AV consumers sometime towards this year-end.
The SUHD, are also Smart capable and in this respect they are powered by the new TIZEN Operation System for a far more responsive, easier and simpler operation.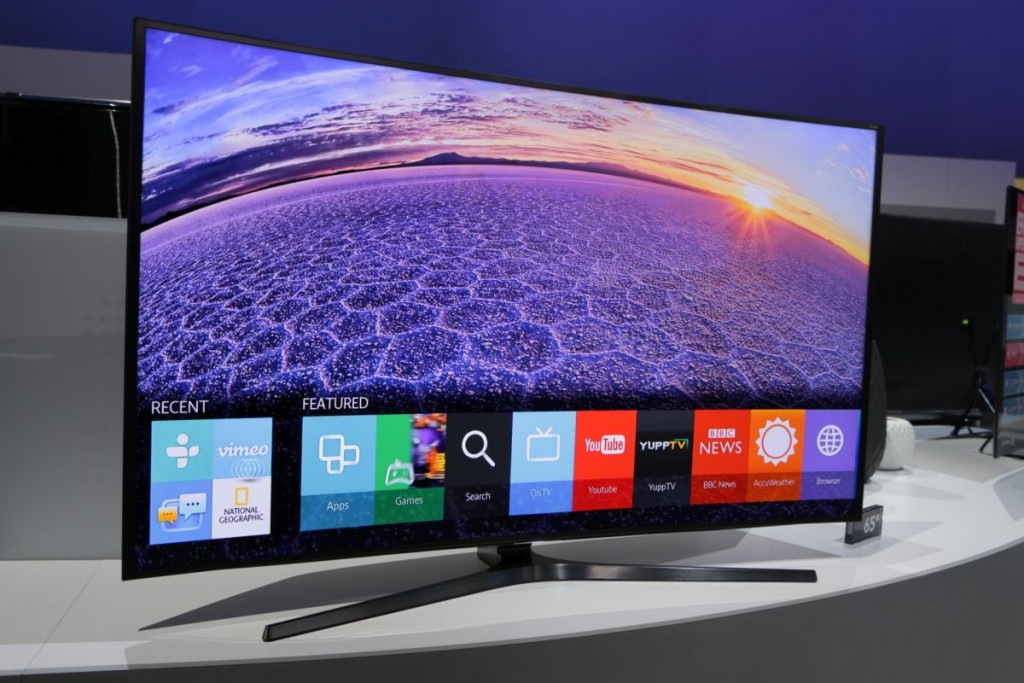 With the exception of the JS8000 Series all other SUHDTVs, features Samsung's famed curved screen design.
Briefly, in summation, Samsung's SUHDTVs will prove to be a videophile's wettest dream come true especially the larger 65″, 78″ and 88″ models which may just be ideal for those who, for some reasons, are not able to accommodate a front projection system in their homes.
In addition, SUHDTVs are, at least for the time being, quite future proofed against any changes variation that may be introduced into 4K programming.
Most importantly they are able to provide a truly gorgeous, high contrast high brightness and superbly detailed picture that has few, if any peers.  After all, the proof of the pudding as the saying goes is in the taste…. or in this case the picture.
For further details contact:
Samsung Malaysia Electronics Sdn Bhd.
Tel: 03 21650000
Article by Dick Tan