Article by WL Low
Did I just lost a Kidney of what? If you'd read back to my article(dated 3rd Jamuary 2015) on the Kuzma Stabi S turn table, it ended with me contemplating if I should sell a kidney to get one? That's how hard the Stabi S poisoned me. My analogue play back days will never feel the same again. I knew my well loved Linn Sondek LP12, wouldn't satisfy me the same like it did before. In other words, the Kuzma Stabi S was my new analogue poison, but I was very reluctant to see the Linn go either, however my financial and space consideration just didn't allow me to keep em' both and be happy ever after. It was a zero sum game and I can only have one true love to call my own. As I was unable to decide for my self, I left it in the hands of the all mighty.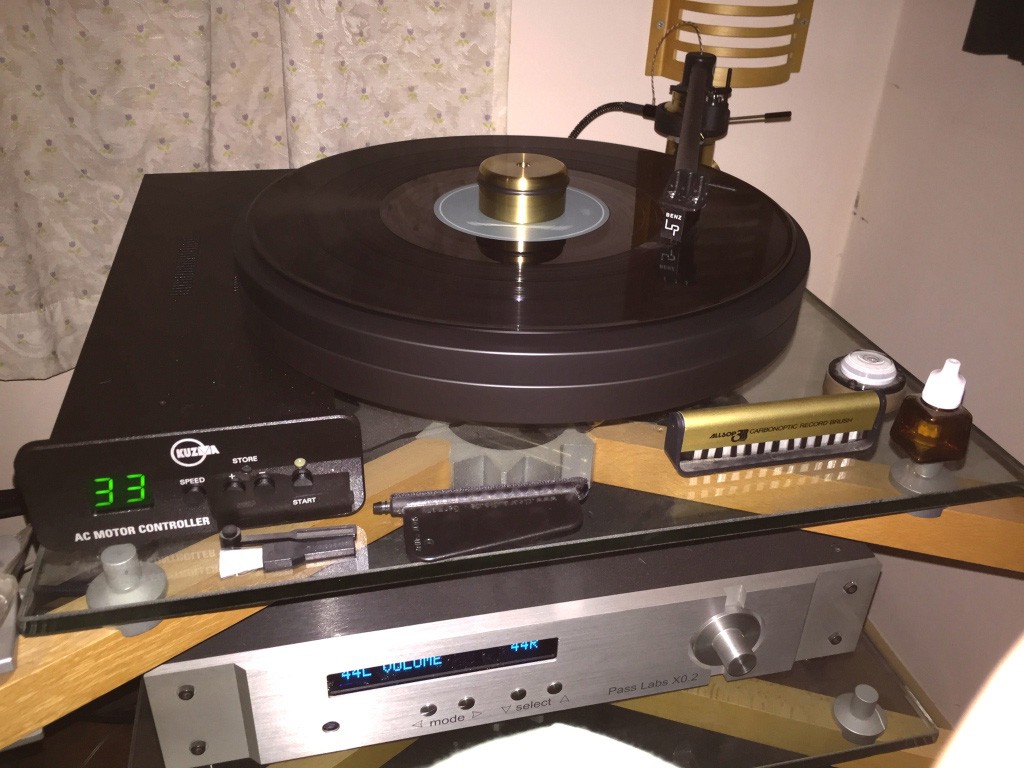 Thank god in these heavens that there's always some punter looking for a well loved Linn LP12 to be his next prize. A buddy of a buddy who over heard my analogue dilemma, just couldn't wait, and called me in the middle of way past mid night, made me an offer I can't refuse for the Linn LP12. The very next day, I said my last good bye to the Linn LP12 for a stash of upgrading cash! Now the next dilemma, Mr Aw, boss of The Audio Store had very generously offered my a deal, for the Kuzma Stabi SD12 with full option kit. The full option kit includes the following up grades from the standard SD 9 model which I reviewed, an electronic speed control box, double platter, and a full lenght 12 inch Stogi tone arm. Now the part where I had to sell my kidney, thank fully I have a very understanding bank manager for a friend, so my kidney was left untouched. Such is the work hazard of an audio reviewer.
As the full option kit is only available on order, I had to patiently wait almost 2 months for mine to arrive from Slovenia. The unit arrived sometime after Chinese New Year's holidays and I was the eager beaver, having lived without a turn table for almost 2 months by then. I brought along my own Benz Micro LP cartridge for Mr Aw to mount and set up the turn table just for it. A few days later the Kuzma Stabi SD12 was fully set up and ready to run in my audio den. The Stabi SD 12 came in 2 brown boxes, one for the turn table, and another for the 12 inch Stogi tone arm. the build quality is superb, despite the very simple, yet functional design. The double platter is designed to be stacked on top of one over another. With a 12 inch tone arm, the T-bone structure is also lengthened to fit. The whole assembly process for the Kuzma was simple and very logical. I never had to refer to the manual during the assembly process after all, I had done it once before with the Stabi S review earlier. I did however checked to the manual post assembly, just in case I did something wrong, before I start up and damage something! As my resident Pass Lab X-ONO phono stage was already set up to partner with the Benz Micro LP, all previous settings were maintained, just in case you need to know, the impedance loading was set to 425 ohm and gain at 72 db.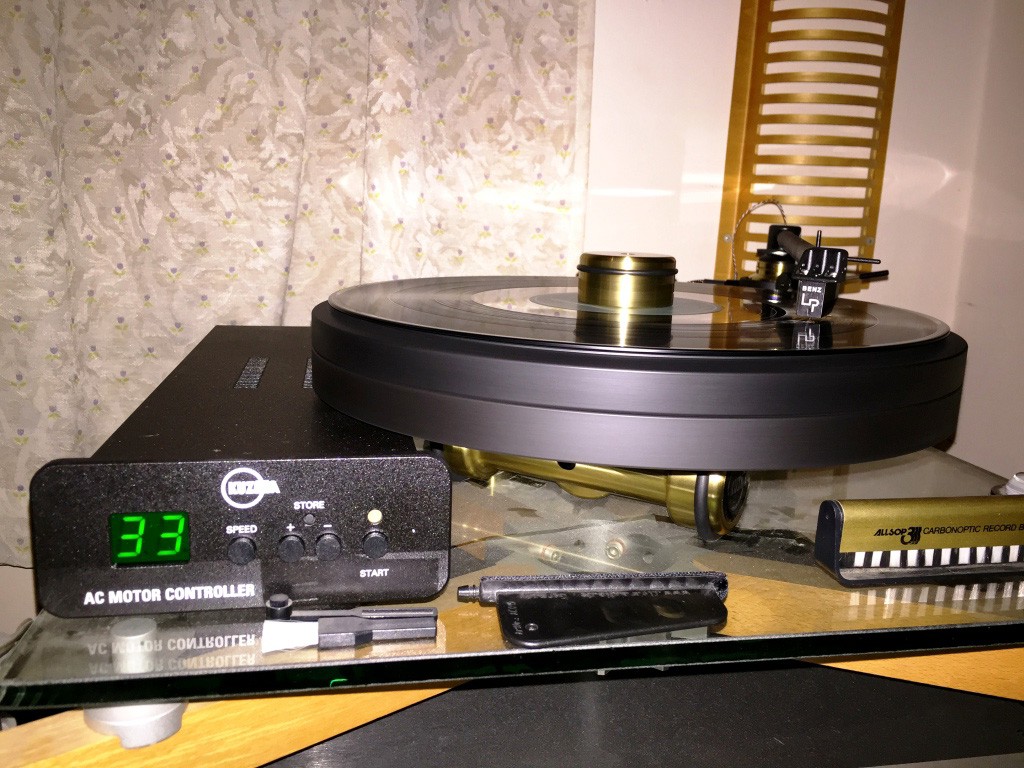 I had always suspected the Linn LP12 was kinda short changing the Benz Micro LP cartridge, and the Kuzma proved that upon hitting groove for the first time. I heard so much more details in the LP for the first time. The Kuzma being totally free from surface noise really allowed all those little musical details float out. Having said that, some LPs still have more surface noise than others. The electronic speed(33 or 45 rpm only) change box isn't just there for convenience only. With speed regulation controlling wow & flutter tendencies, the bass notes just dives deeper and hits harder. Each bass note is is supremely clean and uncluttered. The full option version of the Stabi SD has a well timed, propulsive bass quality, that's missing on the standard version.The highs are super smooth, airy and non ear splitting, even with poorer recordings. Never grainy, but will reveal enough of the recording or mastering quality of any LP that's on the platter. The mid range is creamy full bodied and male voices comes across as well honeyed, while female voices have that seductive and luscious tinge, if it's on the recording.
While the double platter and electronic speed control box provided quieter surface noise(LP dependent) and more well timed, robust bass, the 12 inch uni-pivot arm provided imaging stability and tonal quality consistency that 9 inch arms just couldn't match. Feeling bouncy and un-stable with a side to side wavy motion initially, the 12 inch Stogi SD tracked warp LPs like a catamaran designed hull in a sea storm. However, with time and familiarity, that unstable feeling goes away and handling the 12 inch Stogi SD arm becomes second nature. With 9 inch arms, no matter how well set up, the vocal imaging will always be biased slightly off center to the right initially on the first track on the LP, gradually stabilizing to dead center by the 3rd track and floats slightly to the left, off center on the last song, even if just very slightly so.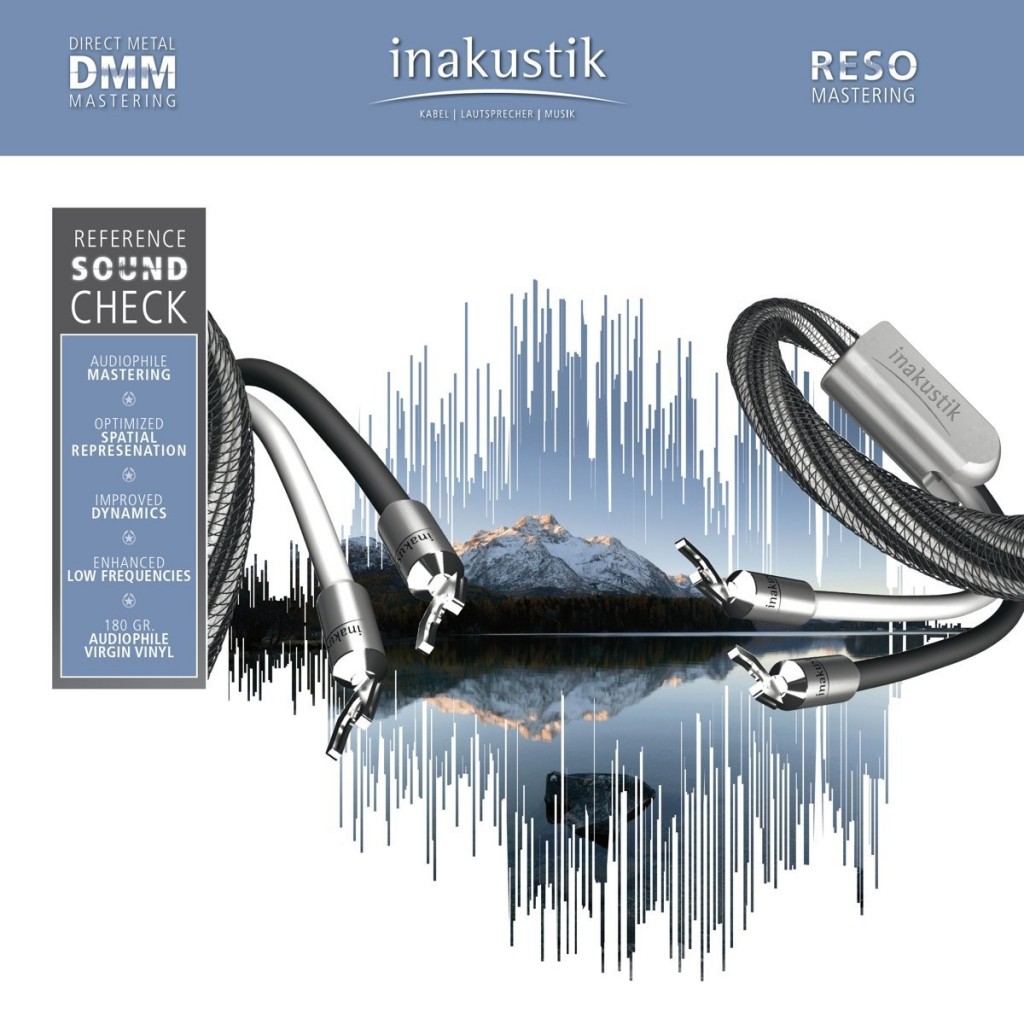 The Kuzma Stabi SD12 with full options also provide more anchored and stable images within the sound stage over the standard version. There seems to be more layers, or elbow room between each instrument placement to the next. Great atmospheric recordings, such as Cantate Domino, by Proprius is fully re-created as the recording venue, which is typical spatial cues of the high ceiling traditional church construction. One particular LP stood out in my listening session was In-akustik Reference Sound Check. Here we have a superbly mastered and pressed double LP set especially made for audiophile ears with a heart for new music. Each track in this LP is a master piece, all thrillers and no fillers to the listener. This LP features deep taut bass, brassy trumpet sounds and luscious male and female vocals. Among the stand out tracks include Kari Bremnes, Gate Ved Gate for female vocals unlike you've heard on the original album. Leonard Cohen's Hallelujah is nicely covered here as trumpet jazz instrumental with tight bass and drum formation by Thomas Siffling Trio. Each track nicely reproduced to my ears delight by the Kuzma Stabi SD12. The Kuzma faithfully reproduces all that is in the record grooves with as little encumbrance as possible.
By now, you know that the full options Kuzma Stabi SD12 is more than just about reproducing music with all Hi-Fi attributes intact. It's about how much it actually gets out of the way and allow you emotionally get in to the music via the Hi-Fi attributes. On that count, the entry level Kuzma really shines. I am glad I made that big step in to another level of analogue enjoyment. At almost RM$20k or so in today's Malaysian near "junk status" currency, it's not cheap, but it's something all Malaysian audiophiles will have to accept that prices of high end and luxury class Hi-Fi can only go up!
Kuzma is sold by The Audio Store, please contact Mr Aw at 019-2682559.
Article by WL Low