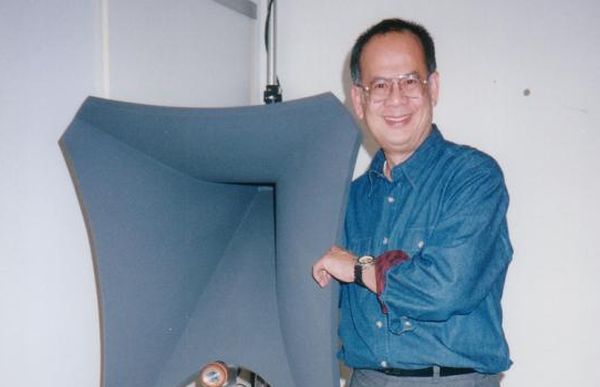 By Lam Seng Fatt
Another influential figure in the world of hi-fi has passed away. Dr Tan Yu Wah, one of the founders of Shun Mook Audio, passed away on Sept 3 at the age of 80.
In a message from Shun Mook Audio co-founder Bill Ying that I found on the Facebook page of Clones audio, Bill said: "Dr Tan 譚大夫 (one of the founders of Shun Mook (神木)passed away peacefully yesterday Sept 3rd at the age of 80. His wishes were simple, he will to be cremated and his ashes placed in his beloved music room. The music room will remain as is.
"There will be no funeral or any ceremony and no need to send flowers. He just want us to remember the good old days with him and his crazy audio tweaking."
Shun Mook Audio was a pioneer in the tweaking part of the hi-fi industry. Long before Franck Tchang started selling his gold and platinum mini trophy-shaped resonator tuning devices, Shun Mook had created a storm in the hi-fi world with its Mpingo discs – which were just discs made of ebony, a black and hard wood from Africa.
These Mpingo discs could be placed anywhere and could change the sound depending on where you placed them. Some audiophiles placed them on top of their CD players and claimed they could change the sound by simply changing the number of discs on the player or changing the positioning of the discs. Some placed them on top of their speakers and claimed they could change the width and depth of the soundstage by changing the positioning of the discs. Some stuck them on the walls of their listening rooms.
The last time I saw a Shun Mook Mpingo disc was in the studio of Pete Teo when AV Designs' James Tan delivered and set up the PMC twtwo.6 active studio monitors in Pete's studio in Kenny Hills, Kuala Lumpur (see https://www.av2day.com/2014/03/sending-pmc-monitors-to-pete-teos-studio/). Willy, whose eyes are much sharper than mine, spotted – in very dim lighting – a few black discs stuck on the walls of the studio and asked Pete if they were Shun Mook discs.
Pete revealed that a Korean friend of his had visited him and stuck a few Shun Mook Mpingo discs on the wall. Asked if they made any difference, he said the sound quality became a bit smoother.
According to Shun Mook's website (www.shunmook.com), Shun Mook Audio was founded in 1990 by Bill Ying, Dr Tan Yu Wah and Andrew Chow.
"Dr Tan and Bill Ying were audiophiles since the early 1960s. Two years before that we discovered that using wood in a hi-fi system can increase more natural tonal balance in the sound. Thus began the using of different woods to find the best results in sound quality.
"Soon we discovered that ebony is the best for enhancing sound reproduction. It then occurred to us ebony is used widely in many musical instruments such as violin and guitar fingerboards and woodwind instruments. This material must be a key ingredient in producing fine natural sound. Of course other woods like maple, pine, rosewood and spruce are also an important part of the tone wood group required to make music.
"Our first project was actually building a speaker stand with ebony. Ebony was one of the most expensive (woods) and (it was) difficult to work with. It only came in small planks and usually with lots of cracks. But ebony was so convincing that after six months the first prototype pair of BBC LS3/5A using solid ebony wood was born. It sounded like heaven with the richest and fullest sound coming out from two small speakers. One year later 10 pairs of this solid ebony cabinet LS3/5A were made with matching ebony stands as the first product of Shun Mook. Today only ten pairs exist in this world and may become a museum collection someday.
"From then on we decided to take this on as a hobby business…"
The business began with the Shun Mook record clamp and then the Mpingo discs which shocked audiophiles at the 1991 Las Vegas Consumer Electronics Show.
The website states: "The devices created some sensation with the wonderful sound that the audiophiles heard by us using all these strange wooden devices. But most of those who came loved it and kept asking for a logical explanation. Some called it snake oil. But it was an instant hit."
Shun Mook has many more products today and it has already carved a name for itself in the hi-fi world. Shun Mook has a legion of fanatical fans.
Today, there are many more resonator manufacturers in the market, but they would not be around if not for the pioneering experiments of Dr Tan and his friends.
Rest in peace, Dr Tan.