Future Proof
Article by Dick Tan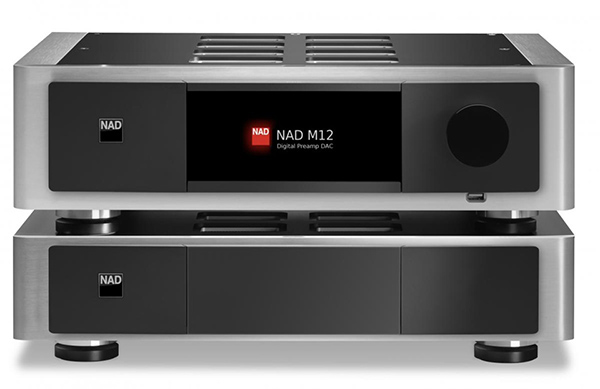 Stalwart of the audio and AV industry NAD carved its reputation for making affordable, high performance AV products more than three and a half decades ago.  Remember the NAD3020 integrated amplifier?
Its current range is fairly extensive and includes amplification systems for stereo as well as the multichannel market, turntables, Blu-ray players and digital sound processors.
Its latest release, from its prestigious 2 channel Master Series are the M12 DAC Preamp and the M22 Power Amplifiers which retails for RM24,290 and RM19,990 respectively.
With a design feature that NAD says, ' Is built for the future' the M12 is both a high performance DAC (Digital Analogue Converter) and a pre-amplifier in one common chassis.
The M12's main feature is its proprietary Direct Digital amplification circuitry, which according to NAD offers a 35-bit data path with 24-bit co efficient and a 62-bit accumulation capability.  This level of performance is in turn dithered truncation back to 35 bits post DSP functions, guaranteeing a 24-bit accuracy.
As a result, NAD says the M12 is capable of a lossless performance with a superb level of sonic detail.  Inputs include AES/EBU, asynchronous 24/192 USBs, coaxial and optical connectors, balanced and single ended inputs as well as a moving coil/moving magnet phono input.
Most importantly, in its safeguard against near future obsolescence the M12 also feature three compartments for future modular upgrades.  These modular compartments include one that contain three HDMI 1.3 inputs and one HDMI output that allows HD and 3D video pass through.
Featuring similar dimensions and aesthetics the matching M22 power amplifier boasts NAD's 'encore' amplifier technology for negligible distortion, high damping factor and an unparallel level of amplifier/speaker drive stability.
Rated power output using its proprietary Power Drive circuitry is a minimum 250 watts per channel x2 into a nominal 8 ohms impedance.  Under dynamic conditions, the M22 is said to be able to deliver in excess of 300 watts.  Connectors include a pair of balanced as well as unbalanced sockets.
The M12/M22 measure and weigh 5.25″ x 17.1″ x 15.1″ and 18 pounds and 4.1″ x 17.1″ x 14.9″ at 20lbs. respectively.
For further details contact:
D & A Analogue Hi-Fi ([email protected])
Tel:  012 721 3983 (Danny Eng)