Real Cinema At A Real Budget
Article by Venoth Nair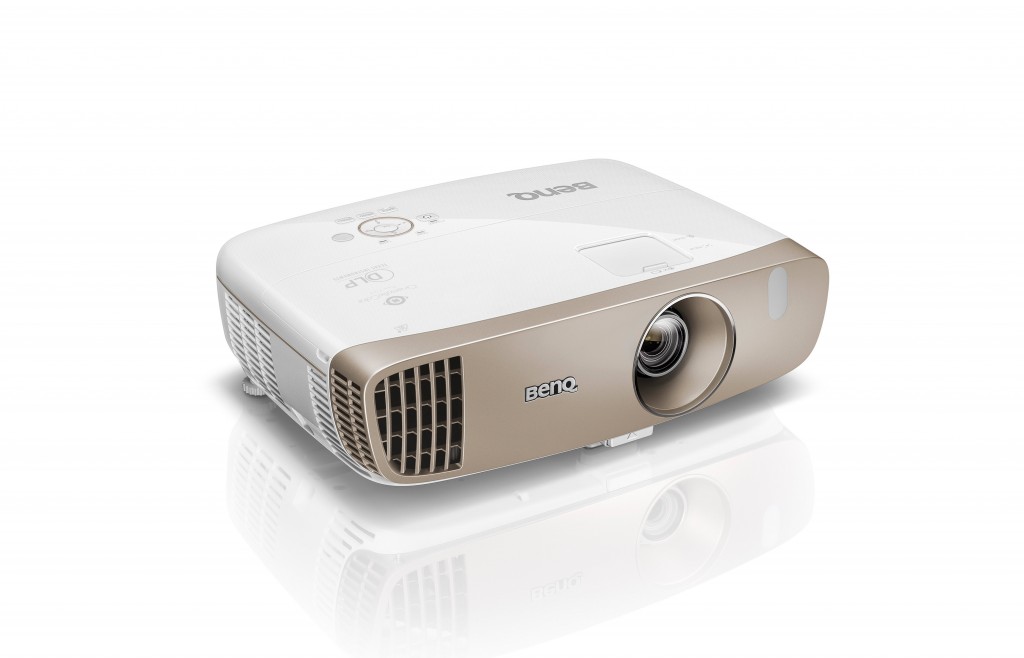 If you're a true blue cinema addict, then your home theater will definitely not be complete without a proper projector to give you that massive large image to complete the experience. The problem with cinema projectors however are their perceived massive price tag and complicated setup which deters many prospective home cinema buyers. This was back in the day however, as nowadays projectors have become more accessible with much lower prices, simpler, more flexible setup options and of course superior image quality.
The new BenQ W2000 is the latest entry level projector from this company with a strong background in producing high quality, superior performance budget projectors. In fact the W2000 is somewhat of an update of the hugely popular W1070+ which in my opinion was a fantastic budget projector during its reign. So what's different about this new kid on the block? Well let's dive in.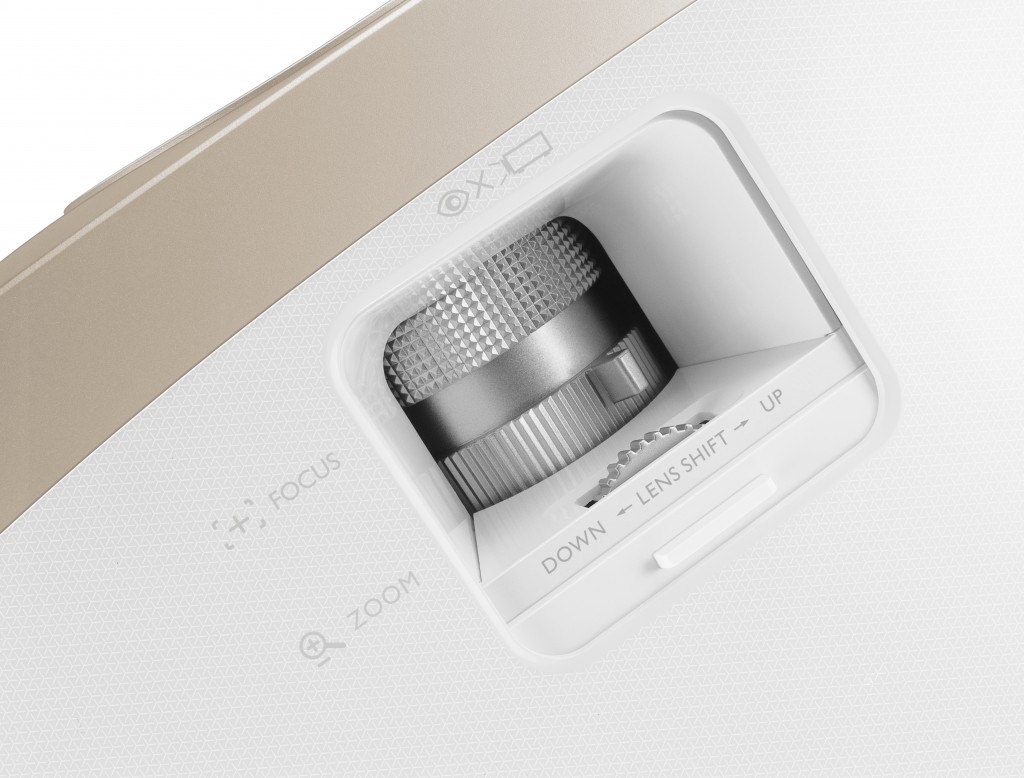 In terms of build, the BenQ maintains the typical white plastic body but in a slightly curvier shell. The control panel and adjustments rotors for the lens are housed in a non-obtrusive manner without breaking the lines of the overall body. The lens control also come with a slide out lid that covers it to keep the shape linear and also stop unwanted hands from messing up the settings on the unit. On the rear we find a host of connections such as dual HDMI inputs, USB inputs as well as the usual complement of legacy input to maximize connectivity. The W2000 also has the option of upgrading it to support wireless HD transmission simply by adding the wireless FHD kit at an extra cost of course.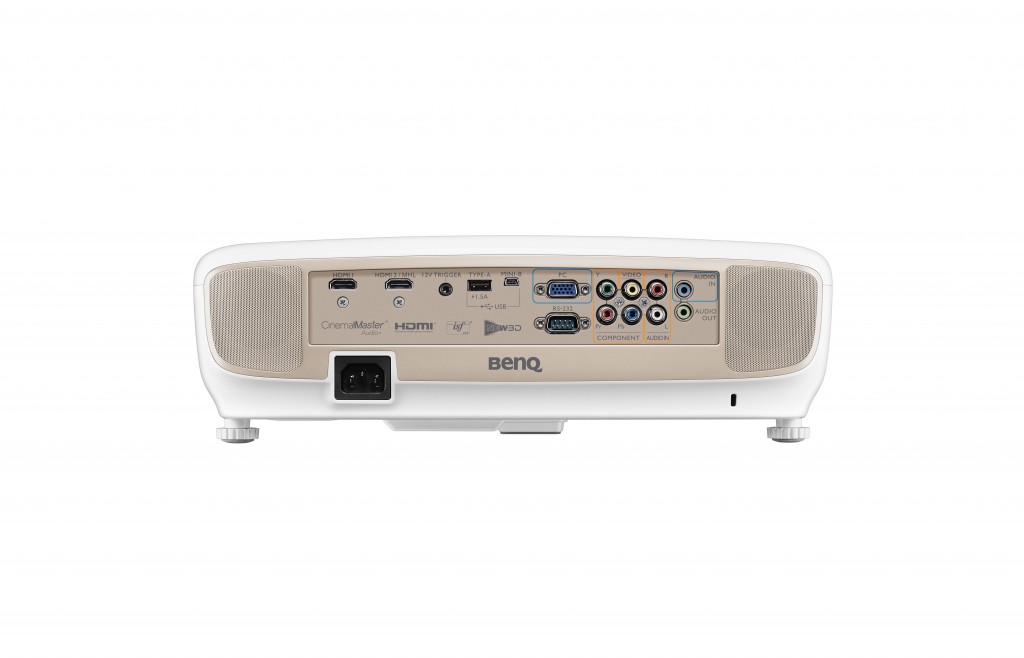 Another cool feature on the W2000 which was also present on the older W1070+ model is the inclusion of built in speakers. Though this feature is not an original item for this line, the sound quality produced has greatly improved with far superior sound quality when compared to the previous model.  Of course, it's not going to replace your home cinema, but will come in handy in situations without access to external sound systems such as impromptu presentations or outdoor settings.  Also worth a mention is the included remote which in my opinion is well made and logically designed with all the important controls neatly positioned. The remote is also able to light up to make it easier to use in a dark environment though the red glow may not be to everyone's taste.
The user interface and design of the projector makes setup an absolute doddle. It literally takes a mere 5 minutes to plug up, power up and start using this unit. The simplicity of the setup is testament to the user friendliness of newer projector designs especially in this budget price bracket. The W2000 is also blessed with an ability to compensate its projected image when positioned off axis which makes it a friendly option for a home with not much mounting options. The BenQ also has an amazingly short throw distance for its projection which allows it to achieve a cinematic 100 inches at a mere 2.5 meter distance from the screen.
As it is now obvious, all BenQ entry-level home theatre projectors, starting with the 1070 Series, are designed to offer a higher than usual level of installations flexibility than most other projectors of this category.
The company's design philosophy appears to be this – if you are a serious videophile and would prefer the W2000 to be permanently set up, it can certainly do that.  Conversely, if you are the outdoor type and love to have your big picture entertainment fix with you even on holidays you should be able to do that too, without the usual compromise on performance that most other multitask projectors appear to be encumbered with.
Once completely setup and fired up, you will immediately appreciate the BenQ's impressive picture quality. Colors are vivid with images which are sharp and detailed. The amazing picture quality is also further enhanced by its superb brightness which delivers bright rich images even in a well-lit room. Set it up in a reasonably dimmed, dedicated room with the right screen and the W2000 will really shine, delivering a performance far greater than its suggested retail price portrays.
While on the matter of price, and I am sure some of you are just itching to ask, how does the W2000 compare to the 1070+, seeing that it cost almost RM1, 000 more on the retail?  Well, here's the long and short of it ….. The W2000 is a little brighter than the 1070+ but more importantly, it is also a little more accurate with a smoother, more organic look.  Optimally set up, one can be forgiven for thinking that the picture you are looking at comes from a projector costing at least a couple of thousand ringgit more.  If you're in the market for a great projector that won't break the bank, then give the BenQ W2000 a try and you will be amazed. The W2000 retails for RM 5999.
For further details contact:
BENQ SERVICE & MARKETING (M) SDN BHD
Tel:  03 79547800
F.H. Chaw: 012 1467593
Article by Venoth Nair