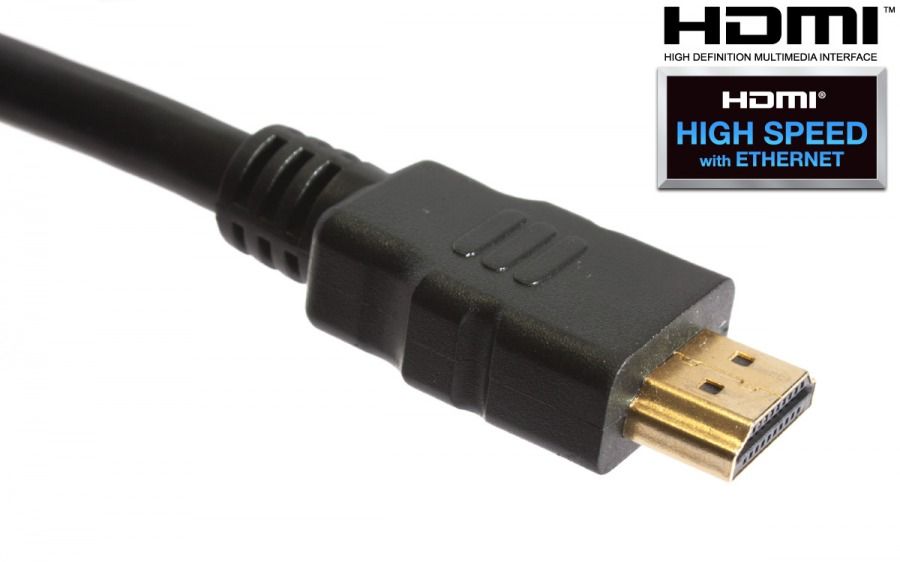 By Lam Seng Fatt
This post was inspired by a question in our Q and A section (click http://av2day.com/question/why-is-hdmi-2-0-cable-required/). The query was whether it is necessary to have an HDMI 2.0 cable for 4K components.
James Chen of Kordz said there is no such thing as an HDMI 2.0 or even an HDMI 1.4 cable.  All you need for current 4K playback is an HDMI High Speed cable. That made things a bit confusing, given the number of reports on why you need an HDMI 2.0 cable for 4K.
So I googled around and did some research. James Chen is absolutely correct. There is no such thing as an HDMI 2.0 or HDMI 1.4 cable. In fact, HDMI Licensing LLC had banned the use of HDMI version numbers on HDMI cables from Jan 1, 2012. HDMI Licensing LLC is the agent responsible for licensing the HDMI Specification and promoting the HDMI interface.
So why are there so many HDMI cables in the market with 1.4 and 2.0 printed on the packaging? The answer is simple – many HDMI cables are unlicensed products.
Manufacturers of licensed HDMI products are allowed to print the HDMI logo, which is trademarked, on their products. In fact, there are instructions on how the trademarked HDMI logo can be used and where they can be printed.
Licensed HDMI products have one these trademarked logos.





I have scoured several electrical shops and can report that only a few brands of HDMI cables like Belkin and Philips have the trademarked HDMI label. Most of the cables in the market are unlicensed products.
To be a manufacturer of a licensed HDMI product, the company needs to be an HDMI Adopter. You can check the list of Adopters here: http://www.hdmi.org/learningcenter/adopters_founders.aspx The majority of Adopters are – surprisingly – from China.
So if you want to be sure that you have an HDMI-licensed product, look for a cable with the HDMI logo. If you are not sure, check the list of Adopters or buy from a recognised brand. I bought a High Speed with Ethernet HDMI cable made by Philips. I figured that since Philips was one of the founding members of the HDMI Consortium, the Philips cable would surely deliver the goods. (The HDMI Consortium was founded by Hitachi Maxell, Ltd; Panasonic Corporation; Koninklijke Philips Electronics N.V.; Silicon Image, a Lattice Semiconductor company; Sony Corporation; Technicolor S.A. and Toshiba Corporation.)
HDMI Adopters have to send their cables to HDMI labs for testing to ensure that the cables meet the requirements of the latest HDMI specifications. Once their products pass the test, they are allowed to use the HDMI logo on their cables.
On the testing procedure, please read this:
Testing Policies
Prior to mass producing or distributing any Licensed Product or component that claims compliance with the HDMI Specification (or allowing someone else to do such activities), each Adopter must test a representative sample for HDMI compliance. First, the Adopter must self-test as specified in the then-current HDMI Compliance Test Specification. The HDMI Compliance Test Specification provides a suite of testing procedures, and establishes certain minimum requirements specifying how each HDMI Adopter should test Licensed Products for conformance to the HDMI Specification. Such compliance testing is limited to evaluation of a product's compliance with the HDMI Specification and is not designed to test the overall performance of any Licensed Product.
Second, each Adopter must submit the first product of each Licensed Product type (i.e. source, sink, repeater, or cable) to an HDMI Authorized Testing Center (ATC) for testing. Once an Adopter product of each type has passed testing, it is not required to submit to the ATC subsequent products of that type. For example, once an Adopter's television has passed ATC testing, it is not required to submit another television or other display for ATC testing. However, to help ensure HDMI interoperability, we encourage Adopters to use the ATCs.
The HDMI Compliance Test Specification represents the minimum compliance testing required for Licensed Products. Successful completion of the Compliance Test Specification or ATC Testing does not guarantee that any product will conform to the High-Definition Multimedia Interfaces, function correctly or interoperate with any other product. Each Adopter is solely responsible for ensuring that its products function correctly, fully comply with the HDMI Specification and Adopter Agreement, and interoperate with other products. (Click http://www.hdmi.org/manufacturer/testing_policies.aspx)
Since there are so many HDMI cables in the market with each brand making all sorts of claims, how can a customer tell if a cable is an HDMI certified cable?
All HDMI products are required to be certified by the manufacturer as part of the HDMI Compliance Test Specification. However, there may be instances where cables bearing the HDMI logo are available but have not been properly tested. HDMI Licensing, LLC actively investigates these instances to ensure that the HDMI trademark is properly used in the market. We recommend that consumers buy their cables from a reputable source and a company that is trusted.
http://www.hdmi.org/learningcenter/faq.aspx
When choosing an HDMI cable, HDMI Licensing recommends that the customer thinks of features rather than HDMI version number.
HDMI is constantly evolving to meet the needs of the marketplace. The standard is constantly adding more and more features that manufacturers can implement if they desire. But HDMI does not require manufacturers to implement everything that HDMI can do. HDMI provides a menu of capabilities and allows the manufacturer to choose which of those features make sense for its product line.
As a result, HDMI strongly recommends that consumers look for products with the features they want, rather than the version number of the HDMI components. Version numbers reflect capabilities, but do not correspond to product features. For example, if you want the new video features called Deep Color, look for Deep Color in the feature set rather than HDMI 1.3, the version of the specification that enabled Deep Color. Why? Because the version of the specification that enables Deep Color (1.3) does not mandate that Deep Color functionality be implemented.
However, it is important to also note that all HDMI versions are backwards compatible, so it does not matter what version of HDMI is in the component, all HDMI-enabled components will work together at the highest level of shared functionality. http://www.hdmi.org/learningcenter/faq.aspx
The latest HDMI specification is 2.0b. What extra features are offered?
HDMI 2.0b, which is backwards compatible with earlier versions of the HDMI specification, is the most recent update of the HDMI specification. It also enables key enhancements to support market requirements for enhancing the consumer video and audio experience.
What are the key advanced features enabled by HDMI 2.0b?
Enables transmission of High Dynamic Range (HDR) video
Bandwidth up to 18Gbps
4K@50/60 (2160p), which is 4 times the clarity of 1080p/60 video resolution
Up to 32 audio channels for a multi-dimensional immersive audio experience
Up to 1536kHz audio sample frequency for the highest audio fidelity
Simultaneous delivery of dual video streams to multiple users on the same screen
Simultaneous delivery of multi-stream audio to multiple users (Up to 4)
Support for the wide angle theatrical 21:9 video aspect ratio
Dynamic synchronization of video and audio streams
CEC extensions provide more expanded command and control of consumer electronics devices through a single control point
HDMI 2.0b does not define new cables or new connectors. Current High Speed cables (Category 2 cables) are capable of carrying the increased bandwidth.
http://www.hdmi.org/manufacturer/hdmi_2_0/index.aspx
Take note of this sentence: Current High Speed cables (Category 2 cables) are capable of carrying the increased bandwidth. This is a very important point as it confirms that there is no need for any special cable for current 4K as HDMI High Speed cables are good enough.
But on Oct 5, 2015, the Premium HDMI certification program was launched and added to the confusion. What is this all about?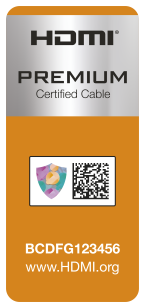 An HDMI Premium cable has this sticker.
First, we have to read this:
Premium HDMI Cable Certification Program
Premium High Speed HDMI Cables Tested to Ensure Quality for Feature-Rich 4K/UltraHD Content
Products are reaching the market with the latest HDMI-enabled high-performance digital audio and video features, and a vital component in successfully delivering those features is the HDMI cable. The Premium HDMI Cable Certification Program is the new program from the creators of HDMI technology. It encompasses additional and enhanced cable testing as well as an authentication and verification program.
Cables are tested to ensure they support the full 18Gbps bandwidth from the HDMI 2.0b specification plus an EMI test to ensure cables minimize interference with wireless signals.
The program is designed to give end users confidence when purchasing new HDMI cables for their 4K/UltraHD products that may include features such as 4K@60Hz, BT.2020 and HDR. Participating HDMI Adopters can promote their ATC-tested High Speed HDMI Cables as Premium High Speed HDMI Cables or Premium High Speed HDMI Cables with Ethernet using a unique anti-counterfeiting authentication label on their products.
http://www.hdmi.org/manufacturer/premiumcable/Premium_HDMI_Cable_Certification_Program.aspx
To get a better understanding of the Premium HDMI certification, I had to go to the Blue Jeans Cable website. Blue Jeans Cable has been an HDMI Adopter since December 2006.
THE NEED FOR SPEED
As said above, it matters whether you're sending ones and zeros at a slow speed or at a high speed; this is because, much as we'd like to think of transitions between ones and zeros as being the sort of thing that happen instantaneously, these transitions start to look very gradual when you're chopping each second into six billion pieces and looking at what happens within each piece.
If you've ever wondered why there is such a thing as "Cat 5e" cable and "Cat 6" cable, when both of 'em just have eight little wires that each run from a pin on one plug to the same corresponding pin on another, well, it's the same thing: as frequencies rise, getting consistent performance out of your materials requires increasingly tight manufacturing tolerances and, sometimes, entirely new design considerations. The impedance variability that didn't cause trouble at 100 MHz can be awful at 250. How precisely a data cable needs to be made depends intimately upon just what you're going to try to run through it. The coaxial cable suitable for running CATV signals works fine, within its domain — but try to run 6G SDI through it, and terrible things can happen.
No Ethernet standard in common use requires conventional twisted pairs to perform beyond 500 MHz (Cat 7A takes it to 1 GHz, but is not in widespread use), and getting those pairs to perform at such a high frequency has required Ethernet cable manufacturers to do all manner of clever things to control dimensions, manage twist rates, control pair spacing, and the like. From the beginning, it was clear that HDMI was going to demand far more from twisted pairs than the data world did. The first HDMI specification documents set the single-link maximum bandwidth exactly where it had been for HDMI's predecessor, DVI: 1.65 Gbps per data pair, for a total HDMI bandwidth of 4.95 Gbps. While frequencies don't map neatly to bitrates, for the reason that data signals aren't perfectly periodic, the general rule in a simple one-zero encoding system like HDMI is that the top fundamental frequency is 1/2 the bitrate, and that good performance up to the third harmonic, where much of the "shoulder" energy of the signal is, is needed to convey that signal faithfully, so 1.65 Gbps equates to a whopping 2.475 GHz — five times the bandwidth of Cat 6A. Despite this, it was possible to build compliant cables under the original HDMI specification out to around 40 feet, and in practice, non-compliant cables beyond that length often (though not always) worked just fine, too.
Pushing that much data down this sort of pipe seemed a bit crazy — but it also seemed safe to suppose that the HDMI spec wouldn't carry the madness any further, especially as the original spec made reference to a dual-link, 29-pin connector that everyone expected would be deployed when more bandwidth was needed. Then along came HDMI 1.3, still using the same single-link connectors, and with it the announcement that the maximum bitrate of the signal had doubled — to 3.4 Gbps per data channel, 10.2 Gbps total. Following the same third-harmonic rule, that calls for pairs that perform well out to 5.1 GHz — ten times the Cat 6A limit. With HDMI 1.3 came a two-tiered cable specification, which created "Category 1" and "Category 2" cables, dubbed "Standard" and "High Speed" by HDMI Licensing. The amount of headroom in cable length, which had been substantial under 1.2, dropped — but still, it was often possible to run the most common Category 2 signals, e.g., 1080p/60 at standard color, over distances which significantly exceeded the longest certified distances. Belden exhibited our Series-1 HDMI Cable at the National Association of Broadcasters show, running 1080p/60 for a distance of 125 feet, for example.
Well, the demand for speed was not over. Along came 4K video, and while the HDMI 1.3/1.4 speed limit could accommodate that, it could do so only at lower framerates and without added color depth. Many of us expected that when this limit was lifted, which it would have to be, we would either see some sort of signal compression, or multi-level coding, or some other method to keep the bandwidth demand on the cable down. But, when HDMI 2.0 came out, it stuck with the same simple binary encoding scheme while nearly doubling the top bitrate AGAIN — now from 3.4 Gbps to 6.0 Gbps per channel, for a total 18.0 Gbps data rate over the three channels. But, surely, HDMI cable will be up to the challenge — won't it?
Well, the 2.0 spec contains a little "cheat" of sorts, and that little cheat may pose some very real problems for users. The 2.0 spec doesn't update the cable quality or testing requirements in any way. Instead, the spec contains a mathematical model called the "worst cable emulator" which is supposed to represent the worst-case HDMI cable that passes HDMI 1.3/1.4 "Category 2" ("High Speed") testing. Sources and sinks (that is, receiving devices, e.g., displays) are required to perform well enough in signal delivery and recovery that a cable which matches the characteristics of the WCE will still function, and this mode of proceeding allowed HDMI Licensing not to come up with a new mandatory tier of cable testing to validate cables for 2.0.
That would all be well and good, but for one thing: it's impossible to accurately predict the high-frequency characteristics of a cable from its low-frequency characteristics, and for that reason it's generally not done. Every aspect of loss in a cable gets worse with higher frequencies, and what's more, it doesn't get worse in a nice, predictable curve. Return loss, for example, can be acceptable up to extremely high frequencies, and then have a huge spike when you go a bit higher. This occurs for a variety of reasons, but the chief among them is simply wavelength; frequency and wavelength are inverses, and so as frequency goes up, wavelength gets shorter. Tiny imperfections and periodicities in cable manufacture which made no difference when they were physically short relative to wavelength become enormous problems when they become longer relative to wavelength. And at 9 GHz (that third harmonic of the 3 GHz fundamental of a 6 Gbps signal which we've mentioned), we are dealing with some very short wavelengths indeed — about an inch and a half in air, or an inch in a solid PE dielectric (the signal travels at nearly the speed of light in air, but only 2/3 the speed of light when the dielectric is polyethylene). Since anything a quarter-wave or longer is potentially significant in transmission-line terms, that means that cable irregularities and variabilities as short as a quarter of an inch can play a significant role in signal loss.
WHAT DOES THIS MEAN FOR HDMI CABLE PERFORMANCE AT 4k?
These days all of the buzz is about 4K, and people associate the HDMI 2.0 specification with 4K, so it's important to point something out at the outset: not all 4K video is the same. HDMI has supported 4K resolutions since 1.4, but with limits. To keep the signal below the 3.4 Gbps/channel, 10.2 Gbps total limit, a 4K signal couldn't have a high framerate, or deep color. It is still the case as of this writing (November 2015) that most 4K sources which are being run in home theater systems are HDMI 1.3/1.4 "high speed" applications, not HDMI 2.0 extended-bandwidth applications, and for these flavors of 4K, the HDMI 1.3/1.4 "high speed" testing is adequate to represent the conditions of use.
But when HDMI 2.0-type 4K is being run — currently mostly from computer video cards — using an extended color gamut and/or high framerate (50 or 60 fps), the 1.3/1.4 testing does NOT represent the actual conditions of use for the cable. We are, at this writing, in "early days" for HDMI 2.0, but indications so far are that the honeymoon is largely over where cable run lengths are concerned. We've had a variety of customers write to us about their experiences when running full-bandwidth 2.0 video, and what they've been finding is that most "high speed cable" does not, at least when run near its longest certified limit, stand up to the task.
It remains the case under HDMI 2.0 as before that this isn't a subtle thing; if a cable is failing, you will see the failure manifested, in the great majority of cases, as one of the following, in order of severity:
(1) "Sparkles": individual dropped-out pixels, or
(2) "Line" dropouts where a whole line of video, or the rightward portion, drops out, or
(3) Intermittently flashing or jumping picture, indicating that so much picture data is being lost that the display is losing sync, or
(4) No picture.
These types of issues are what to look for. If you don't see them, your cable is doing fine with the signal currently being run through it. The effect won't be subtle — it's not about qualitative aspects of the image like shade detail, contrast, and the like.
HDMI Licensing acknowledges the issue of some "high speed" cable not quite being up to the task of actually handling the full 2.0 bandwidth, saying:
"Although many current High Speed HDMI Cables in the market will perform as originally expected (and support 18Gbps), some unanticipated technical characteristics of some compliant High Speed HDMI Cables that affect performance at higher speeds have been found. These cables are compliant with the Category 2 HDMI Cable requirements and perform successfully at 10.2Gbps, but may fail at 18 Gbps."
and hence, HDMI Licensing introduced a third testing tier in addition to "Category 1" (Standard) and "Category 2" (High Speed): the "Premium HDMI Cable."
SO, WHAT IS A 'PREMIUM HDMI' CABLE?
The Premium HDMI Cable program really has two elements, to address two different but related problems. First, there is the testing element: in addition to passing the conventional 1.3/1.4 Category 2 cable tests, which test the cable only out to 3.4 Gbps per channel (10.2 combined), the Premium testing program tests the cable's electrical characteristics all the way out to 6.0 Gbps/channel (18 Gbps combined) so that the certification test DOES represent the actual conditions of use of the cable. If the cable passes certification, it should ALWAYS function correctly when used to connect two HDMI 2.0-compliant devices.
Second, there is an authentication element. One of the regrettable things about HDMI cable certification is that a lot of cable is sold as "high speed" when it isn't, or even when it hasn't passed any certification testing at all. People often suppose we are making this up; but we are routinely approached by Chinese manufacturers of HDMI cable who either have no certifications at all or who have no certifications for the particular cables they sell, and every year vendors of uncertified HDMI cable at the Consumer Electronics Show in Las Vegas get shut down in mid-show. And it's not always easy to know the difference between uncertified cable and the real thing, because a manufacturer may hold a certificate for one cable design, and then present that certificate as supporting documentation for a different cable entirely. For the consumer it's even worse than it is for us — the brand name of the cable usually belongs to a company that's not an Adopter (consider, for example, that the leading brand sold in electronics shops is not an HDMI Adopter), and there simply is no way to look up the manufacturer's credentials. For this reason, Premium HDMI Cables must be certified at the particular length sold and must bear a Premium Certified Cable label — these labels are printed by HDMI Licensing, they include a hologram and a 2D barcode to prevent counterfeiting, and each one of them is indexed back to the particular cable for which it was sold, so that nobody can simply obtain a batch of labels for one cable and apply them to something else entirely.
It remains the case that the intent of the spec is that any legitimate "high speed" HDMI cable under 1.3/1.4 should handle 2.0 signals; but only a Premium HDMI Cable has actually been tested at the full 18.0 Gbps bandwidth and proven to actually work; and only a Premium HDMI Cable bears the anti-counterfeiting sticker to ensure that the manufacturer of the cable really does hold a certificate for that particular product.
http://www.bluejeanscable.com/articles/premium-hdmi-cable.htm
So the answer to the question as to whether an HDMI 2.0 cable is needed for current 4K is that the HDMI High Speed cables available in shops today are good enough, but if you want to ensure that you have the best HDMI cables in the market which will provide some measure of future-proofing, then look for an HDMI Premium cable.