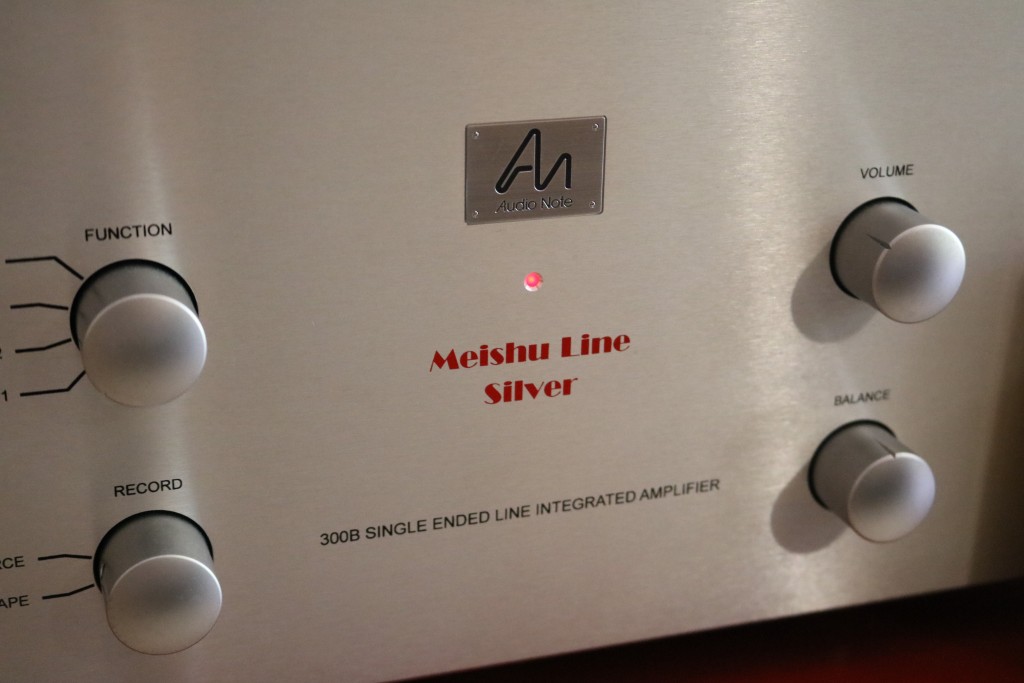 By Lam Seng Fatt
When you need two people to carry an eight-watt integrated amplifier, you will have the feeling that it will be something special. It is only a question of how special.
Loading and unloading the boxed (a huge box, btw) Audionote Meishu Line Silver integrated amplifier onto my car was a back-straining job and it took two people to get it done. The Audionote weighs 27.5kg (shipping weight 40kg) and measures a huge 22cm (h) X 46cm (w) X 53cm (d).
The Audionote Meishu has eight watt (it is eight according to the owner's manual; the website says it is nine watt) single-ended Class A no feedback triode mono amplifiers and valve rectified choke power supply. The Silver version, which is the second of three models, adds Audio Note's tantalum resistors, copper foil signal capacitors, electrolytic capacitors in many places and HiB copper wired double C-core output transformers. It uses the following valves: 2x 300B, 2x 5687, 1x 6SN7, 2x 6X5 and 1x 5U4G
Audionote's head honcho Peter Qvortrup told parttimeaudiophile.com: "The line of Meishu integrated 300B amplifiers are essentially our best selling products, at least until the Cobra hits the streets, which given the current size of the order book may take a while longer! The Meishu does bridge, if that is what you can call it, between the OTO/M2 and the Level 3 separates, but it really was always meant to be a relatively cost efficient way to enter the realms of truly high quality no-feedback triode amplification, and to provide an introduction in that regard.
"The 300B is of course the classic power triode and if used correctly is both great sounding and very reliable, we are fortunate in that the Chinese make such good versions of them, we use the Psvane standard 300B in all the Meishus [because] for the cost it is by far the best sounding and most reliable of the 300Bs in our experience,"
I have heard various 300B based amplifiers in shows and dealers' listening rooms, but it was the first time that a 300B amplifier had spent several days in my home rig.
It so happened that I had a pair of Heco Direkt speakers to review and since they had efficiency of 95dB, I thought a low-powered SET tube amp would be the right match for them. And as it turned out, it was not right, but perfect.
There are many audiophiles who swear by the low-power SET amp with high-efficiency speakers way to sonic heaven. There are also many audiophiles who swear by the 300B tube (Western Electric NOS) as the only way to sonic heaven.
I had always felt that SET amplifiers delivered a sweet and succulent midrange with vocals to die for, but at the expense of a rolled-off bass and treble. Also I had heard a lesser-quality SET amp driving a pair of poorly-designed horn speakers and the uneven and 'honky' sound put me off the SET/high efficiency speaker route.
Now this Audionote Meishu Line Silver is different beast altogether. In my system comprising a laptop, Oehlbach USB cable, Chord Hugo DAC/headphone amp, WyWires interconnects, Goertz MI2 ribbon speaker cables (I had earlier used the Kimber 12TC; the Goertz sounded better) and the Heco Direkt speakers, the Audionote Meishu Line Silver was the final piece in the jigsaw puzzle. It completed the system and was a perfect fit.
All my previous impressions of SET amp/high-efficiency speakers were overturned. Now, I realise I was wrong because I had listened to lower-quality components. Even my view of SET amps rolling off the treble and bass was proven wrong.
I played CD rips of Bad Company's Can't Get Enough and Rock Steady and also Steely Dan's Babylon Sisters and Hey Nineteen (from Gaucho; HDTracks hi-res file) and with the volume knob at 11 o'clock, I rocked the house and kept looking out for any annoyed neighbour. Compared with the 300-watter Bryston 4B SST that I normally use, there was just a slight lack of thump on the snares and less impact on the bass drum. But the rock music was rendered with a good measure of PRAT and I was soon nodding to the rhythm.
So an eight-watt 300B SET integrated amp can rock. I decided to connect the Audionote Meishu Line Silver to the resident pair of ATC SCM50 floorstanders which are drastically inefficient at 85dB. Well, what do you know…the ATCs were driven to quite loud level with volume knob at the 11 o'clock position without any sign of clipping. But I preferred the pairing with the more sensitive Heco Direkts as the sound was more dynamic and unrestricted.
Since I already knew that SET amps can do wonders with female voices, I decided to find out if they could do the same trick with male voices and I played duets – Barbra Streisand's Partners (24/48 files ) and Featuring Norah Jones (CD rip). The male singers in these albums sounded just as fluid as Barbra and Norah. I noted that I could hear more details in their singing, the way they breathed or enunciated the words with soft "sstt' and "ppsss" without being sharply sibilant. I also played Cowboy Junkies, Cassandra Wilson (CD rips) and Shafran plays Franck and Debussy (24/352.8 from HDTT). I noted that acoustic instruments like pianos, guitars and violins sounded full and rich and had longer decays. Horns had the right amount of metallic bite.
I have used the Lamm LL2 deluxe preamp for a few years and have grown accustomed to the correct timbres that it produces. Not many components can produce that kind of correct timbres, but the Audionote Meishu Line Silver could match the timbres delivered by the Lamm.
The X-factor in the Audionote Meishu Line Silver 300B SET integrated amp and high-efficiency Heco Direkt speakers is that they combine to create a sound that is beguiling and seductive.  In all the listening sessions I had with this combination, I found it hard to stop. I just wanted to hear more and more, and I even dug up some old forgotten CDs just to find out how they would sound like with the system.
So I had to phone My hifi Shop and requested them to take back the Audionote Meishu Line Silver integrated 300B SET amp immediately. I had no choice but to make that drastic move otherwise I would have been fully converted by the dark side of this amp and forced to embark on the expensive journey to sonic bliss via the 8-watt 300B SET amp/high-efficiency speaker route.
Here are some photos of the innards of the Audionote Meishu Line Silver: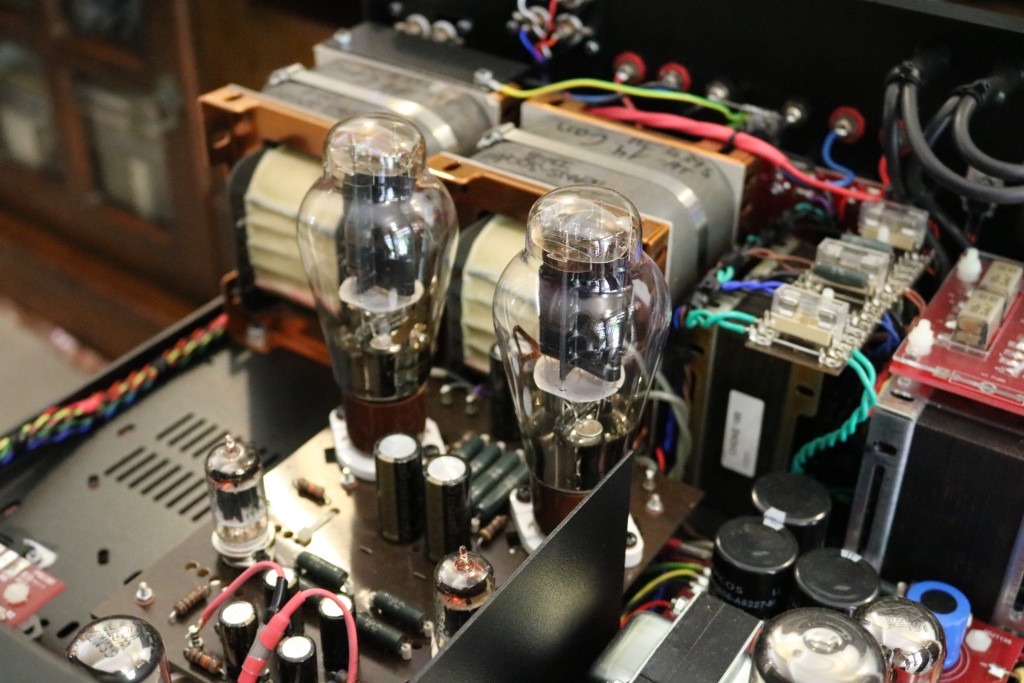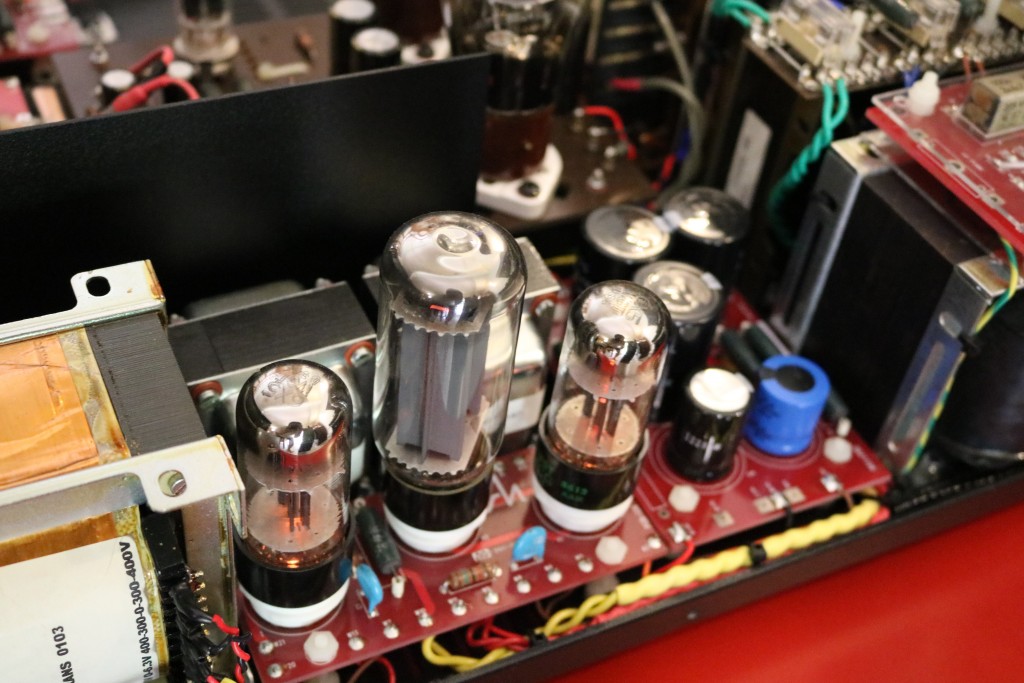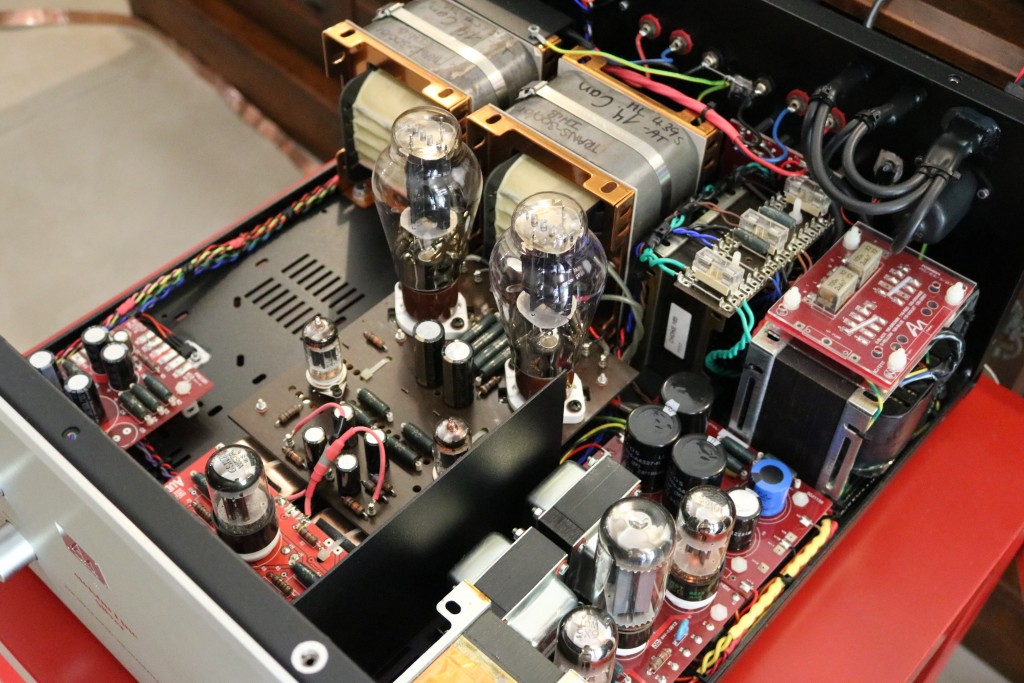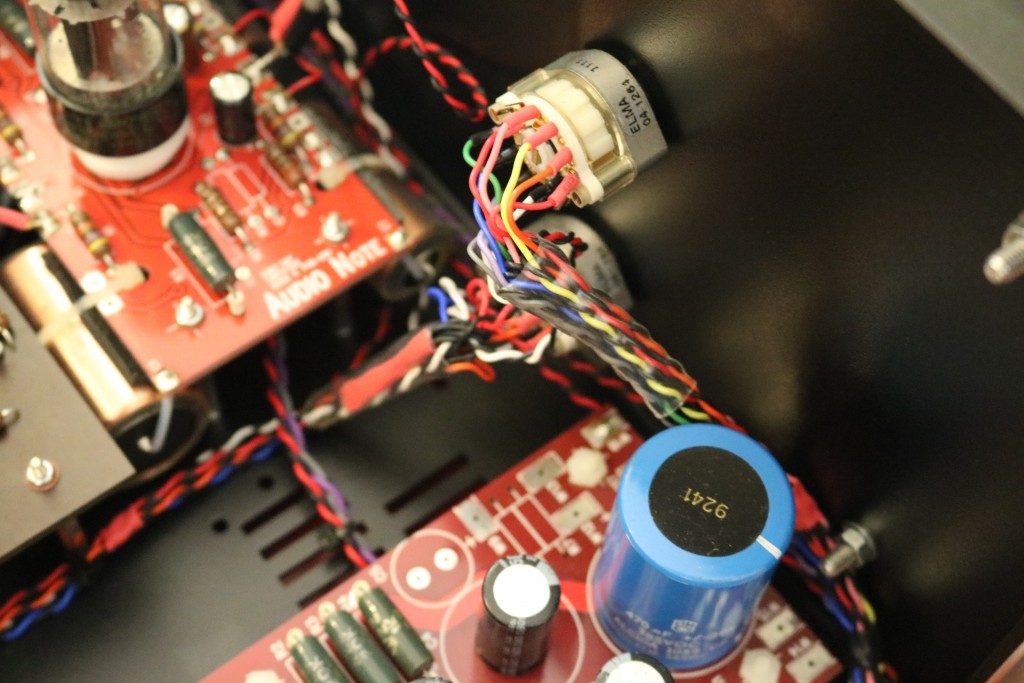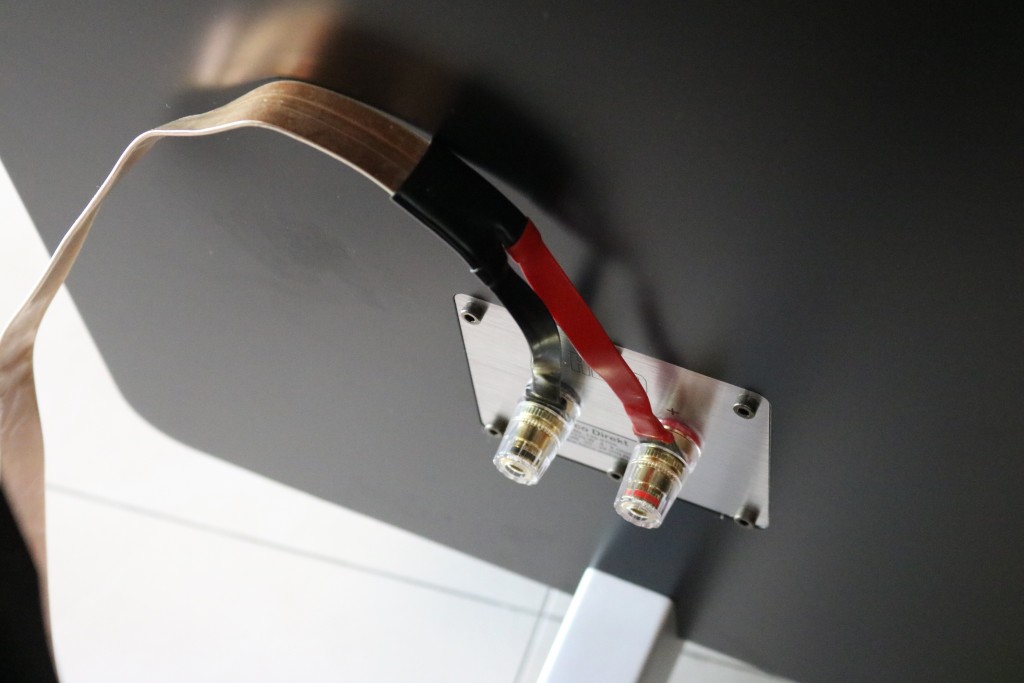 The Audionote Meishu Line Silver retails at RM41,590 at my hifi shop. Please call Issac Ho at 016-5550516 for more details.