Brighter Pictures
by Dick Tan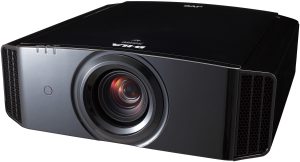 Remember JVC's X-Series home theatre projectors that broke new grounds in the critical home projection performance level of light output and contrast ratio?
That did not seem too long ago and now the recently announced DLA-X5500, DLA-X7500 and DLA-X 9500 has effectively replaced the former Series which, at the time of their inception had brought about a near revolutionary increase in brightness and contrast ratio performance. And they achieved that without any negative effect to the black level performance that JVC home theatre projectors are renowned.
Looking practically identical to the previous models the new X Series, according to Steven Woo of Klingen & Erlesen, distributor for JVC projectors in Malaysia, offers increased brightness as well as a dedicated HDR (High Dynamic Range) mode with automatic detection to optimise on the dramatically improved visuals that 4K software such as UHD Blu-ray has to offer.
Light output performance is now 1,800 Lumen on the DLA-X5500, 1900 Lumens on the DLA-X7500 and 2000 Lumens on the DLA -X9500.  In essence, all three models are 100 lumens brighter than the previous Series.
Also improved are input lag performance when used with gaming sources, multiple pixel control performance when used with the 4K sources as well as its Clear Motion Drive frame interpolation feature that offers a more detailed yet organically smoother frame refresh rate presentation. All three models are also E-Shift4capable. E-Shift is JVC's proprietary image shifting technology, now developed into its fourth edition, that provides seamless upscaled 4K signals.
Woo also revealed that the new X-Series will be set up for a special demo programme at the coming KL International AV Show 2017along with its flagship model the laser powered 4K DLA- Z1 model.
Retail price for the new X Series has remained unchanged at RM19,999 for the DLA-X 5500, RM29,999 for the DLA-X7500 and RM39,999 for the DLA-X9500.
All JVC products can be reviewed at the KL International AV Show 2017, July 28-30 at the Sunway Putra Hotel (former Legend Hotel).
For further details contact:
Klingen & Erlesen Sdn Bhd.
Steven Woo: 012 3555937