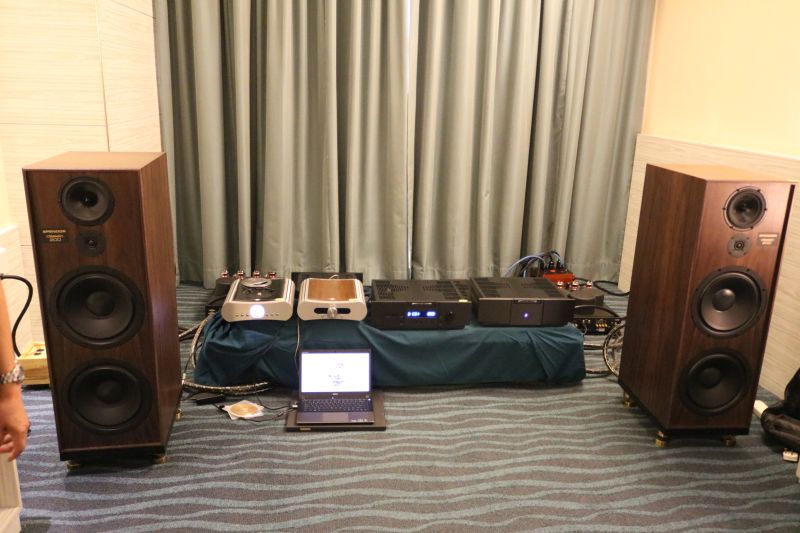 By Lam Seng Fatt
While the Yamaha NS-5000 was the star of the recent Kuala Lumpur International AV Show, the surprise hit of the show was …Spendor's flagship speaker.
The Spendor SP200 speakers in Acoustic Arts' room surprised many audiophiles including some of the top sifus in Malaysia.
I recall almost buying a pair of Spendor SP2/2 many years ago as I found the 'British Sound' that the Spendors produced very enticing.
The Spendor SP200 speakers have retained the hallmark of the 'British Sound', which is the natural-sounding mids, especially vocals. But it has a more upbeat, faster rhythm, tighter and deeper bass and more extended and brighter highs. The older Spendors tended to have a slower, more laid-back pace and a darker treble.
In terms of design, the SP200 looked like a typical British speaker from the 1970s. It was a simple box with black grille affair. But that kind of retro look added to the charm of the speakers.
Vincent of Acoustic Arts has always been very good at setting up systems for optimum sound quality and his room has always been rewarding at the KLIAVS.
This year, possibly recognizing the strong competition from the other dealers, Vincent had pulled out all the stops and set up a very high-end and expensive system.
His system comprised a Balanced Audio Technology REX II pre-amp, two REX II monoblock power amps for the mids and highs, and two VK255 SE for the bass. Source was a Gato CD player.
While sipping a cup of coffee that Vincent served me, we chatted about the 'British Sound', Spendor and how its flagship speakers have retained the nice vocals, but made the bass faster and tighter with a brighter treble.
The bass of the Spendor SP200 could go so low that the false ceiling of the hotel room started to rattle when Vincent played one song with a lot of low bass.
Indeed the Spendor SP200 took a lot of audiophiles by surprise and it certainly made an impressive debut at the show.