Object of Desire
by Dick Tan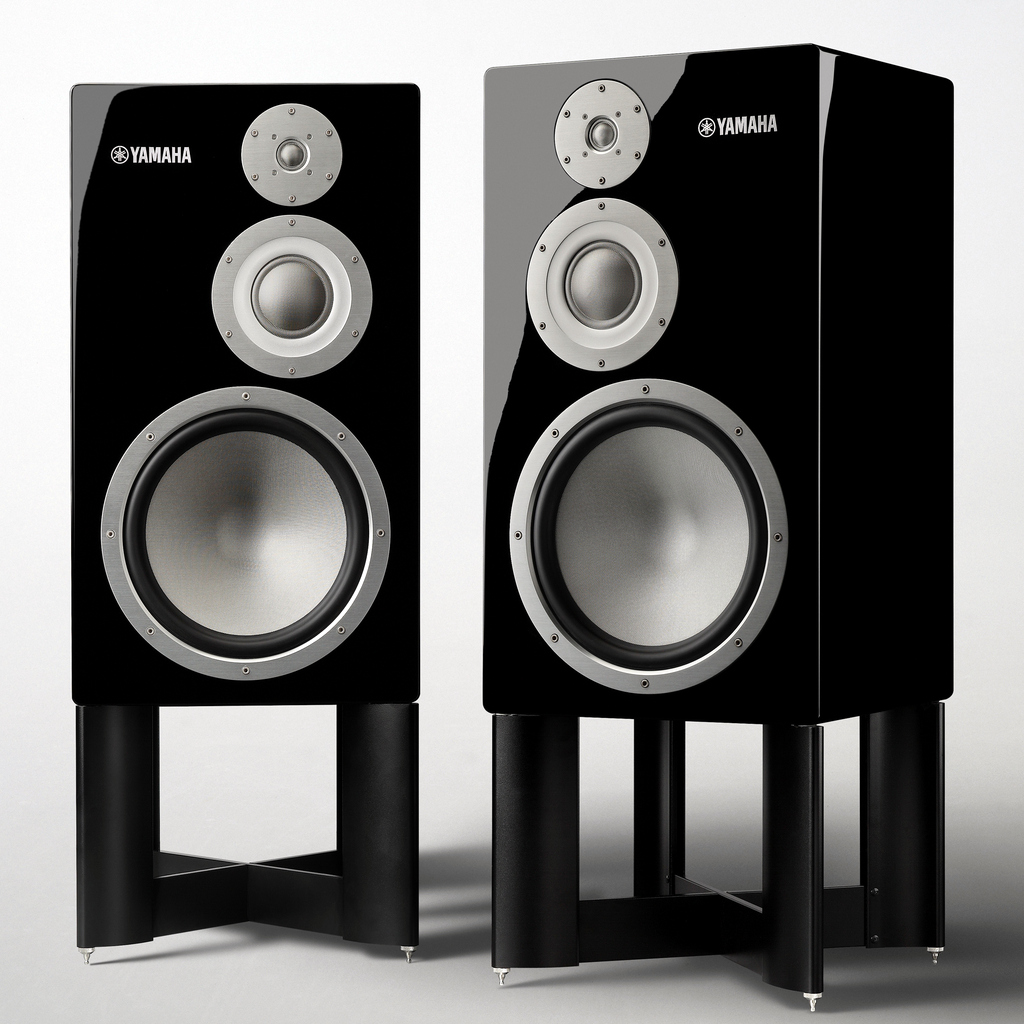 Introduced as part of the super hi-end system at the HiFi Creation booth at the recent KL International AV Show 2017 was Yamaha's new flagship speaker system the NS-5000.
Keeping great company with illustrious names such as Kronos, Absolare and Frank at the Hi-Fi Creation room the NS-5000 is regarded by audio enthusiasts worldwide as perhaps the finest speakers to emerge from the Yamaha stable since the iconic NS-1000 introduced over 40 years ago in 1974!
Hailed by the hi-end audio community as a reincarnation of the NS-1000, the NS-5000 nevertheless feature a number of new feature that will give it its distinct characteristics.
What is similar however is the large 'bookshelf' type enclosure that will immediately connect older audio enthusiasts to the NS-1000. So will the three-way drive unit assembly and the black finish.
However, the black finish of the NS-5000, unlike its predecessor's dull matt black is now in a luxuriously finished black gloss, achieved with a paint technique used only on Yamaha's renowned grand pianos.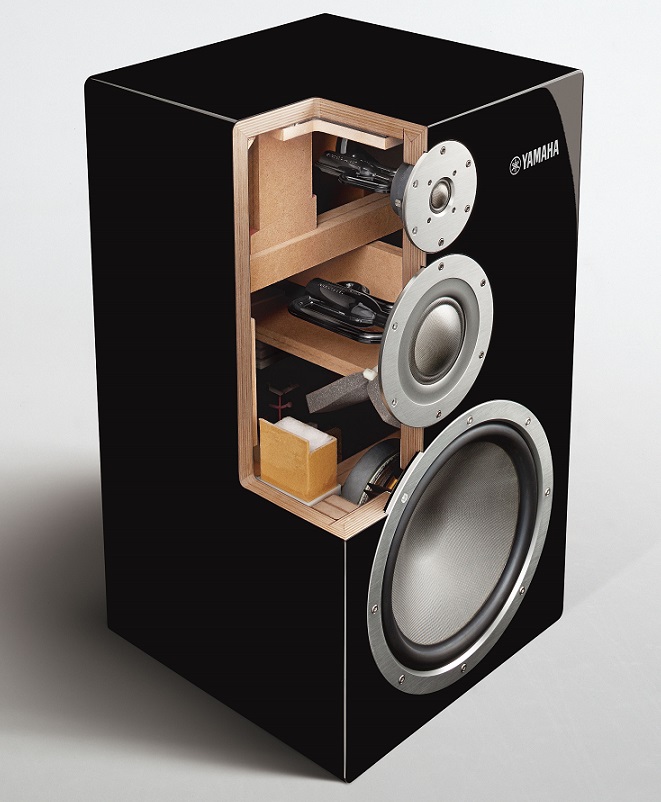 The enclosure too has undergone a complete structural design and now uses a form of laminated plywood made of a special Japanese white birch from the island of Hokkaido.
Chosen for its extreme rigidity and strength the birch plywood used on the front baffle of the NS-5000 is almost 30mm thick while the remaining five sides of the enclosure is 20mm thick.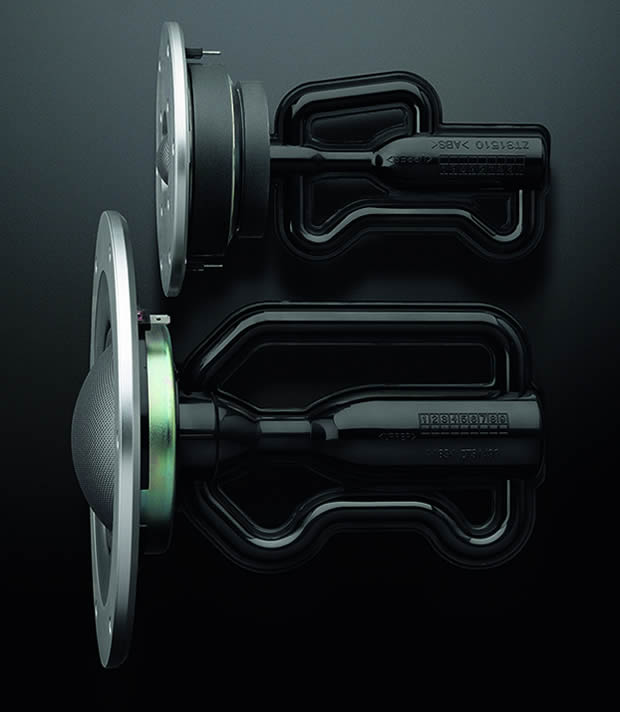 In addition, the NS-5000's internal enclosure volume is calculated as such that its behaves much like a 'uniter' of internal standing waves at a specific frequency which are then cancelled by a proprietary Yamaha resonance tube technology known as New Acoustic Absorber.  This technique has enabled Yamaha to dispense with the sound absorbing material found in abundance in the NS-1000.
The net result of all this structural re-engineering on the NS-5000 is an enclosure that is impressively heavy (35kg) for its size and completely 'dead' to the feel.
With its enclosure re-engineered almost to perfection Yamaha's choice of drive units are a 30cm reflex loaded bass drive unit, an 8cm midrange drive unit and a 3cm dome tweeter.
All drive units are made from Zylon, a synthetic fibre said to be the world's strongest yet feature an optimum level of elasticity. The Zylon drive units are then coated in Yamaha's proprietary Monel alloy.  Audiophiles lucky enough to have used or owned the NS-100 will recall the midrange and tweeter drive units were made from Beryllium a hard metal that was a desirable for its good acoustical values but were difficult to work with.
To optimise the performance advantage offered by the Zylon tweeter and midrange Yamaha developed the R.S. (Resonance Suppression) Chambers and mounted them behind the midrange and tweeter drive units to eliminate unwanted tube resonance generated at the rear of the drive units.
The perceivable results according to Yamaha is a marked improvement in the resolution and clarity of the mid and high frequencies.
Measuring 395 x 690 x 381mm the NS-5000 is rated to be able to handle up to a maximum power input of 600 watts and is fairly sensitive at 88db for 1-watt input at a nominal 6ohms impedance.
To raise it to an ideal listening level the NS-5000 comes with a pair of matching speaker stands.
What is even better is the confidence winning 10-year warranty offered by Yamaha on the NS-5000 which clearly says, these speakers are made to last a lifetime.
Undoubtedly the NS-5000 is an object of desire for legions of audiophiles.  The fact that it has taken Yamaha over 4 decades to come up with this worthy replacement to the iconic NS-1000 makes if even more so.
But here's my take on it, when the NS-1000 was available most of us (audiophiles my age) could only look and drool.  I was one of them. Although I cannot recall with much certainty it couldn't have retailed for more than RM6,000 – RM7,000 then. But RM6,000 – RM7,000 was a lot of 'mullah' back then.  Most of us just did not have it.
Today the NS-5000 goes for RM65,000 per pair and inspite of the greatly depreciated strength of our ringgit, a colossal sum by anybody's standard.
And yes, you guess it …… I am still not able to afford it!
For further details contact:
Hi-Fi Creation Sdn Bhd. 
Victor Pheh:  012 2962799