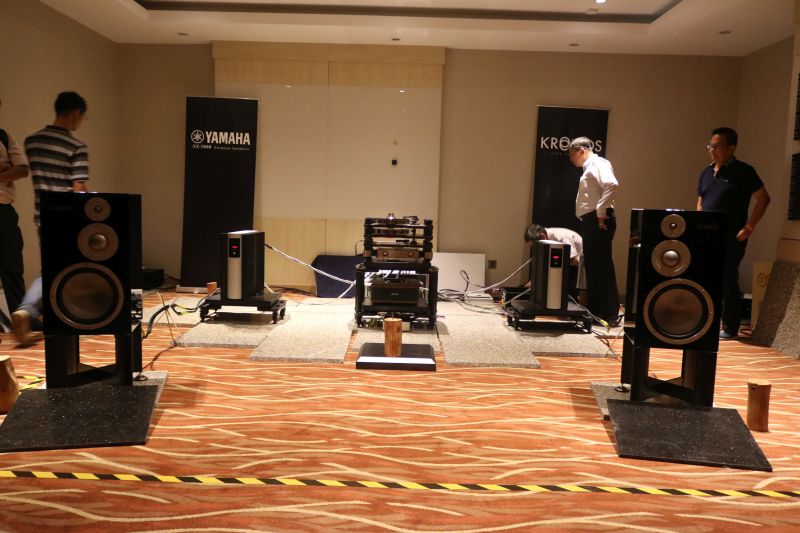 By Lam Seng Fatt
Judging by the response and the number of posts in Facebook, it is without doubt that the Yamaha NS-5000 speakers were the star of the recent Kuala Lumpur International AV show.
Even before I went to the show on Friday (July 28), a sifu had already posted on Facebook advising everyone to head to hifi creations room to hear the Yamaha NS-5000 speakers.
And that was exactly what I did. When I entered the room, it was already full and I had to wait for someone to vacate the chair at the sweet spot before I could sit down to listen. While I was standing and looking at the system, someone patted my back. I turned and saw Adrian of Audio Image. In fact, in the three times that I went into that room, I saw plenty of Malaysian audiophiles and sifus listening to the Yamahas. All of them recalled the original Yamaha NS-1000 featuring the beryllium dome mid and tweeter. And perhaps all of them left impressed by what the Japanese can achieve when they aim for perfection.
Victor Pheh of hifi creations had set up a very high-end and expensive system comprising the Kronos Pro turntable with power supply, Absolare phono stage and Absolare preamp, Mark Levinson No 53 monoblocks, Skorgrand cables with Frank Voon's Power Bank supplying stabilized power.
Victor used slabs of granite to place the components on and little logs of wood to tune the room.
I felt the speakers created a very detailed sound that did not sound analytical while the bass was sufficient even for rock songs. Bear in mind the NS-5000 are largish standmount speakers with dedicated stands. Victor had convinced me to stay longer to hear a few Pink Floyd songs. The soundstage of that system – the speakers were placed nearer to the listeners than to the rear wall – was large horizontally and deep, if a little lacking in height. Imaging was solid and stable while the sound was smooth, transparent and a wee bit on the lean side.
But it did not have the metallic coloration that the NS-1000 had. The overall sound was good and at RM65,000 a pair, they are a bargain given how much high-end hi-fi components cost these days.
One sifu that I know, who had his eyes closed while deep in concentration trying to evaluate the sound, opened his eyes when his song ended, saw me and said: "The greatest bang for the buck."